Fantasy Basketball Sleepers: Season Projections for the Most Popular Picks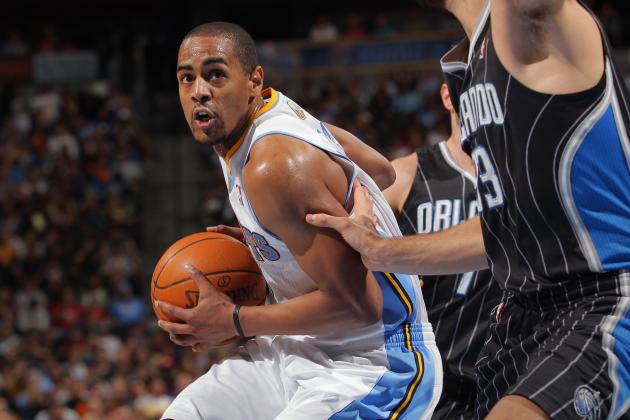 Doug Pensinger/Getty Images

While drafting well in the early rounds is key to succeeding in fantasy basketball, finding sleepers late in the draft is what defines championship teams.
In the drafts held prior to the lockout-shortened season, owners who scooped up Ricky Rubio, Nicolas Batum or Marcus Thornton were rewarded with high production for a small cost.
Sleepers are crucial to success, but finding the right sleeper can be very difficult.
A player can be considered a sleeper for a variety of reasons, with some of the most common being inexperience, uncertainty due to a past injury or the expected progression of a player that has underachieved in the past.
Elite players such as LeBron James and Kevin Durant are without a doubt the best players on the planet, but in the fantasy universe their contributions can be overcome with a deep and consistent roster.
Begin Slideshow

»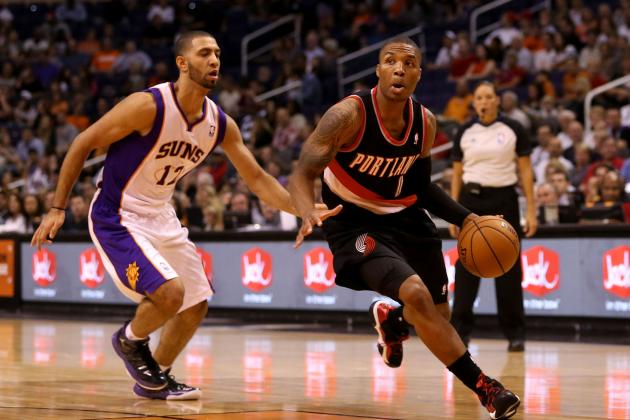 Christian Petersen/Getty Images

Projected Stats: 14.4 PPG, 4.4 Assists, 4.2 Rebounds and 42 Percent Shooting
Damian Lillard wasn't as well known as others that were chosen in the lottery because he played his college ball at Weber State. Once scouts saw what Lillard was capable of with the ball in his hands, it didn't matter where he played in college.
During the 2012 Las Vegas Summer League, Lilllard averaged 26.5 points, 5.3 assists and 5.3 assists per contest.
Lillard's strong play earned him co-MVP honors and put the Western Conference on notice. While dominating in Summer League doesn't guarantee Lillard a special season, it surely didn't hurt to see him control those four games.
Shortly after the training camp got underway, head coach Terry Stotts announced what everyone knew, Lillard would be the team's starting point guard.
The Portland Trail Blazers went 28-38 in the lockout-shortened season and aren't a likely candidate, in a deep Western Conference, to break into the playoffs this season.
From a fantasy perspective, Lillard will help teams with his scoring, three-point shooting and free throw percentage. He will play the majority of the minutes at point guard as the team tries to mold him into the league's next elite player at the position.
As a rookie, the Weber alumnus will suffer with turning the ball over at times. That isn't enough of a reason to pass on LIllard, as his playing time and efficiency from the floor will make up for the mistakes that he will make.
Lillard will likely be around in the seventh and eighth rounds in ten-team leagues. If he is available in the late seventh round, then I wouldn't hesitate to grab this Rookie of the Year candidate.
Chris Graythen/Getty Images

Projected Stats: 20.2 PPG, 3.4 Assists, 4.1 Rebounds and 44.3 Percent Shooting
In his first two seasons with the Memphis Grizzlies, OJ Mayo averaged 18 points, 3.1 assists, 3.8 rebounds and 1.2 steals while shooting 44.8 percent from the field. Mayo averaged exactly 38 minutes per game and started in every one of those contests.
After his second season, Mayo was viewed as an offensive force who had to improve on the defensive end in order to become a star.
In his final two seasons in Memphis, Mayo saw his playing time and production decrease due to the liability that he had become on the defensive end.
What has concerned most about Mayo is that he has failed to progress in the NBA. One thing that Mayo has going for him is that he is a combo guard and can slide over to the point guard position and still contribute on the offensive end at a high level.
Mayo has always been extremely talented from the field, but he has failed to progress in other areas, which has caused him to be viewed as a fringe starter.
From a fantasy perspective, what Mayo does on the defensive end of the floor really doesn't matter very much. As long as he plays well enough to stay on the floor, then Mayo's offensive numbers will easily eclipse what he produced in his final two seasons with the Grizzlies.
Mayo will work the pick-and-roll with Chris Kaman and Elton Brand with the Dallas Mavericks, and he will be asked to pick up some of the scoring load when Dirk Nowitzki is on the bench.
Based upon his offensive talent alone, Mayo has the potential to be a star in the NBA and in fantasy basketball.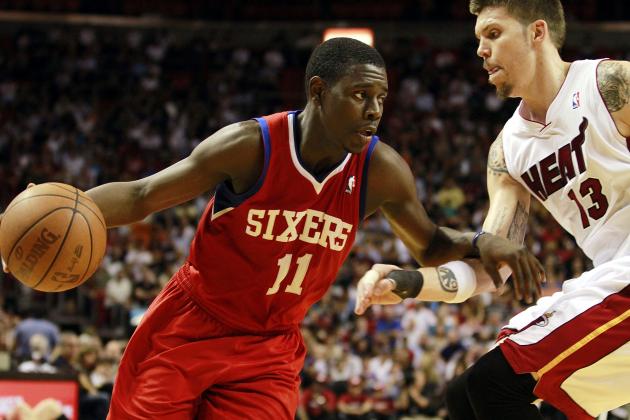 Marc Serota/Getty Images

Projected Stats: 16.2 PPG, 5.9 Assists, 3.1 Rebounds and 43 Percent Shooting
The Philadelphia 76ers will be a very different team this season, primarily due to the trade that sent longtime star Andre Iguodala to the Denver Nuggets and brought Andrew Bynum to Philadelphia.
The 76ers let their 2012 leading scorer Lou Williams walk in free agency and amnestied their best interior defender when they cut ties with Elton Brand.
The turmoil of the offseason has forced Jrue Holiday and Evan Turner into leadership positions as they enter their fourth and third years in the NBA respectively.
In his first three seasons with the 76ers, Holiday has proven to be a good defender and athlete. At 6'4", Holiday has the size to be a physically dominating force. When you factor in his quickness and versatility, Holiday should finish among the league's top 12 fantasy point guards this season.
With the arrival of Bynum, Holiday will pick up easy assists as his new center will be able to dominate the majority of the big men in the Eastern Conference. Also, Bynum's presence will create open looks for Holiday, who shot a respectable 38 percent from behind the arc a season ago.
Both the 76ers and Holiday will be at their best when they get the ball to the rim.
Entering the lockout-shortened season, many expected Holiday to take the next step in his development. That turned out not to be the case, as Holiday's level of play was on par with his 2011 production.
The lockout and shortened training camp could be blamed for Holiday's struggles, and I see him doing very well after having a full-length training camp.
Holiday will have a bigger role in the offense this season and will help teams that need a boost in scoring, assists and efficiency from the field and free throw line.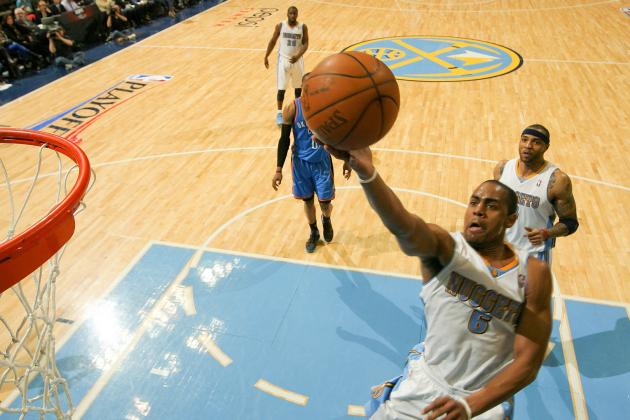 Justin Edmonds/Getty Images

Projected Stats: 17.8 PPG, 3.5 Assists, 4 Rebounds and 46.8 Percent Shooting
When Arron Afflalo was traded to the Orlando Magic in the Dwight Howard trade, it enhanced his fantasy outlook entering this season.
The Magic appear ready to put one of the worst teams in the NBA on the court, with Afflalo being one of the team's best players.
Afflalo is excellent from long range, and his excellent defense will ensure that he is on the court for a good portion of the game. Over the span of his five year career, Afflalo has shot 40.5 percent from behind the arc.
As a member of a very deep Denver Nuggets team, Afflalo still managed to play almost 33 minutes per game.
Also, Orlando's backup shooting guard JJ Redick is on the trading block due to his expiring contract and skills as a sharpshooter from behind the arc. If Redick is traded at some point this season, Afflalo would become an even better fantasy option because he would play even more.
If Redick is traded, I wouldn't be surprised if Jacques Vaughn decided to play Afflalo as much as 38 minutes on a nightly basis.
Afflalo is likely to be one of the top options on a bad team, which means that he will be productive for a team that won't win many games.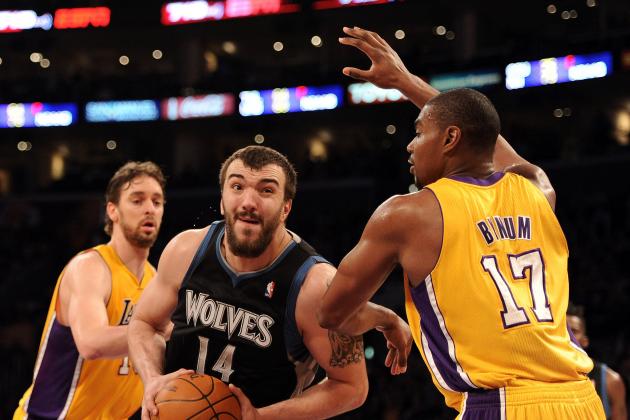 Harry How/Getty Images

Projected Stats: 20.6 PPG, 10.2 Rebounds, 1.4 Assists and 57 Percent Shooting
While Jeremy Lin garnered most of the national attention during his 2012 breakout season, the strong play of Nikola Pekovic wasn't overlooked by the fantasy basketball community.
In the 35 games that he started, Pekovic averaged 15.4 points and 8.5 rebounds while shooting 54.7 percent from the floor.
The projected return of Ricky Rubio along with the presence of Kevin Love has overshadowed Pekovic thus far in training camp, but that doesn't mean that he should be overlooked by hardcore fantasy basketball players.
From a fantasy perspective, Pekovic will help teams in need of efficient scorers and rebounds. When he got to the free throw line in 2012, Pekovic converted on 74.3 of his attempts.
If he is able to maintain that shooting percentage while getting to the line more often than the four times per game that he did during the 2012 season, then Pekovic could emerge as a top ten fantasy center this season.
Pekovic is also entering the final year of his contract, which all but guarantees that he is going to work his hardest in order to assure himself of a bigger contract next summer.
In my experience, it is much safer to trust a player that is playing for his next contract rather than the one who just signed a lucrative new deal.
With Kevin Love stretching the floor, Pekovic will have space to maneuver in the paint. With his ability to score near the rim, the Wolves could have a very difficult offense to slow down.
Once Rubio does return, Pekovic will become an even better fantasy option because he will surely be on the receiving end of some spectacular Rubio passes that set up easy baskets.