5 NBA Players Who Need to Retire Now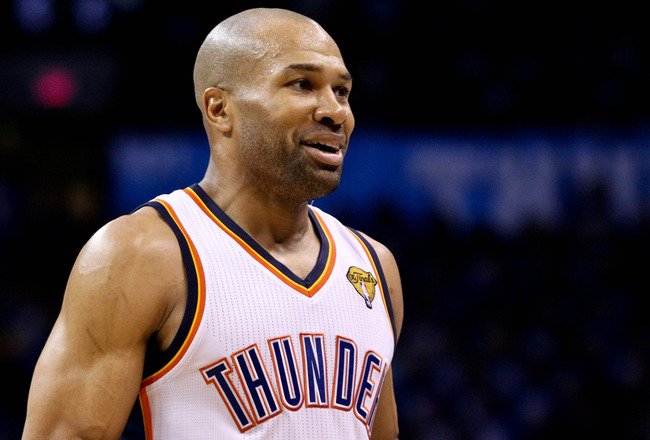 Derick E. Hingle-US PRESSWIRE
Ultra-competitive and saddled with the crippling uncertainty that comes with their post-basketball life, it's not an uncommon phenomenon to see an NBA player stretch his playing career too far.
The struggles of athletes transitioning to second careers are well-documented, so it's understandable that these players would want to hang on as long as possible. After all, it's not as if they'll wake up to another multi-million dollar job after they retire from the NBA.
Nevertheless, there comes a time when it's simply time to move on. Despite all the player's former prowess, he is no longer useful to any team outside of name recognition, and any squad that is giving him a shot is only doing so out of desperation or pity.
With that in mind, here's a look at a few NBA players who should call it quits before the 2012-13 NBA season begins.
Juwan Howard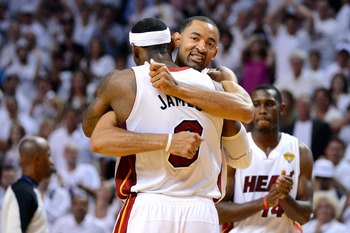 Ronald Martinez/Getty Images
Other than the always-convenient "love of the game" excuse, I have no earthly idea why Howard is still sticking around Miami Heat camp hoping to land a paying job.
After nearly 20 years of desperately searching for a championship, the 39-year-old power forward finally got his ring with the Heat last season.
According to Basketball-Reference.com, Howard has made $151.46 million as a player, so it's not like he's hurting for money (that we know of). And it's certainly not like he's a useful piece at this point in his career.
Playing in 28 regular-season games with Miami in 2011-12, Howard essentially served as little more than a warm body. The former Fab Five member averaged just 1.5 points per game and consistently struggled to provide his trademark defensive presence.
Whether it's coaching (or rapping?), it's simply time for Howard to move on to his second career.
Ben Wallace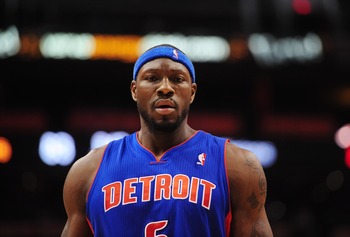 Mark J. Rebilas-US PRESSWIRE
Even though he was still relatively effective last season, center Ben Wallace has not even gotten a nibble on the free-agent market, despite making it abundantly clear he wants to play.
The only problem is that he wants to continue playing with the Detroit Pistons.
It seems apparent that even though the Pistons do not want to push Wallace out the door, they certainly don't want him anywhere near their roster this season.
For a team that is still desperately trying to rebuild, that's understandable. No matter how diminished his role becomes, Wallace's presence will always make fans dream of better times full of picked-out afros and appearances in the Eastern Conference final.
The Pistons are no longer that team, and Wallace is no longer that player. At this point in his basketball life, he's best served as a deep bench player who can come in and give five to 10 strong defensive minutes.
With a full roster and no minutes to spare, it seems like Wallace's ending with the franchise has already come. Someone just has to make that clear to the former Defensive Player of the Year.
Derek Fisher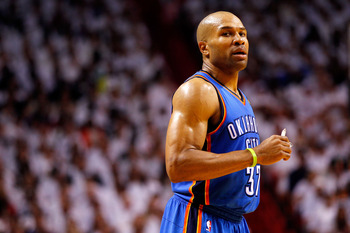 Mike Ehrmann/Getty Images
Four-tenths of a second. Five NBA championships. Player representative who helped save our 2011-12 season. That's the way we'll all remember Derek Fisher's legacy when he finally decides to walk away.
However, those are moments of the past. There is, quite literally, nothing more Fisher can do as a player to make a longer-lasting impact than he's made in his illustrious 16-year career.
Those are all good enough reasons to retire, especially considering he was on an NBA Finals team last season.
Outside of a fully-built legacy, though, it became readily apparent last season that Fisher had outlived his usefulness as a player.
Despite staying healthy and playing in 63 games with the Los Angeles Lakers and Oklahoma City Thunder, Fisher shot a paltry 37.1 percent from the field, and more tellingly, had a career-low PER of just 8.02. That figure was 333rd of 351 qualifying players.
Fisher did a ton of great things in his career, but it's time to walk away before creating long-lasting damage.
Mike Bibby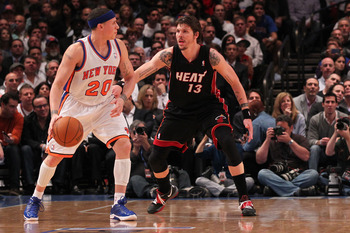 Anthony Gruppuso-US PRESSWIRE
Speaking of formerly great point guards who have long outlived their NBA usefulness, we have Mike Bibby, who is still desperately trying to cling on to a team.
It's understandable why the former Arizona Wildcat still wants to hang on (other than a paycheck). Despite all of his greatness on the Sacramento Kings teams of the early 2000s, Bibby is still without a championship.
However, after what we've seen over the past two seasons, it's apparent that Bibby can no longer play at a high level. After latching on with the New York Knicks last season, Bibby averaged just 2.6 points per game while shooting 28.2 percent from the field and compiling a 7.82 PER.
If those statistics aren't enough to make Bibby think about walking away, I'm not sure what is.
Jerry Stackhouse (Brooklyn Nets)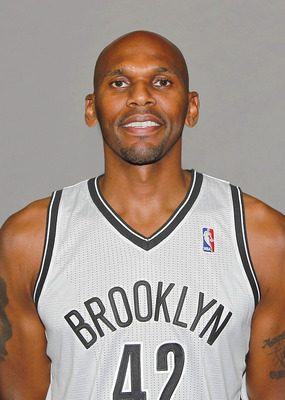 Jim O'Connor-US PRESSWIRE
After signing with the Brooklyn Nets in the offseason, most assumed that Jerry Stackhouse would provide an end-of-bench veteran presence that ultimately provides little on-court presence.
Well, that assumption may ring even truer than expected, as Stackhouse plans on honing his coaching skills under Avery Johnson this season, according to the New York Daily News' Stefan Bondy.
Here is what Stackhouse told Bondy (via New York Daily News):
I never thought I'd want to coach, but now I kind of want to transition into that, kind of learning from (Johnson). I know he'll allow me to assume some of the responsibilities this year. I think a lot of coaches would be threatened by that, but he's comfortable enough to let me earn my way while I'm playing.
While that's all well and good, it has to make you wonder why Stackhouse is even playing in the first place.
Some may argue that the shooting guard is desperately clinging on with Brooklyn in hopes of winning an NBA championship. Well, I hate to break it to the former North Carolina star, but he's not sniffing the Larry O'Brien Trophy with this Nets squad.
Sure, he'll see the playoffs and get a nice sendoff that way, but he could have done the same in Atlanta last season. Why not just stop prolonging the inevitable and move to coaching full time?
Keep Reading