A Hater's Guide to NFL Week 2: Why Your Team Is Destined to Lose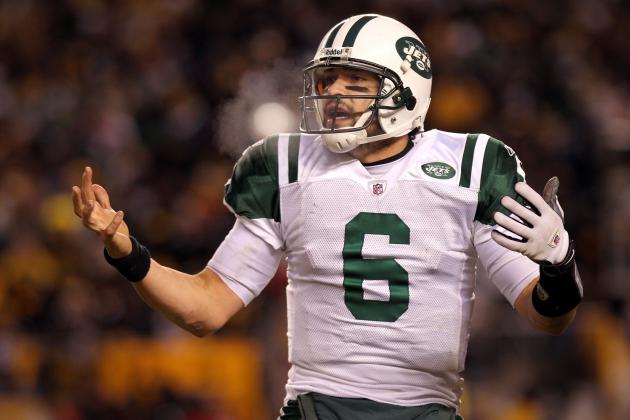 Nick Laham/Getty Images

Your team is going to lose!
Every fan has that realization at some point leading up to an NFL weekend. Sometimes the feeling comes early—looking at matchups or highlights from the previous week. Other times, it takes a while to set in, after a few sacks or a backbreaking pick.
Whenever it happens, that crushing feeling of hopelessness is part of what makes NFL football so great. Every weekend, half of those teams that are "going to lose" end up winning. The same fans driven to the depths of despair are now taken to the heights of joy.
As a writer, I've been called "hater" a lot.
Ironically, I've been called a hater about both teams in a weekly matchup. I've been called a hater about teams for which I've later been called a "homer." I've been called a hater about the team I grew up with—the Detroit Lions. I've been called a hater about players that I genuinely like as people (usually by fans who will never meet me or the players they love so much). I've been called a hater when my predictions have been wrong, and I've been called a hater when my opinions have been justified.
So, let's take "hate" to a whole new level.
Here is why your team is destined to lose this weekend, even if they end up winning.
Begin Slideshow

»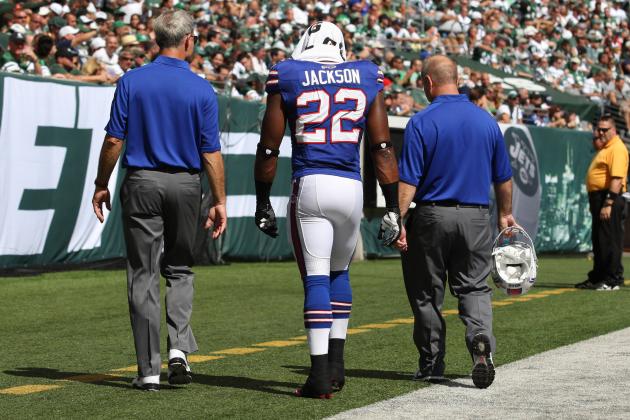 Ed Mulholland-US PRESSWIRE

Kansas City Chiefs:
Seriously guys, Matt "Freaking" Cassel is still your starting quarterback. How do any Chiefs fans wake up on Sunday morning, put on their face paint and look themselves in the mirror?
I know Scott Pioli has a super man crush on Bill Belichick, but do the Chiefs have to continue taking the scraps off of the Patriots' table and pretending they're filet mignon?
The Bills were pantsed in Week 1 and will be looking to let off some steam.
Buffalo Bills:
Hey, Bills fans (both of you), don't get too cocky reading about Cassel. Ryan Fitzpatrick is a waste of NFL roster space. Honestly, he should be off curing cancer or ruining our economy like the rest of Harvard's graduates. The only verifiable positive to having Fitzpatrick around is the ability to crawl up into his beard for warmth during those cold Buffalo winters.
Meanwhile, the Bills' best offensive player, Fred Jackson, got dinged up this week. C.J. "This is the Year" Spiller will be taking over running back duties to simultaneously tease and disappoint the few people that are actually going to watch this game.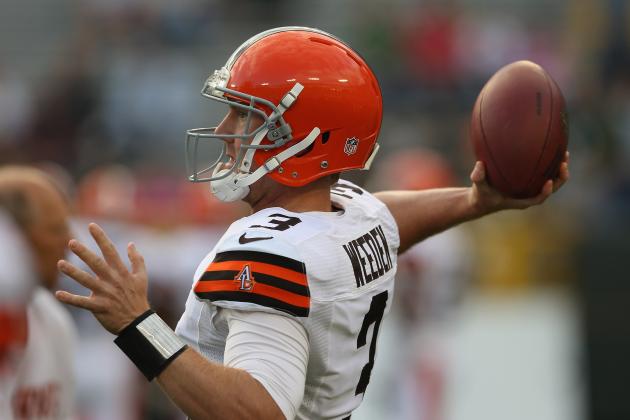 Jonathan Daniel/Getty Images

Cleveland Browns:
You guys are smart; I don't really have to spell this one out for you, do I? What's that? You think Brandon Weeden just had a bad game? You think he's due? You think it's all up from here?
Mwahahahaha!
Mike Holmgren (who is the walrus, Goo Goo G'Joob) drafted a 30-year-old baseball player who somehow has managed to find a level of suck that Colt McCoy had not previously attained. Note to Weeden: 5.1 would've been a fine ERA during your baseball days, but it's probably not the passer rating you want to shoot for.
Cincinnati Bengals:
Andy Dalton went from no expectations to exceeding low expectations to all of a sudden having ridiculously high expectations in Year 2. Sorry, Bengals fans, but this isn't how it works.
Just because Dalton is better than Carson Palmer (come on, who isn't?) doesn't mean that he's good. Admittedly, Bengals fans haven't had a good quarterback for comparison purposes since Boomer Esiason, but that doesn't mean trumping up Dalton is called for.
The Bengals have been living on the edge of crapitude for years—beating the horrible teams and getting blown out by playoff teams. It's time for the rubber to meet the road. There's a new terrible ginger sheriff in the AFC North, and the Bengals' days are numbered.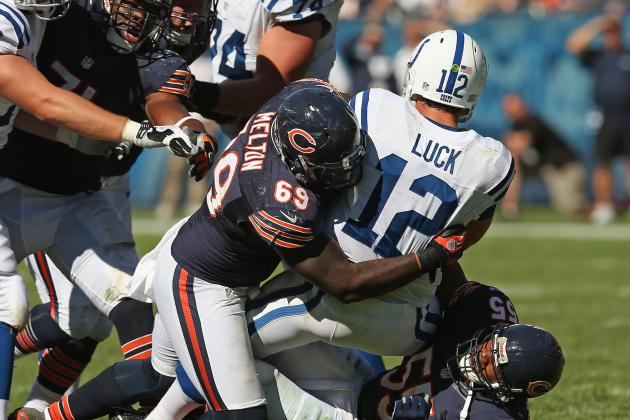 Jonathan Daniel/Getty Images

Minnesota Vikings:
Vikings fans are feeling pretty great after beating up on the hapless Jacksonville Jaguars in Week 1, which is essentially like winning the relay race at fat camp (trust me on this one). Thankfully for the purple faithful, the Colts aren't exactly in sprinting form either.
Eventually, though, it's going to become painfully obvious that the emperor has no clothes when it comes to the Vikings' brain trust (using the words "brain" and "trust" very loosely). Leslie Frazier is incredibly overmatched every morning when he's picking out socks, let alone when he's matched up against actual NFL coaches.
Indianapolis Colts:
Speaking of overmatched, the Colts' offensive line has looked truly offensive this season.
Jim Irsay should just sign Jared Allen as a fullback this week, because that's where he'll be spending most of this game. Of course, that would require Irsay to spend 10 minutes away from his peyote-fueled Twitter ramblings.
Remember that time Irsay tried to convince all of us that Vontae Davis was a good trade? Man, that guy is such a kidder...It's a good thing the Colts won't need those draft picks. It's not like they're building a team over here or anything.
And somewhere, Coby Fleener just dropped another pass.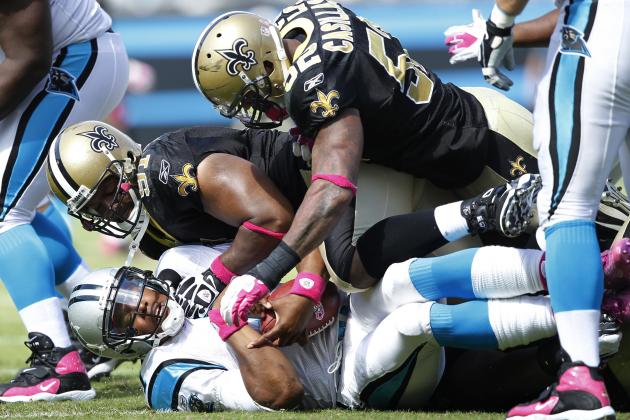 Joe Robbins/Getty Images

New Orleans Saints:
Karma is a total "B," ain't it? Perhaps Jonathan Vilma should've put a bounty out on the Saints receivers in Week 1, as Drew Brees had his worst passing performance in six years and the Washington Redskins made the Saints look like the Aints of yesteryear. I threw on a paper bag in the fourth quarter just to get into the spirit.
So, the Saints looked utterly perplexed against a mobile quarterback last week. That totally bodes well against Cam Newton, right?
Carolina Panthers:
The Panthers, supposedly, do one thing really well—run the football. How did that work out for you guys in Week 1? How many more millions do the Panthers need to spend on running backs before Marty Hurney reveals his master plan to travel back in time and win the 1902 NFL championship?
Meanwhile, Ron Rivera's defense has no defense for its play. If the Saints remember, even momentarily, how to complete a forward pass, the Panthers will not be able to stop it. They are far too busy looking at Newton highlight reels over on the sideline to ever actually win a football game.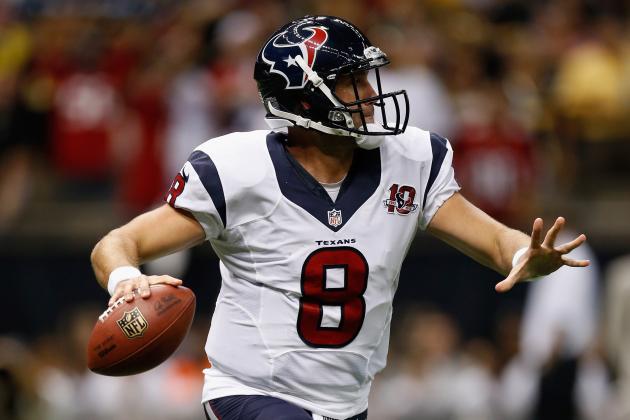 Chris Graythen/Getty Images

Houston Texans:
The Texans have a 4-6 record at Everbank Field and have historically found new and inventive ways to lose to the Jaguars on the road. Matt Schaub loves to invent new ways to lose; it's how he and Gary Kubiak spend Friday nights.
Barely clinging to a reputation as the "best" team in the AFC South is a little depressing isn't it?
If the Texans look past the Jaguars, they'll get Maurice Jones-Drew'd right into a 1-1 start.
Jacksonville Jaguars:
It's somewhat disingenuous for any team other than the Florida Gators to claim home-field advantage in Jacksonville. The fans can make up any excuses they want, but they're currently selling tickets for $20 to avoid any blackout talk this season. Last season, they sold coupon books for "charity." (Read: to offset the team's ticket buy backs to, again, avoid blackouts).

So, while the Jaguars continue to operate like a thrifty Girl Scout troop, it's hard to envision them winning anything but a merit badge.
Also, Blaine Gabbert.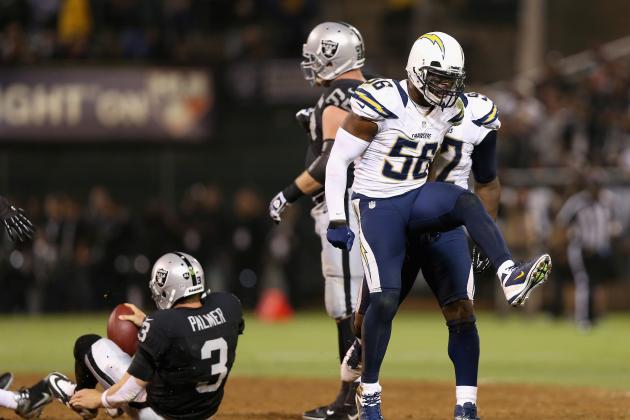 Ezra Shaw/Getty Images

Oakland Raiders:
Carson Palmer (or, LOLmer) is your quarterback. You are destined to lose every game until that fact changes, period. Yes, there may be some games where the sheer badassery of Darren McFadden takes over, and there's always the chance to stumble onto a few wins in the inept AFC West.
Still, Carson Palmer...c'mon man!
Meanwhile, the rest of the Raiders weren't exactly great in Week 1 (or, you know, since like the '80s, but whatev). Unconfirmed reports out of Miami this week have Cameron Wake applying for permanent residence in Palmer's grill, and the game ball is seeking an injunction against the receiving corps' hands.
Miami Dolphins:
Hey, look, it's another team that hasn't been good as long as Justin Bieber has been alive!
When reports came out last week that J.J. Watt had learned the Dolphins' snap count from Hard Knocks, it was the end of an era. No, not for the Hard Knocks show—HBO will still find suckers to take them in. Instead, it's the first time in a long time that an opponent admitted to caring that the Dolphins were coming up on the schedule.
Ryan Tannehill does one thing well: convince incredibly out-of-his-league women to marry him. That's it. That's his niche in life. For 99 percent of men, that would be a great talent to fall back on, but most of them aren't attempting to play in the NFL, where Tom Brady bests Tannehill even at what he does best.
Even the beat reporters in Miami have forgotten what real football looks like, as Omar Kelly of the South Florida Sun Sentinel thinks Legedu Naanee is a quality receiver.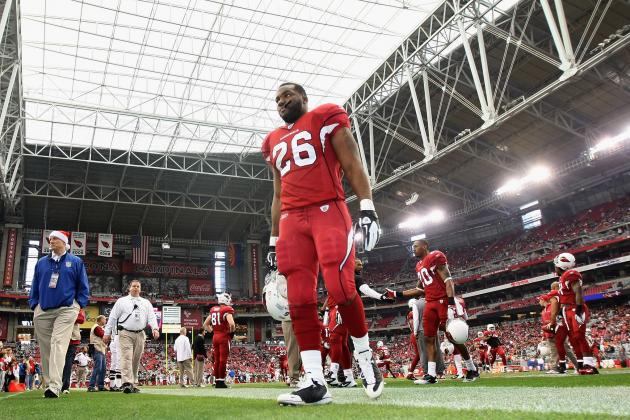 Christian Petersen/Getty Images

Arizona Cardinals:
Let me count the ways...
Actually, you know what, here's a copy of the Arizona Cardinals depth chart. Look at that for 20 minutes, and if you aren't convinced that the Cardinals are destined to lose (potentially every week, for the next decade), seek medical help immediately.
New England Patriots:
Admittedly, this is a stretch. Normally the Patriots are only destined to lose when it's the biggest game of their collective lives and they come in as huge favorites to crush a Giants team that has limped into the playoffs. Since few Bostonians have bet their entire livelihoods on this game, it's probably difficult to even consider them losing.
But the Cardinals have a solid pass rush, and Tom Brady gets the heebie jeebies anytime someone gets into his personal space, so the Cardinals have a puncher's chance.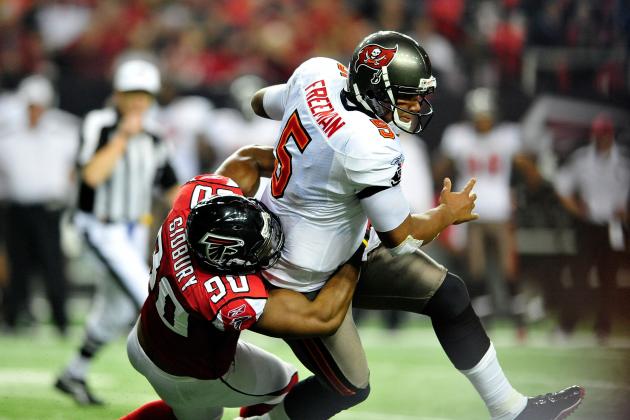 Grant Halverson/Getty Images

Tampa Bay Buccaneers:
Greg Schiano is going to have a nervous breakdown when he gets to the Meadowlands and the stadium turf is an eighth of an inch longer than he specifically demanded in the very stern letter he sent to Giants management. He'll reach homicidal levels when he counts three extra ice cubes in the team water cooler. The Buccaneers will be forced to forfeit when he chokes out the national anthem singer for being flat on her high notes.
In all seriousness, young team on the road versus the Super Bowl champs...
New York Giants:
If I had a nickel for every regular-season game in which Eli Manning metaphorically crapped the bed, I would buy the Giants (and a metaphorical cleaning lady). The Jekyll and Hyde routine is getting a little old, Eli.
Not as old as Tom Coughlin, mind you. Coughlin has apparently reached the point where he can't even remember winning the Super Bowl! Manning was fourth in passing attempts in 2011, and the Giants were able to win on the backs of a passing game that revolutionized the way people thought of Latino dance.
Then, in Week 1, Coughlin decides Ahmad Bradshaw is a capable running back (apparently, they haven't met) and runs him into a brick wall a dozen times before taking a nap.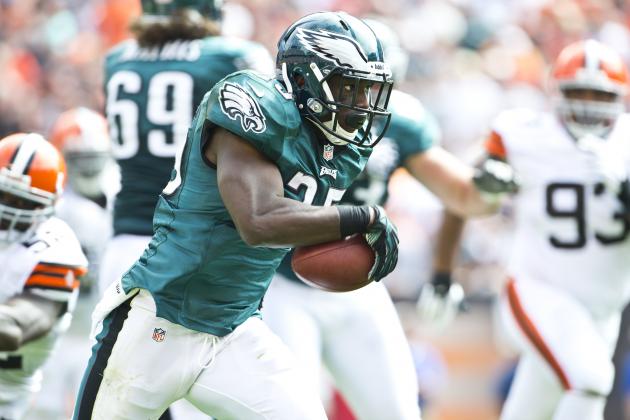 Jason Miller/Getty Images

Baltimore Ravens:
What's the time frame on Ed Reed and Ray Lewis simply being caught by a stiff wind, turning to dust and blowing away like extras in The Scorpion King? I give it another week or two.
The Ravens are trying out a new high-tempo offense in 2012, and it looks spectacular, but do the Ravens really want to get into a shooting match with Andy Reid and the Philadelphia Eagles? Really?
The way to beat Reid (other than the famous "spiked cheesesteak" gambit) is to let him get into a shootout with himself. The Ravens are going to idiotically turn this into a high-scoring affair and give Michael Vick an actual chance to beat them.
Philadelphia Eagles:
Milk cartons all around Philly feature LeSean McCoy after Reid (undoubtedly after some of the aforementioned cheesesteak) completely forgot he had an All-Pro caliber running back and decided to let Vick (quite literally) attempt to throw away a win against Cleveland.
When the Browns give you all you can handle, you can't handle the Ravens.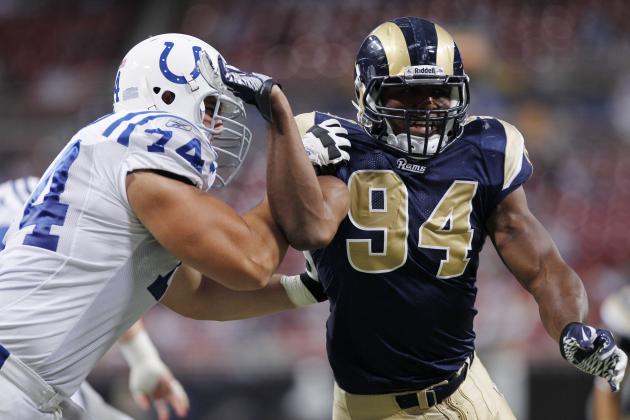 Joe Robbins/Getty Images

Washington Redskins:
Well, first off, this week the Redskins' opponent actually has a head coach. This could be problematic.
Secondly, the Rams made Matthew Stafford look like, well...rookie year Matthew Stafford, so it's a legitimate possibility that Robert Griffin III could revert back to middle school. (Note: he will still be the fastest player on the field.)
All it's going to take is one roll-out into Robert Quinn to make Griffin realize he should have kept up with his hurdling.
St. Louis Rams:
There's always a small chance that Cortland Finnegan and Janoris Jenkins will do something incredibly stupid. There's also a near-certainty that Sam Bradford will. Different kinds of decision making, yes, but good choices aren't this team's strong suit.
I'm looking forward to the demoralizing moment when Mike Shanahan finds an 80-year-old woman in the St. Louis crowd, inserts her into the lineup and sees her rattle off 125 rushing yards.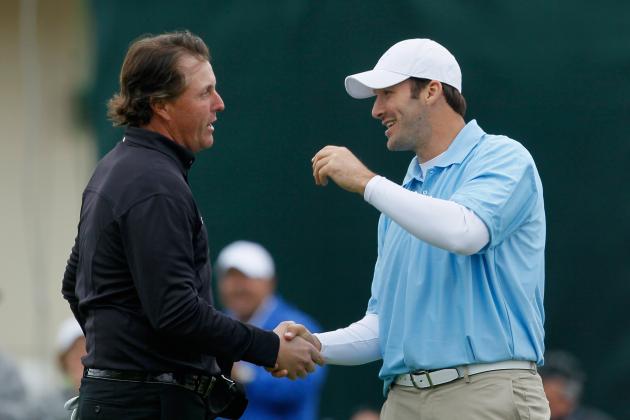 Jeff Gross/Getty Images

Dallas Cowboys:
Shown: Tony Romo playing golf. Not sure it's during the second round of the NFL playoffs, but there's always a solid chance.
The Cowboys are a terrible team. Not that they don't have talent, no. If one simply took the sum of the Cowboys parts, they'd rattle off a number of undefeated seasons. No, the Cowboys are, quite literally, horrible at this whole team thing. It starts at the top when Jerry Jones hires "coaches" and "personnel people" and then symbolically (potentially literally) castrates them by making all of the decisions himself.
The man can't clean his own eyeglasses, but he thinks he can run a football team by himself.
Seattle Seahawks:
Twelfth man! Woohoo!
The Seahawks have as much of a home-field advantage as anyone in the league when crazy crowd noise and a wicked case of jet lag leaves opponents helpless. It probably doesn't help that Golden Tate keeps on stealing the breakfast from the vistor's locker room (can take the boy out of the donut shop...).
The problem with having a 12th man is when your 1st-11th men suck.
This isn't a chapter meeting of the Lollypop Guild, Russell Wilson. Sit down and I'll bring you a juice box; this is an adult conversation. No...I certainly didn't mean you, Pete Carroll. Don't you have another college team to ruin with your mismanagement?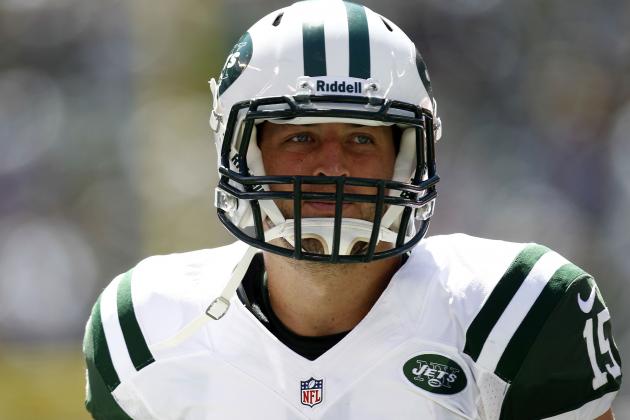 Jeff Zelevansky/Getty Images

New York Jets:
A lo! It came to pass on the 16th day in the ninth month that Tim, son of Tebow, cursed the land and its heathen people. Mark Sanchez was struck down by an exploding lightbulb at a GQ photo shoot. Darrelle Revis was lost, shipwrecked on his very own island. Antonio Cromartie...well, you can guess how that one turned out. Somewhere, Plaxico Burress shot himself again—not that it had anything to do with the curse, he's just an idiot.
Verily, Rex Ryan sought penance before Tim, son of Tebow, bowing down and kissing his feet, then things got weird.
And, scene.
Pittsburgh Steelers:
Tragically, an Ed Reed/Ray Lewis-filled dust cloud fell over Heinz Field, causing Troy Polamalu to get a terrible case of the "itis" right before game time. Elsewhere, Ike Taylor was seen handing out hard candies to grandchildren who didn't want them, and Larry Foote spent 20 minutes trying to get the "clicker" to work so he could watch Lawrence Welk before going to bed at 7 p.m.
All kidding aside, one thing is for certain: Roger Goodell will fine James Harrison for something (anything).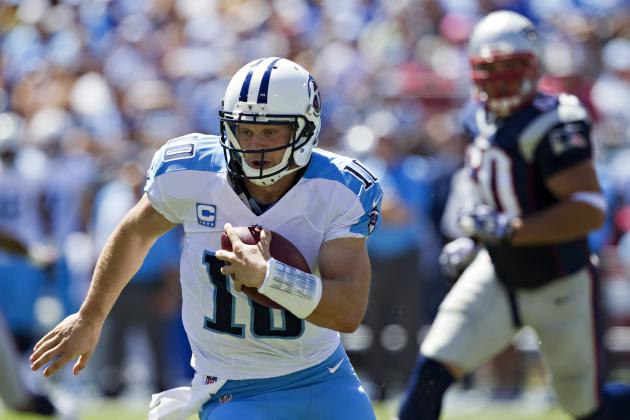 Wesley Hitt/Getty Images

Tennessee Titans:
Chris Johnson thinks he's faster than Usain Bolt. This is news to the defenders who keep stopping him for zero yards—over and over and over.
It's OK though, because Jake Locker is...actually, scratch that, Locker is horrible. The dude couldn't win in the Pac-10; how does he expect to do it in the NFL? Don't give me that "Washington didn't have any other good players" garbage either, because the Titans aren't exactly stockpiling talent.
Actually, Locker might not even play this game, as he was dinged up in the opener and Matt Hasselbeck may end up getting the start. This fact is totally awesome to Titans fans who don't remember what decade it is.
San Diego Chargers:
Did any of you see the Oakland game in Week 1?
Sorry Chargers, but NFL rules stipulate you can't play the same team every week; once in a while, you will actually be forced to test your skills against teams not in the AFC West. We apologize for this and hope you can console yourselves by alienating another one of your superstars and watching them go on to success elsewhere.
The Chargers shouldn't lose this game, but Norv Turner likes a challenge.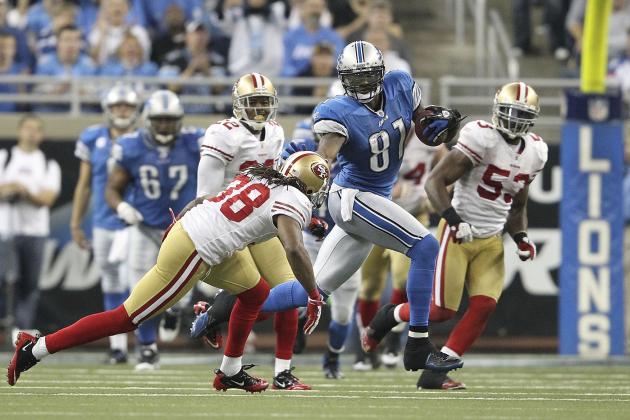 Leon Halip/Getty Images

Detroit Lions:
Would it be surprising, at all, if fans tuned into this game and instead got helicopter footage of Jim Schwartz slowly driving the team bus as it "runs" away from the San Francisco PD? The Lions' complete and utter lack of self control manifested itself in a league-leading arrest total in the offseason and a pretty great headbutt in Week 1.
Ignoring the Lions' antisocial tendencies for a minute, how about that defense, huh? The Lions are looking for anyone off the street to start for them at cornerback. No, literally, off the street. Gunther Cunningham wants to field an all-hobo lineup at least once this season.
San Francisco 49ers:
The Niners faithful are awfully proud of themselves for keeping Calvin Johnson out of the end zone in last season's matchup. That, of course, completely ignores the phenomenal game he had and the fact that no one on the defense could even hope to contain him, let alone stop him.
If Alex Smith gets into a shootout, look out, because he finally has some weapons! Then again, weapons are only as good as the person holding them, and Smith is always due for a few self-inflicted wounds here and there.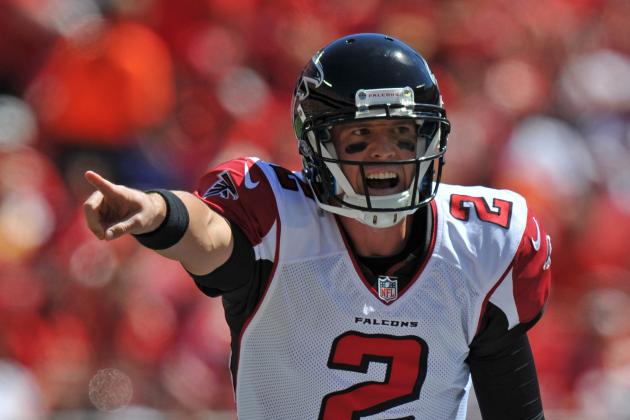 Peter Aiken/Getty Images

Denver Broncos:
At some point this season, Peyton Manning's head is literally going to fall off from his body, and he's going to throw it to Eric Decker in the end zone. This will happen; I saw it on an episode of Futurama. If you're looking for someone to separate his head from his body, John Abraham is as good a candidate as any.
Then there's J.D. Walton. Look, I'm sure he's a nice kid, he's just not a very good center. The Broncos know this and signed former Patriots center Dan Koppen, who will likely take over for Walton as soon as Manning threatens to stage a sit-in.
Really, I'm only hard on Walton because I know his dad will read this and probably fire off a poorly punctuated email.
Atlanta Falcons:
Like most old people, Tony Gonzalez will read the obituaries on Monday morning and hear about the tragedies in Baltimore and Pittsburgh. Realizing all of his old friends have gone to a better place, Gonzalez will climb aboard the aliens' space ship and travel to a world where he will no longer age. (Cocoon reference, FTW.)
Meanwhile, back on Earth, Julio Jones and Roddy White will be overheard whispering "This guy..." over and over while pointing at Matt Ryan and lamenting over the 20 underthrown balls picked off by Champ Bailey (who, notably, does not age).
The Falcons' offensive line will make solid money off of this game, however, with their new policy of accepting subway tokens before letting defensive linemen run right past them.
Michael Schottey is the NFL national lead writer for Bleacher Report and an award-winning member of the Pro Football Writers of America. Find more of his stuff alongside other great writers at "The Go Route."