Predicting the Most Improved NBA Player at Every Position for 2012-13 Season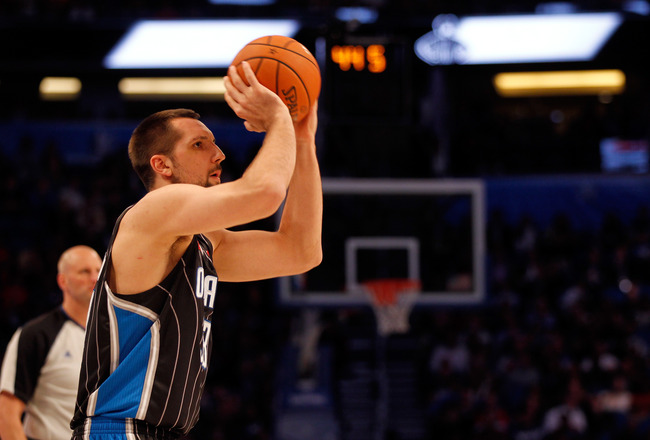 Mike Ehrmann/Getty Images
Ryan Anderson rode his hot shooting to the 2012 Most Improved Player award, but it wasn't enough to convince the rebuilding Orlando Magic they should hold on to him.
Instead, the organization traded him to the New Orleans Hornets in order to preserve future cap flexibility, so he'll have the opportunity to continue his improvement alongside this summer's first overall draft pick Anthony Davis.
In reality, Anderson didn't do anything particularly different last season. He just had more opportunities to do exactly what he's been doing in each of his four seasons: make lots of three-pointers.
With the benefit of an additional 10 minutes per game and the expanded production that came with it, a few people actually started to notice.
Going into this season, some players will similarly benefit from more playing time. Others will make the most of summer routines and cumulative experience, hoping this is the year everything begins to click.
Here's a look at who stands the best chance of making the big leap at each position.
Point Guard: Jrue Holiday, Philadelphia 76ers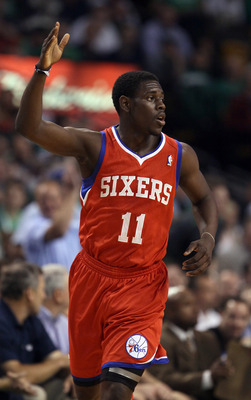 Elsa/Getty Images
Jrue Holiday has shown flashes of brilliance in his three-year career, and you shouldn't read much into the ever-so-slight step back he took last season.
He's still just 22 years old after all.
He's due for a huge breakout season.
Holiday averaged 13.5 points on 43 percent shooting last season but just 4.5 assists in 33.8 minutes per game. His production and efficiency alike should improve going forward.
While the Philadelphia 76ers have more scorers on hand this season, that's likely to mean Holiday winds up taking better shots rather than being relied upon to bail the club out by forcing something.
Additionally, he should become a far more effective distributor with Andrew Bynum roaming around the basket and a platoon of new sharpshooters: Nick Young, Jason Richardson and Dorell Wright.
Holiday is already an excellent defender and has all the makings of a future All-Star. He could take a big step toward realizing that this season.
Shooting Guard: O.J. Mayo, Dallas Mavericks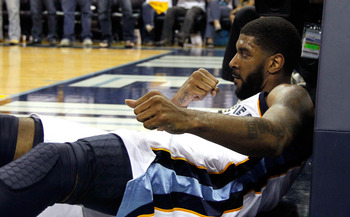 Kevin C. Cox/Getty Images
Describing O.J. Mayo as an improved player is a bit misleading.
He was one of the best up-and-coming scorers in the league during his first two seasons, averaging 18.5 and 17.5 points, respectively, and 38 minutes per game. That production tapered off significantly when the Memphis Grizzlies asked him to play the sixth-man role.
Last season, Mayo averaged just 12.6 points while shooting 41 percent from the field. He was playing 11 fewer minutes than he'd averaged in those first two seasons.
A change of scenery will do wonders for the 24-year-old.
Assuming he'll be the team's starting shooting guard, he could very well become their second scoring option behind Dirk Nowitzki.
Small Forward: Michael Beasley, Phoenix Suns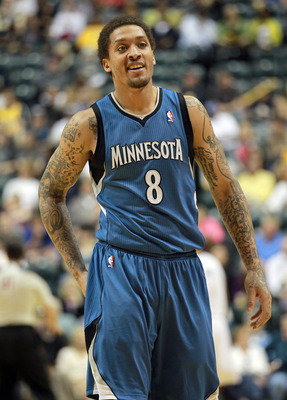 Andy Lyons/Getty Images
In his two seasons with the Minnesota Timberwolves, Michael Beasley's scoring dropped from 19.2 to just 11.5 points per game, and he played nine fewer minutes per contest.
Like O.J. Mayo, he's due for a return to effectiveness. We already know what Beasley can do, the only question is whether he'll be able to do it going forward.
He's still just 23 years old and will have a fantastic chance to take the next step this season with the Phoenix Suns.
Whereas the combo-forward had to share playing time with Kevin Love, Derrick Williams and Wesley Johnson in Minnesota, the Suns don't have quite as much going on at their forward positions.
They'll also be more likely to play swingmen like Jared Dudley and Wesley Johnson (who they acquired from the Timberwolves separately) in the backcourt where Shannon Brown is the only other shooting guard worth noting.
That should mean a new lease on life for Beasley, who's still looking to justify his second overall selection in the 2008 draft.
Power Forward: Tristan Thompson, Cleveland Cavaliers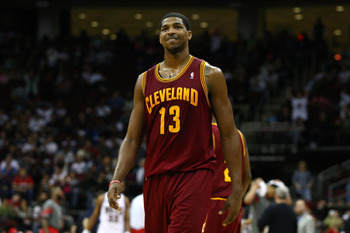 Chris Chambers/Getty Images
Tristan Thompson's rookie season with the Cleveland Cavaliers wasn't a failure by any stretch of the imagination, nor was it a perfect display of what he's capable of doing.
The 21-year-old has already proven to be an excellent rebounder and capable defender. He'll be able to match up with opposing power forwards more frequently now that center Anderson Varejao is healthy, so his defense should look even better this season.
Thompson should also expect to play more than 23.7 minutes per game.
With Antawn Jamison now a Los Angeles Laker, the power forward position belongs to Thompson exclusively.
It wouldn't be at all surprising to see him playing 30 or more minutes per game and averaging a double-double in the process.
Center: JaVale McGee, Denver Nuggets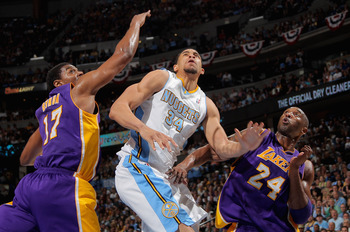 Doug Pensinger/Getty Images
No, the fact that he spent this summer working on post moves with the legendary Hakeem Olajuwon isn't the only reason JaVale McGee is poised to make an important leap, but it certainly can't hurt.
Having relied upon his superior size and athleticism over the last four years, a more skilled approach in the paint could make McGee an incredibly dangerous scorer. He already makes key contributions on the defensive end and the glass; now he could become a featured part of the Denver Nuggets offense too.
We saw some flashes last season, especially in Games 3 and 5 against the Los Angeles Lakers in the first round of the playoffs.
He put up monster double-doubles in both contests, scoring a combined 37 points while shooting 17-of-24 from the floor.
The upside is there, and this could be the year we see all that promise fulfilled.
Keep Reading