The 2007 NBA Draft All-Underrated Team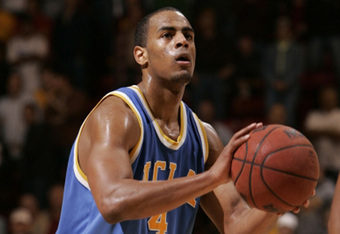 It's the most wonderful tiiiiiimme
Of the yeeaaaaaaaaar!!!
Sing it with me, people!
For most folks, that little ditty conjures either Christmas or Capital One Bowl Week.
For me, it describes my jubilation that the 2007 NBA Draft is a mere day away.
To celebrate, I've assembled here a list of five players who won't go as high as they should on Thursday—but who will turn heads down the road if given the chance.
Without further ado, the 2007 NBA Draft All-Underrated Team:
PG: Gabe Pruitt, USC
Confession time: I'm a current USC student, and Gabe was my lab partner in a dreadfully boring Geology 108 class. So I'm a little biased.
That said, I've probably seen the guy play more over the past two years than most NBA scouts, so I feel that I'm capable of honestly assessing his talents.
First, a caveat: Gabe Pruitt should have returned to school.
Two seasons ago, Pruitt averaged 16.9 points a game as a two-guard. Following the tragic death of point guard Ryan Francis and a semester of academic ineligibility, Pruitt found himself running the point last year.
Nine out of ten players in that position would have emphasized their own offensive skills. Pruitt did the opposite: He focused less on his own game and instead funneled the ball to his teammates with surprising ease.
In short, he reinvented himself as a pass-first point guard almost on the fly—while still retaining the slashing, shooting, and defensive skills that put him on the map in the first place. Anyone who doubts Pruitt's ability need only look at his work in this year's NCAA Tournament, when he shut down D.J. Augustin and Ty Lawson in back-to-back games.
But that doesn't mean he's done developing.
Pruitt became too passive at times last season, deferring to his teammates when he should have asserted his own will. The Sweet 16 game against North Carolina was one such instance; when USC's 16-point lead was dwindling early in the second half, Pruitt dished the ball rather than taking it himself—even though his drives had produced the lead in the first place.
So yes, Pruitt could use another year in college—but he still has the goods to be an exceptional NBA point guard. If he puts it all together, NBA fans could be hearing his name for years to come.
SG: Arron Afflalo, UCLA
To channel Wes Mantooth from Anchorman—"I hate you, but goddammit do I respect you!"
I can't stand Arron Afflalo (or UCLA in general), but that doesn't mean he won't turn out to be a valuable NBA player.
For starters, Afflalo was the toughest on-ball defender in college basketball the past two years—and given his size (6'5"), can stick to even the biggest shooting guards.
He also played under one of the college game's brightest minds in Ben Howland, and while his jumper can be streaky, he has good range when he's on.
Finally, Afflalo is a winner. UCLA's recent success has been a product of the Bruins' ability to beat superior teams with sound execution—and Afflalo has been instrumental as a leader and a clutch shooter.
(He hit a last-second game-winner on the road against USC, for example—so you can see where the hatred comes from).
Scouts will criticize his lack of athleticism, but Afflalo's track record speaks for itself. His skills will translate well on the NBA level.
Okay—enough effusive praise for UCLA. Let's move on before I vomit all over my laptop.
SF: Jared Dudley, Boston College
What does this man have to do to get some respect?
The rap on Dudley in his junior year was that he was a second banana to Craig Smith, a complementary player with little shooting range who relied on hustle to create scoring opportunities.
Following Smith's departure, Dudley shed some of his baby fat and developed his jumper, then assumed the team's scoring burden and carried Boston College in the competitive ACC.
The dismissals of center Sean Williams and power forward Akida McClain turned the 6'7" Dudley into BC's lone post presence...and still he managed to average 19.0 points and 8.3 rebounds per game en route to ACC Player of the Year honors.
Like Afflalo, Dudley just wins. He'll make a great rotation player at the next level.
PF: Glen 'Big Baby' Davis, LSU
Given the buzz surrounding Davis' stock following predraft workouts, Big Baby may play his way off this list and into the middle of the first round.
For now, though, he still makes the cut.
When LSU endured the Season from Hell following their 2006 Final Four appearance, many observers were quick to attribute the squad's prior success to the departed Tyrus Thomas—or, as I will henceforth refer to him, the Completely Overrated Tyrus Thomas (whose only asset is his 40" vertical).
Those observers did not give Davis his due.
While COTT was busy springing for alley-oops on SportsCenter, Big Baby was doing the dirty work in the post. His girth is well-documented, but his footwork shouldn't be overlooked; for a man who has weighed as much as 330 pounds, he's incredibly nimble.
Davis may well slide because of his weight, but teams who pass on him will be making a mistake. The big fella has dropped over 40 pounds in the past year, and his size and post skills make him a huge mismatch for most NBA teams.
If Eddy Curry can put up close to 20 points a night, there's no reason that Davis can't do the same. For his sake, let's hope some team is smart enough to know it.
C: Chris Richard, Florida
On most college teams, Chris Richard would have been a multiyear starter at either the four or the five.
Unfortunately for Richard, he went to Florida.
Still, it's ridiculous that many projections have the Gators' sixth man going undrafted. The 6'9", 255-pounder allowed Florida to rest Al Horford and Joakim Noah without a decline in production, and did far better than his more heralded teammates in containing Greg Oden.
Richard's lack of exposure will probably cost him big time on Thursday; he's a late first-round talent who might wind up signing off the street.
Given that big men as awkward as Brian Scalabrine contribute 15 minutes a night in the NBA, Richard's slide will be nothing short of sinful.
So there you have it: the 2007 NBA Draft All-Underrated team. Maybe they won't be superstars, but these five guys, if given the Opportunity, will help teams in the league for years to come.
This article is
What is the duplicate article?
Why is this article offensive?
Where is this article plagiarized from?
Why is this article poorly edited?

Minnesota Timberwolves: Like this team?