5 NBA Players Guaranteed a Breakout Season in 2012-2013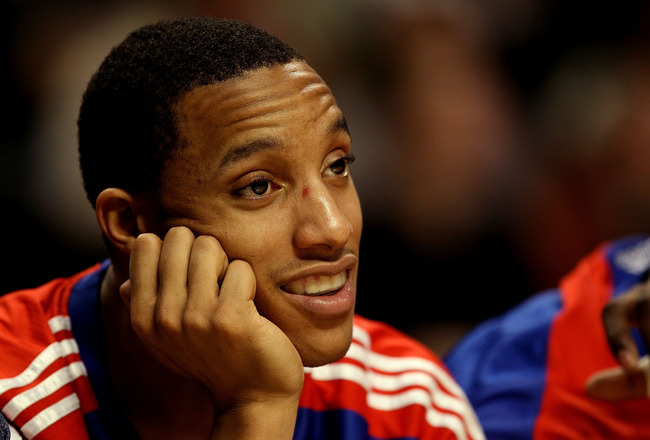 Jonathan Daniel/Getty Images
Every NBA season features breakout players, and the 2012-2013 season will be no different.
In fact, there are a handful of current young players who are poised for a breakout season that will put them on the brink of superstardom.
We've seen a bevy of players make these strides in recent years. Ryan Anderson, Kevin Love and James Harden are just a few of the studs who have enjoyed such campaigns the past couple seasons.
The 2012-2013 venture should also contain a slew of players who are making their rise in the league. Here are five youngsters who are guaranteed a breakout season.
Evan Turner, Philadelphia 76ers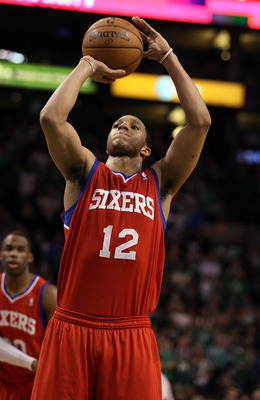 Elsa/Getty Images
Evan Turner averaged just 9.4 points per game last season, but that should see a stark rise this upcoming year. His assist output should go up as well.
Why is this? There are two reasons.
For one, Turner is simply developing as a player—and, entering his third season, we should begin to see more maturity and realized potential.
Secondly, and perhaps more importantly, Andre Iguodala is no longer with the Philadelphia 76ers, creating an opportunity for Turner to become the premier backcourt player for Philly.
Turner and fellow youngster Jrue Holiday should both see a surge in responsibilities this coming season, but Turner is the one more suited to develop into a superstar.
At his height (6'7'') and with his perimeter ball-handling skills, he could soon become a consistent triple-double threat. He is remarkably versatile and is capable of attacking the rim, knocking down the pull-up jumper or dishing to open teammates.
What's more, he's now playing with big man Andrew Bynum, which provides him with quite a frontcourt mate and passing target.
Things are shaping up very nicely for Turner, and don't be surprised if he and Bynum both represent Philly at the 2013 All-Star game.
Predicted Numbers for Turner: 17.1 PPG, 5.1 assists per game, 7.0 rebounds per game
Ersan Ilyasova, Milwaukee Bucks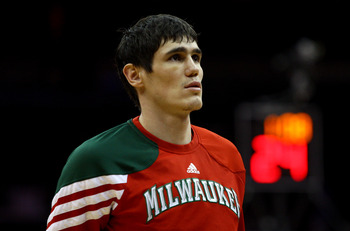 Chris Chambers/Getty Images
In the offseason, the Milwaukee Bucks re-signed forward Ersan Ilyasova to a five-year, $40 million deal.
They're clearly expecting big things from the 25-year-old Turkish big man, and based on the strides he's already taken, 2012-2013 should be his breakout season.
Ilyasova has already shown major promise, and he averaged a very respectable 13.0 PPG and 8.8 RPG per game last season.
But these numbers should continue to rise mightily. This should be expected mainly because Ilyasova should become the Bucks' featured frontcourt weapon.
He does, however, play with two trigger-happy guards in Brandon Jennings and Monta Ellis, but head coach Scott Skiles should surely construct packages where Ilyasova can showcase his undeniable skills.
The All-Star game may be a stretch this upcoming year for Ilyasova, but his name will most likely at least be in the conversation. He possesses a unique skill set (shot 45.5 percent from three-point range last season), and figures to help Milwaukee challenge for a playoff spot.
Predicted Number for Ilyasova: 17.4 PPG, 10.1 RPG, 1.0 blocks per game
Kenneth Faried, Denver Nuggets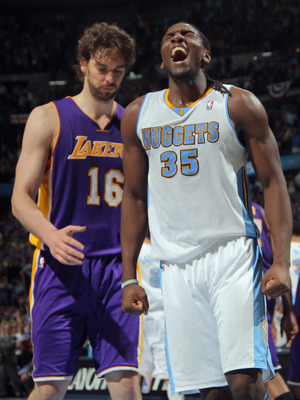 Doug Pensinger/Getty Images
Kenneth Faried already revealed his enormous potential last season, particularly in the playoffs when he averaged a double-double in a gruesome seven-game series with the Los Angeles Lakers.
But his rise will continue this season with exclamation. He figures to log major minutes at the power forward position and should find himself among the league leaders in rebounding.
Faried is worthy of any Dennis Rodman comparisons he has garnered. He plays with a very similar motor on the boards and should be an elite rebounder and defender for years.
Further, he actually has more of an offensive skill set than Rodman. Faried averaged 10.0 PPG as a rookie, and while he'll likely never develop into a "go-to guy" on offense, he is more than capable of finishing around the basket and scrapping his way to double-digit points on a game-by-game basis.
Believe it or not, the second-year big man out of Morehead State could legitimately find his way to the All-Star game in 2012-13. With a minutes increase from last season (only played 22.5 minutes a game) coupled with increased skill development, he could find himself on a quick rise toward superstardom.
Predicted Numbers for Faried: 13.7 PPG, 12.3 RPG, 1.6 BPG, 1.3 steals per game
O.J. Mayo, Dallas Mavericks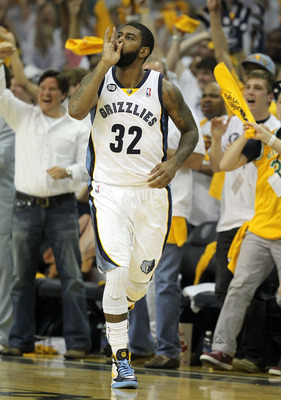 Andy Lyons/Getty Images
O.J. Mayo poured in 18.5 points per game as a rookie in 2008-09, but his scoring output hasn't equaled or surpassed that since.
That could very likely change as he now puts on a Dallas Mavericks uniform. He should receive the bulk of the playing time at shooting guard and figures to become the Mavs' secondary weapon after Dirk Nowitzki.
Mayo is still just 24 years old and his potential has never been questioned. Frankly, it seems as if a change of scenery has been needed the past couple years, as he has only averaged around 26 minutes a game since his first two seasons.
Therefore, Mayo is in great position to break out in Dallas, and his career is in definite need of it. If he fails to blossom this year, he will soon wear the unfortunate label of a guy who hasn't lived up to the hype.
But expect Mayo to live up to the hype this season. He's joining a squad that bid farewell to Jason Terry and Jason Kidd and is thus in need of offensive production.
Mayo should find the freedom to be consistently aggressive with his new team and this should be the most productive season of his career.
Predicted Numbers for Mayo: 19.6 PPG, 3.8 APG, 4.5 RPG, 1.4 SPG
Goran Dragic, Phoenix Suns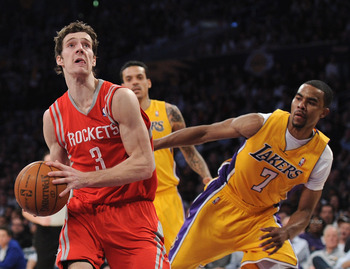 Harry How/Getty Images
Goran Dragic is back with the Phoenix Suns, where he spent his first two full seasons and part of 2010-11. Last season, as a member of the Houston Rockets, Dragic made a statement in the season's final two months.
Last March, he averaged 15.5 PPG (49.7 percent from the field), 7.4 APG and 1.8 SPG. In April, he was even more impressive—18.9 PPG (46.4 percent), 7.7 APG and 1.8 SPG.
Those numbers are strong indications of what he will likely do as a Sun this season. With Steve Nash no longer in Phoenix, Dragic will take the reins to the backcourt and shouldn't disappoint.
Dragic is deceptively athletic and can score in penetration, hit the trey ball and set up his teammates.
If the 26-year-old proves to be an All-Star-caliber player, the Suns could challenge for a playoff spot in a competitive Western Conference. Dragic has the skill set to become a superstar and should now receive the minutes to exclaim his value.
Predicted Numbers for Dragic: 18.5 PPG, 7.5 APG, 3.8 RPG, 1.6 SPG
Keep Reading