The 20 Craziest Puking Moments in Sports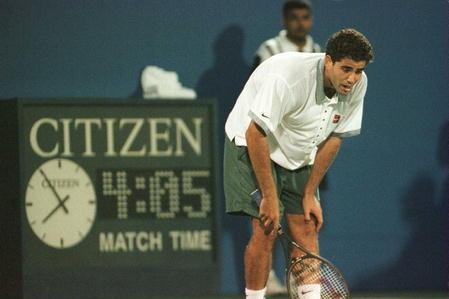 Courtesy of Tennis DVD Warehouse
Sports are about guts, glory, victory...and crazy puking moments.
From Pete Sampras' bile-fueled win at the US Open to Michael Jordan's epic flu game, some of the funniest, craziest moments in sports come with a side of vomit.
Here is the list of the craziest puking moments in sports history.
Begin Slideshow

»
Charleston Southern was supposed to be a cupcake on Florida's 2009 college football schedule but it turned out to be one of toughest games of receiver Riley Cooper's career.
Cooper was battling the flu but was still game to play and survived the entire game, catching five passes for 105 yards.
But his feat was not without consequences; he spewed vomit all over the field right before the end of the first half.
Vomiting is rare in sports, even a sport as violent as football, but it does happen once in a while. It's much rarer that a player vomits and the announcers actually laugh.
Don't you feel bad for this guy?
David Beckham is known to many American fans for being married to a Spice Girl, but the man has plenty of grit on the soccer field.
During international play, Beckham once stayed in the game despite vomiting three times from dehydration and scored the goal that put England in its third quarterfinal in a row.
That level of crazy toughness deserves applause.
Want to know how Matt Ryan got the name "Matty Ice" in college?
While it's not verifiable, my guess is that his stone-cold TD pass while playing ill to take down Virginia Tech is part of the legend. Right after the win, Ryan was so sick he vomited all over the ground.
When will we see that toughness in his NFL playoff games?
Strictly speaking, it's not a crazy sports puking moment. But its just plain hilarious.
And, considering how many longtime Los Angeles Galaxy fans (now questioning my own use of the word "many" in the context of US Major League Soccer) feel about Beckham, there are probably quite a few sports fans mimicking this cat's gesture.
Philly fans sometimes like to show a bit of extra love toward law enforcement.
This time, a drunk fan decided to intentionally puke on a police officer and his 11-year-old daughter.
Can you guess how that ended up?
Phoenix Suns coach Alvin Gentry simply couldn't bear watching the Lakers put so many three-pointers in the basket that his team's last shot at a title went up in smoke.
It was such a poignant moment, a coach feeling so deeply for his team and his star, Steve Nash, that he just couldn't keep it all down.
Or was it the greasy fried artichoke he ate before the game?
Outside of the WWE, wrestling is real and it can cause real pain. In fact, it can be too much to stomach.
In one crazy moment, the Falls wrestler feels his arm twisted 180 degrees and barfs on the spot. Even on YouTube, it's pretty gut-wrenching.
Sometimes, you just feel fear when you see a football hit. That is how fans felt when Jahvid Best dove into the end zone vs. Oregon State and took an incredibly hard blow.
The hit was so vicious that Best spewed puke all over the field and wasn't the same for weeks afterward.
Rugby is a rough sport and sometimes you just can't keep it all inside. Mroz sure couldn't: he left everything on the field.
This vomiting episode is not particularly crazy or symbolic, but the video is particularly hilarious.
Remember when Cade McNown was not a draft day punchline?
Back in his college days, McNown was remembered for his incredible finish to the 1998 NCAA season with UCLA. And he only began to play well after (yes, you guessed it) he vomited up a storm in a high-profile match-up against Oregon.
Apparently, Donovan McNabb can't take the heat.
In this game against the Kansas City Chiefs, McNabb loses his lunch from dehydration. Pretty nasty, just like McNabb's NFC Championship game record.
There's a famous expression, "he beat the crap out of you."
Boxer Art Jimmerson would like to change it to, "he beat the puke out of you." Just watch: how can someone even punch that hard?
Talk about recent: Dallas wide receiver Cole Beasley started puking on the sideline in an Aug. 19, 2012 preseason game against the San Diego Chargers.
The funny part: Beasley told a post-game reporter that it's not abnormal for him and, via ESPN, "you'll probably see me throw up a lot more."
Can you hear the kid screaming "ugh" at his view of NFL player Robert Ferguson hurling on the sideline?
How do you think the staffer patting Ferguson's back felt?
Wow, Michael Irvin, is all that yelling necessary?
Seriously, when every single one of the players on your show, 4th and Long, is vomiting, don't you want to consider changing your approach?
Wouldn't you think a professional runner could hold his lunch?
On second thought, if I ran 1500 meters at full speed, I would also lose my lunch. Actually, I'd probably lose it after 300 meters.
I guess writing isn't an endurance sport.
Twenty-six miles is an incredibly long time to keep running. You have to wonder, does every winning marathoner puke after keeping up such an incredible pace?
We'll never know, but this London 2011 winner didn't leave anything up to the imagination.
Can you imagine sitting at a 1-1 tie in the fifth set of the US Open, feeling like you are about to vomit, and knowing you need to pull out a tough win?
That is exactly where Pete Sampras was in the middle of the 1996 US Open. He ended up puking, taking advantage of a delay of game, and choking out a 9-7 win.
How crazy is that?
Michael Jordan spent the most impressive and dramatic game of his career looking like he was going to spew buckets of vomit across the court.
He also spent the game dominating and, despite his obvious flu symptoms, leading the Bulls toward a fifth NBA championship. Ultimately, this crazy performance helped solidify Jordan's place as the toughest superstar in basketball history.