2012 Olympic Men's Basketball: Each Country's Day 1 MVP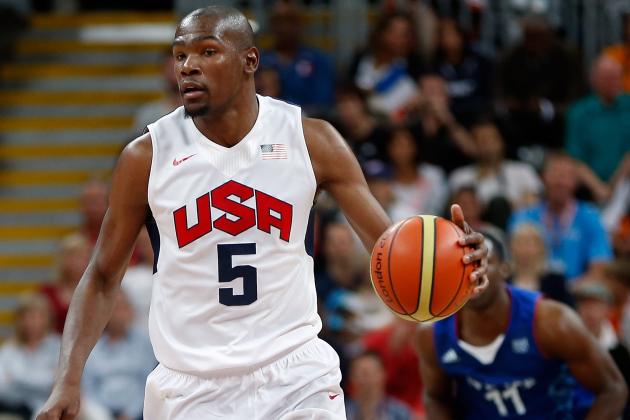 Jamie Squire/Getty Images

With the first day of the men's basketball portion of the 2012 London Olympics in the books, it is time to reflect on a day that was filled with few surprises in the win-loss column but plenty of surprises in terms of individual performances.
As expected, Team USA, Spain, Russia and Argentina took care of business, with Brazil and Nigeria squeaking out wins against their respective opponents, Australia and Tunisia.
On the international stage, individual performances are less in the spotlight, but on Sunday, there were several that stood out. Each team had someone who led the way—or in the case of the Americans, two—and those players deserve to be recognized for their contributions to their respective teams.
Without further ado, here is each country's Game 1 MVP.
Begin Slideshow

»
Christian Petersen/Getty Images

Even in a tough, nail-biting defeat to Brazil, the one thing that Australia can look forward to is watching point guard Patty Mills, his speed and his green sneakers.
Mills led the team with 20 points and four assists while adding seven rebounds as well. He took it to Brazil's zone all game, keeping Australia in the game offensively and defensively throughout.
If the Aussies want to dethrone Spain on Tuesday, they'll need Mills to step up once again and be their team leader.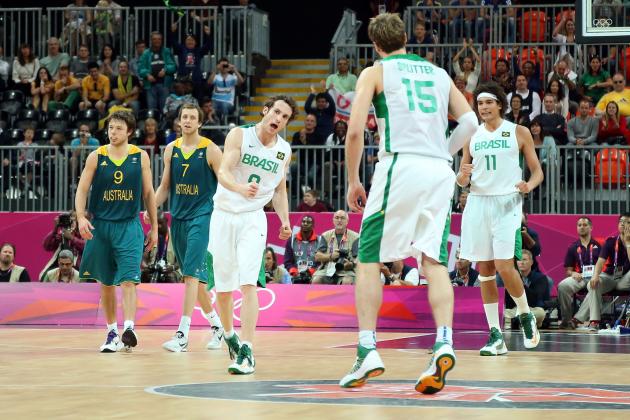 Christian Petersen/Getty Images
Huertas (No. 9) played extremely well throughout the game.
When you look at a Brazil roster loaded with NBA talent—Leandro Barbosa, Anderson Varejao, Tiago Splitter and Nene Hilario—you wouldn't think very hard about starting point guard Marcelinho Huertas, a 29-year-old who plays for FC Barcelona in the Spanish league.
But Huertas was the catalyst for the team's 75-71 victory on Sunday, scoring 15 points with 10 assists and two steals. He was Brazil's only player with more than one assist, facilitating the offense that won the game.
And did I mention he sunk two clutch free throws to put the game away in the last minute?
The NBA stars are Brazil's best hope, but without the team's facilitator, it just isn't as dangerous.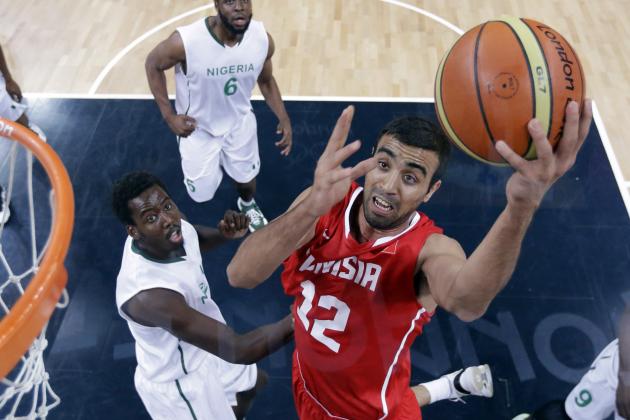 Pool/Getty Images

Coming into the tournament, Tunisia wasn't considered to have much of a chance at all to win games.
If the team wanted to leave London with even one W, it was obvious that Macram Ben Romdhane was going to have to be a huge factor.
His team may have lost 60-56 to Nigeria, but Romdhane wasn't part of the problem, as he scored 12 points and grabbed 12 rebounds.
His solid performance helped the Cinderella squad fight back in the fourth quarter, which makes him Tunisia's most valuable asset.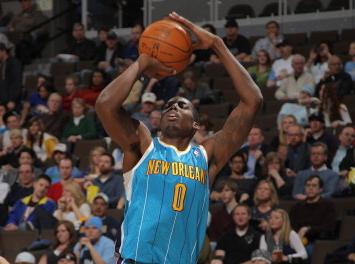 Doug Pensinger/Getty Images

Everyone knew Al-Farouq Aminu would make it or break it for Nigeria in this tournament, and the 21-year-old managed to deliver for his team with 10 points, nine rebounds and four steals.
The world's biggest stage should help the youngster—who hasn't played much in the NBA—enhance his reputation and increase his minutes when he returns to the U.S. in October.
For now, however, he's delivered once again for his home country and will need to do so again and again if he wants to advance to medal rounds.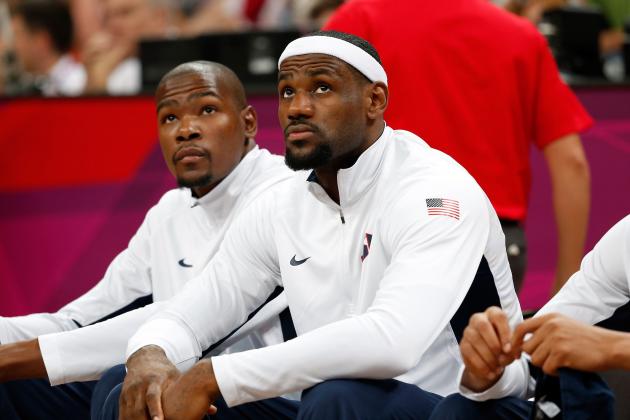 Jamie Squire/Getty Images
Durant and Lebron were both fantastic.
It was too difficult to pick between these two small forwards, so I decided this would be a co-award to Kevin Durant and LeBron James.
How fitting, seeing as they're the NBA's two best players.
Their roles were completely different, with James serving as the facilitator (eight assists) while Durant scored in bunches and went hard on the glass (22 points and nine rebounds).
Team USA doesn't need huge performances from its starters, like most teams with that kind of depth, but Sunday proved that James and Durant can change a game with excellent performances.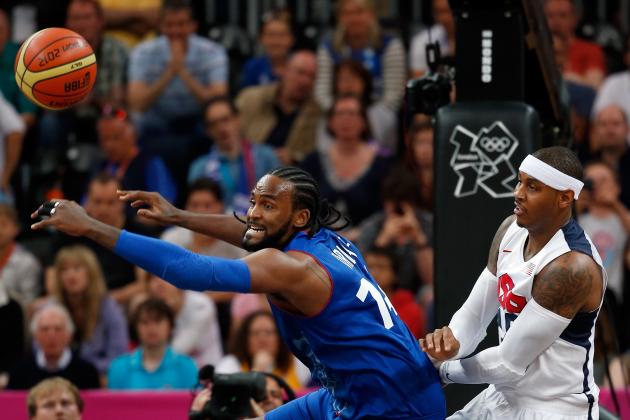 Jamie Squire/Getty Images

France has a lot of big names, like Nicolas Batum, Boris Diaw and Tony Parker. At the end of the day, however, nobody worked harder than Ronny Turiaf in the team's blowout loss.
Turiaf had seven points and nine rebounds while staying out of foul trouble and still playing solid defense. He was an all-around stud in the paint for France, a rare bright spot in a 27-point loss.
Parker and Batum will need to play much better if France wants to avoid a second straight loss against Argentina, but for now, the MVP award for the team goes to Turiaf for his scrappy performance.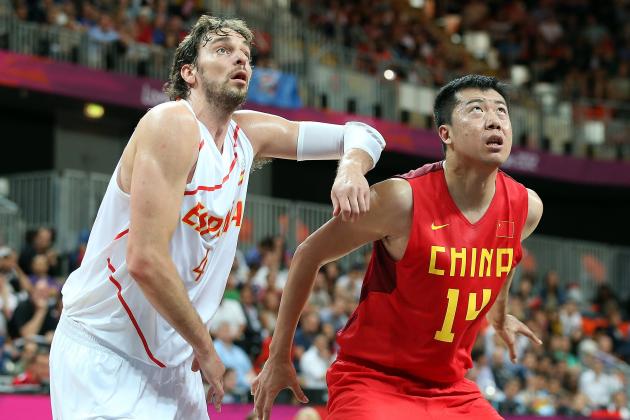 Christian Petersen/Getty Images

With the pressure on to dominate Group B and face Team USA in the gold-medal round, Spain's dominance is sometimes lost in all the media drama and comparisons to the world's No. 1-ranked team.
Pau Gasol helped the Spaniards re-assert that dominance against China with a 21-point, 11-rebound performance. He led the way for Spain's aggressive offensive attack and was the reason that the guards were getting better looks midway through the third quarter.
Spain is all about the bigs, and it starts with the veteran Gasol. He simply made it happen on Sunday.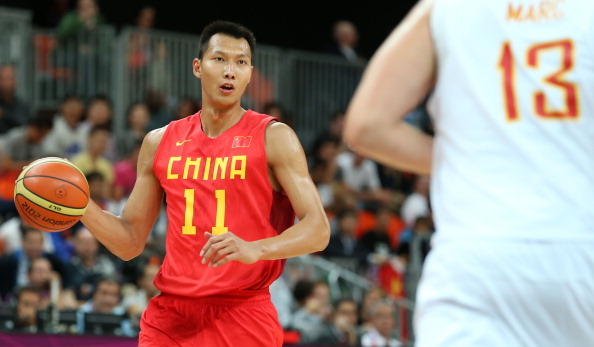 Christian Petersen/Getty Images

In a game filled with negatives, China can look to the performance of Yi Jianlian and believe that good things are ahead.
Even though China was blown out, it was against the second-best team in the world, without long-time veteran Yao Ming. As this team has adjusted to "life without Yao," it has only gotten better.
That starts with Yi, whose 30 points and 12 rebounds were impressive. He shot 13-of-19 (68.4 percent) from the field, dispelling concerns that he won't be able to handle the pressure of being China's go-to guy.
Believe me, he can handle it. In fact, he'll thrive like he did against Spain.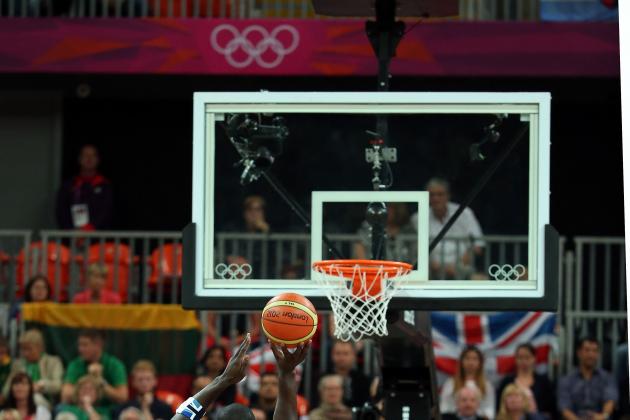 Christian Petersen/Getty Images

Even on a day when his team's best player, Luol Deng, struggled mightily offensively, Pops Mensah-Bonsu managed to keep his composure and score efficiently to keep his team relevant.
Mensah-Bonsu went 5-of-9 (55.5 percent) from the field and 12-of-16 (75.0 percent) from the free-throw line, scoring 22 points. He also added nine rebounds.
If Great Britain wants to win even one game, it'll need Pops to continue to be the paint controller he has the potential to become.
He showed on day one that he's ready to take on more responsibility, especially when his fellow stars come up short under pressure.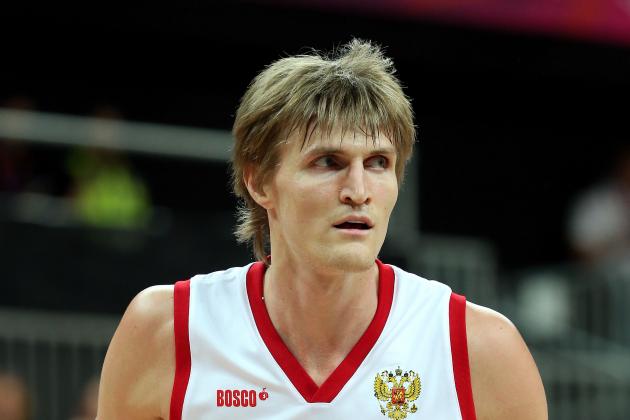 Christian Petersen/Getty Images

To sum things up, AK47 is back.
After signing a two-year, $20 million deal with the Minnesota Timberwolves this week in his long-awaited return to the NBA, Russian forward Andrei Kirilenko proved he was worth the risk by dominating the British in Game 1 of the preliminary round.
Kirilenko led the team with 35 points, shooting an incredible 14-of-17 (82.3 percent) from the field while also getting two steals and blocking three shots.
Kirilenko was the difference for Russia, easily winning his team's Day 1 MVP award.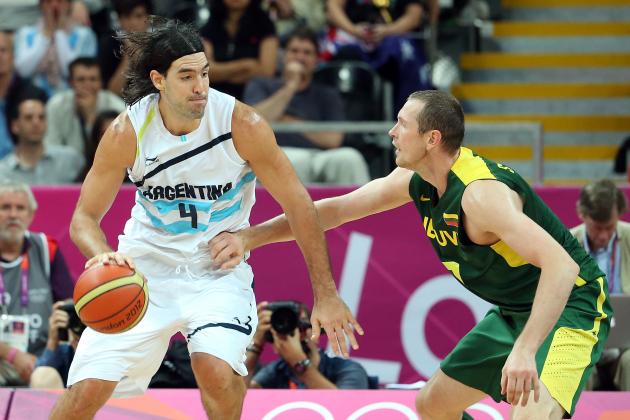 Christian Petersen/Getty Images

On a day when two other teammates—Manu Ginobili and Carlos Delfino—managed to score 20-plus points, forward Luis Scola outshone them all with a 32-point, three-block performance against Lithuania.
The Houston Rockets are really starting to regret using the amnesty clause on him now.
Scola shot 12-of-19 (63.1 percent) from the field, showing how dominant he can be on the offensive end with his wide array of low-post moves.
If Argentina wants to continue tearing up Group B, it'll need Scola to continue to be its best player and score points in bunches.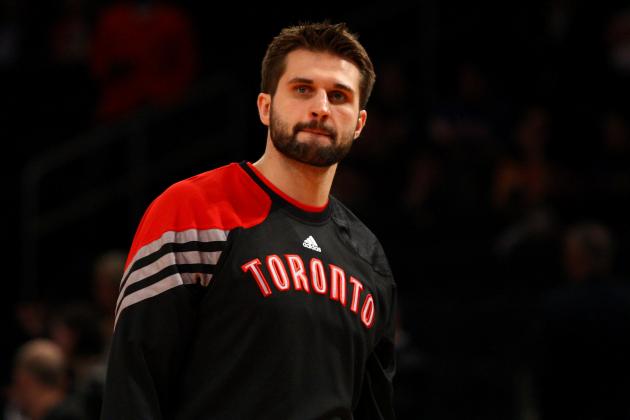 Chris Chambers/Getty Images

On a night when Jonas Valunciunas was in foul trouble and was given limited minutes, fellow Raptors forward Linas Kleiza stepped up big time by scoring 20 points and grabbing seven rebounds, both team highs.
It was surprising to see Big V get so few minutes, but that just translated into more opportunities on the offensive end for Kleiza. He didn't disappoint, scoring efficiently (7-of-11 from the field).
He'll need to improve his perimeter defense—he gave up six three-pointers to Carlos Delfino—but overall, he was Lithuania's best player by far.
Follow me on Twitter to talk about the Olympics, the Sixers or anything else in the sports world.