New York Knicks: 7 Early-Season Home Games to Mark on Your Calendar in 2012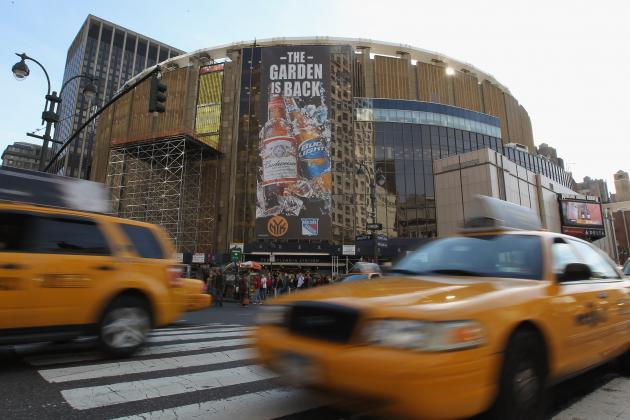 Bruce Bennett/Getty Images
Tickets are very expensive at MSG, but these seven games might just be worth it.
The NBA has announced the full-season schedule for the New York Knicks in 2012-13, and there are some games early in the season that should be marked on everyone's calendars.
While the league's schedule announcement was conducted with too much fanfare for some (for example, Fox News), we can now start stashing away our spare change and spare twenties to save up for expensive nose bleed seats at MSG.
These are the seven games at the world's most famous arena that should be well worth the price of admission.
Begin Slideshow

»
Jeff Zelevansky/Getty Images
The Knicks will be looking to rub a home-opening victory in Miami's faces.
The Knicks' home opener will also be a rematch of last year's first-round playoff matchup. The new-look Knicks will be hungry for revenge after Miami disposed of them in five games, and they'll have the opportunity to do it in front of a national television audience on ESPN.
This game comes just one day after the Knicks open the season by helping the Brooklyn Nets open a new arena in their new city. Wisely or not, the Nets requested a home opener against their new neighboring-borough rivals, according to the NY Daily News. The Nets will be eager to make a statement as they attempt to shake off the memories of their woes in New Jersey.
Two huge games in two nights may just invigorate these Knicks and kickoff a crucial season. They have an overhauled backcourt with the additions of Raymond Felton, Jason Kidd and Ronnie Brewer, and additional presence in the paint with Marcus Camby and Kurt Thomas.
The Heat may be NBA champions, but they are still lacking at point guard and center. It should make for an interesting matchup in the first game of the season at MSG.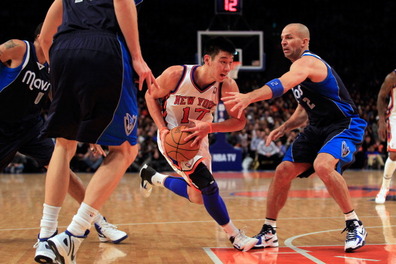 Chris Trotman/Getty Images
The Knicks stole Dallas' point guard away. They had a job opening.
It seemed as if Jason Kidd would either stay with the Dallas Mavericks or head to Brooklyn with Deron Williams. Instead, the Knicks stole him away from Mark Cuban and Dirk Nowitzki.
Then, it seemed as if Jason Kidd would mentor Jeremy Lin at the point in New York. Instead, the Knicks let Lin go to Houston.
After spending four years with the Mavs and winning a championship along with Tyson Chandler in 2011, Kidd will be looking to show Cuban that he should've brought more pieces to Dallas to entice him to stay (instead of going to L.A. to film Shark Tank when Deron Williams was visiting with the team, per ESPN's Marc Stein).
Kidd is now back in the New York metro area, and he'll be looking to recreate the success he had in his six years with New Jersey.
In Kidd's first season as a Net, he led the team to a 52-30 record and the NBA Finals, not to mention a second-place finish in MVP voting. The Knicks are hoping Kidd will provide a spark to their squad and get them over the hump, as well as make Mark Cuban regret his slow rebuilding process.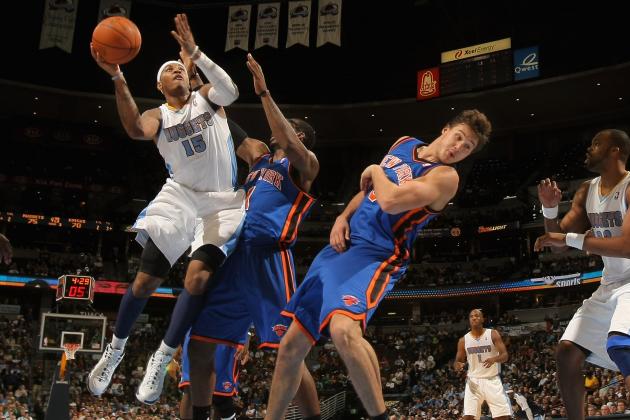 Doug Pensinger/Getty Images
A few jerseys have been exchanged since this photo was taken.
On December 9, the Knicks will play themselves. Or, that is to say, a version of their former selves.
In February of 2010, the Knicks traded Wilson Chandler, Raymond Felton, Danilo Gallinari, Timofey Mozgov and their 2014 first-round pick in exchange for Carmelo Anthony. Current Nuggets Anthony Randolph and Al Harrington also spent time with the Knicks.
The Nuggets even play a style of basketball reminiscent of the old Knicks: plenty of offense with no defense. In 2011-12, the Nuggets averaged a league-leading 104.1 points per game. They also gave up an average of 101.2 points, worse than the 7-59 Charlotte Bobcats (100.9 PPG).
The last time the Knicks and Nuggets met was on January 21 at the Garden. The Knicks fell in double overtime, 119-114, and Gallinari poured in 37 points. In the loss, Melo was 10-of-30 from the floor with six turnovers.
Both teams eventually fell in the first round of the playoffs and will be looking to go further this season. The Knicks, however, will be looking to avenge that embarrassing loss from January. This time, they'll have the services of Felton, who has found his way back to New York. And they'll also be playing some defense.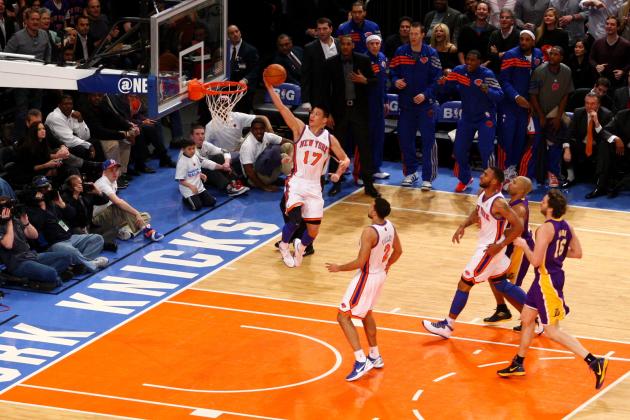 Chris Chambers/Getty Images
The Knicks soared above the Lakers in their last meeting.
After their failed pursuit of Steve Nash in the offseason, the Knicks will take on his new team, the Los Angeles Lakers, on December 13. The game will be broadcast to the nation in prime time on TNT.
It will be the first meeting between the teams since Jeremy Lin victimized Kobe Bryant's Lakers for 38 points and seven assists at MSG on February 10. Both teams will be anxious to show off their shiny new point guards, and the Lakers will be looking to avenge the drubbing that the Knicks administered back in February.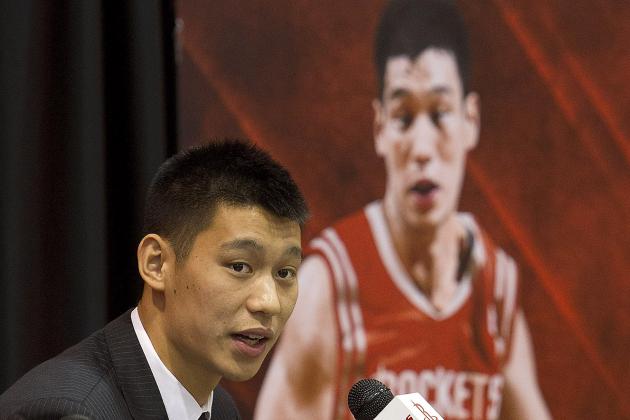 Bob Levey/Getty Images
Houston welcomed Lin back. And the Knicks will do so too on Dec. 17th.
As has been observed repeatedly, Jeremy Lin returns to Madison Square Garden on December 17, but he'll be wearing a a Houston Rockets jersey.
Lin is hoping that Christmas comes early and he can take revenge on James Dolan for failing to match Houston's offer sheet. And for accusing him of betrayal and deceit (per NY Daily News).
This will also be Marcus Camby's opportunity to face the team he played 19 games with at the end of last season. He will be looking to prove that he should've been more than just a late-season rental.
Lastly, Amar'e Stoudemire will have a chance to demonstrate what former Rockets great Hakeem Olajuwon taught him in those $50,000 per week training sessions (h/t Yahoo! Sports).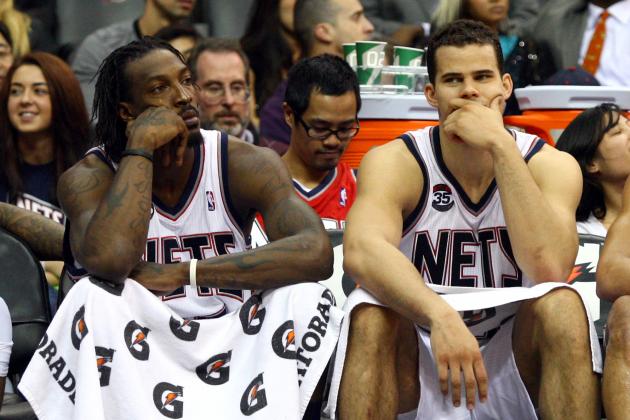 Chris Chambers/Getty Images
I'm sure crossing two rivers will make all the difference. Keep hoping.
The Nets will make their first visit to MSG on December 19 and the whole country will be watching on ESPN.
After all their offseason activity, the Nets will be bringing with them essentially the same exact team they had last year, with the lone notable addition of 31-year-old Joe Johnson, also known as "No Show Joe."
In the 2012 playoffs, Johnson averaged 40.5 minutes, 37.3 field-goal percentage, 25.0 three-point percentage, 17.2 points, 3.5 rebounds, 3.5 assists and 2.7 turnovers. This was after a season in which he averaged 35.5 minutes, 45.4 field-goal percentage, 38.8 three-point percentage, 18.8 points, 3.7 rebounds, 3.9 assists and 1.9 turnovers.
In short, Johnson averaged more minutes with fewer rebounds, assists and points on worse shooting percentages, along with more turnovers. His 2010 playoff performance was similarly forgettable.
The Nets turned in a shameful 22-44 season last year, but they hope that a move to an expensive arena in Brooklyn will cure all their ills. After battling for the back pages of the tabloids during the free-agency period, the Nets and Knicks will battle for bragging rights over New York City on the court.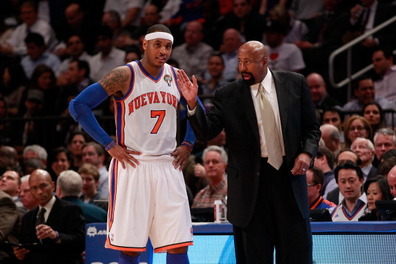 Chris Trotman/Getty Images
The Mike Woodson era began against Portland last year. So will 2013.
When Mike D'Antoni suddenly resigned after a morning practice last year, the team was mired in a six-game losing streak. Mike Woodson took the reins for a showdown with Portland on March 14. The Knicks won 121-79, and proceeded to win their next four games and eight of nine total.
A lot has changed since then. Most notably, the Knicks traded for Portland's point guard, former Knick Raymond Felton. With Felton running the point, he will be reunited with Amar'e Stoudemire.
Before Felton was traded away for Carmelo Anthony in February of 2011, he and Stoudemire had found an excellent chemistry running the pick-and-roll. In fact, coach Mike D'Antoni called it "unguardable" (h/t Newsday).
Felton may also be able to benefit from the acquisition of Marcus Camby, who played 40 games last year with Portland. Camby was traded to Houston just before the trade deadline, and now will bring his potent defense and rebounding back to MSG.
Portland will be looking to make up for their disappointing 42-point loss back in March. And on this first day of 2013, the Knicks will be hoping that their old tandem of Amar'e and Felton can dish out some humble pie to the Trail Blazers.
Follow me. Fact: Melo's 37 points in 14 minutes against Nigeria would be 126 points in a 48-minute game.