Carmelo Anthony-Amar'e Stoudemire and Most Overrated Duos in the NBA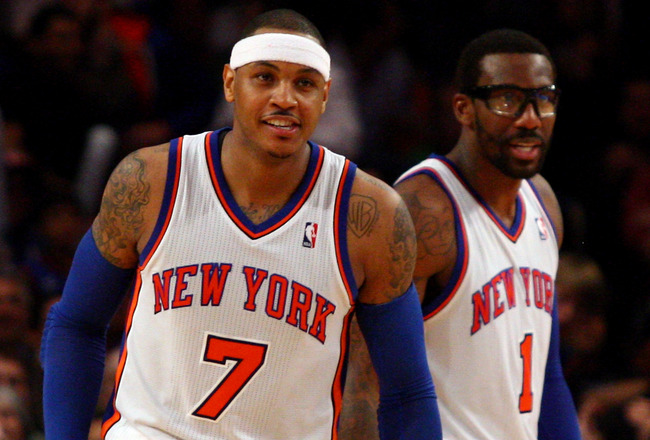 Chris Chambers/Getty Images
The blueprint for success in today's NBA is as clear as it's ever been. In order to compete for championships, teams need multiple superstars.
Of course, the blueprint for finding those superstars is about as hazy as Josh Howard's backseat.
Some teams have found their stars with historically strong drafting (Oklahoma City). Most pair a draft pick or two with superstars they find on the free-agent (Miami) or trade markets (Los Angeles Clippers and Los Angeles Lakers).
Some lean on their Russian billionaire and hip-hop mogul owners to lure players with Rashard Lewis money (Brooklyn).
But no matter how the following duos were put together, it may be time to look elsewhere to help their struggling franchises.
6. Andre Iguodala-Jrue Holiday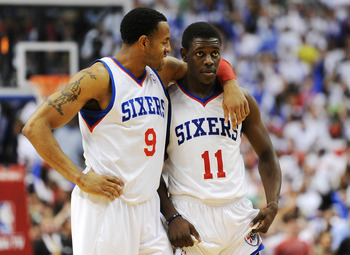 Drew Hallowell/Getty Images
Coach Doug Collins' 76ers are just months removed from a trip to the Eastern Conference semifinals and just over a year removed from being regarded as a rising power in the East.
Why, then, do their two top players "earn" a spot on this list?
Well, it starts with the always-present trade rumors surrounding their best player (Iguodala). It's hard to put confidence behind an organization that has tried for years to distance itself from their on-court leader.
Iguodala is an elite perimeter defender and an underrated playmaker (4.9 assists last season). But how many 2012 playoff teams were led by a defensive-stopper? One.
Holiday, meanwhile, was thought to be yet another potential star point guard from the point-guard-rich 2009 draft class but struggled to repeat his impressive sophomore campaign.
A drop in scoring (14.0 points to 13.5) can be easily written off but combined with drops in assists (6.5 to 4.5) and field goal percentage (44.6 to 43.2) registers, at least, as a concern.
5. Stephen Curry-Andrew Bogut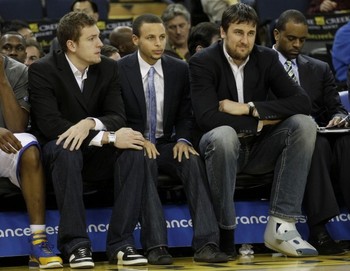 There hasn't been a Bay Area sports franchise with this many asterisks surrounding them since the last time Barry Bonds donned a San Francisco Giants jersey.
Analysts love what first-year GM Bob Myers and front-office consultant Jerry West have managed to do with the Warriors roster, *if these two can stay healthy.
Here's a scary thought for Warrior fans to consider. What happens if these two are healthy and frankly don't play that well?
Injury concerns aside, Curry has frustrated Warrior fans more from his lack of development over three seasons (his assist-to-turnover ratio has improved by a minute 0.18 in his three seasons) than he has with his twice surgically repaired ankle.
And while Bogut has widely been given a pass on his injury history (strange considering "fluke" injuries are injuries nonetheless), he's also seemingly been given a pass on the fact that his career numbers (12.7 points, 9.3 rebounds and 1.6 blocks) wouldn't suggest the hype that his acquisition created.
4. Tyreke Evans-DeMarcus Cousins
Ezra Shaw/Getty Images
If anyone actually rated the Sacramento Kings any higher, this anything-but-dynamic duo would rank near the top of this list.
Think about it. What's worse for a franchise: having your former franchise point guard morph into a disgruntled, undersized small forward or having your cornerstone big man potentially blow the chance of a lifetime with his maturity issues dominating the headlines of the Team USA-USA Select scrimmages?
Scouts knew that Evans was not a natural point guard when he left coach John Calipari's Memphis program after one season. Scouts also knew that Evans would have trouble shooting consistently at the NBA level. But it's hard to imagine that scouts envisioned Evans moving to the small forward position after just three seasons in the NBA.
Similarly, scouts knew that Cousins had maturity issues after leaving coach Calipari's Kentucky program after one season (seeing a pattern here?). But character issues never seem to bother franchises on draft night. Now, maturity issues that surface during scrimmages against the league's elite? Well, that may be another story entirely.
3. Kevin Love-Ricky Rubio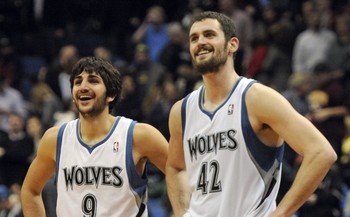 The Timberwolves will headline most experts' sleeper lists heading into the 2012-13 NBA season.
With a rising point guard in Rubio, and perhaps, the NBA's best rebounder in over a decade in Love, it's not too difficult to understand why analysts like what David Kahn has accomplished. (No, the last part of that sentence did not feel natural to write).
But before the love affair reaches Linsanity levels, stop and consider these numbers: 21 and 20.
They represent the 21 wins and 20 losses that Minnesota compiled before it lost Rubio for the remainder of last season with a torn ACL.
It's a respectable record in the tough Western Conference, but not one that instills a lot of confidence in Minnesota's chances of improving that mark in an improving conference.
To be clear, this is not an indictment on the Rubio-Love pairing. Rather, it's an observation that these players may be best suited in a complementary role to a real superstar (i.e., no one currently on their roster).
2. Kevin Garnett-Paul Pierce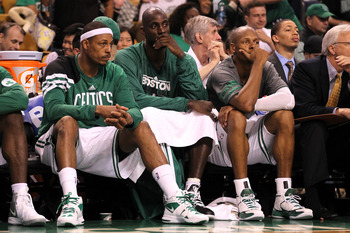 Jim Rogash/Getty Images
With Ray Allen's departure to Miami, Boston's "Big Three" has been whittled down to an aging pairing in Pierce and Garnett who may not have enough left in their legs for another deep playoff run.
Age may very well be nothing but a number, but here's a number that should concern Celtics fans: 21.4. That's the difference between the combined age of the two (70) compared to the duo's combined points and rebounds from last season (48.6).
Boston clearly belongs to Rajon Rondo at this point (and not just because of his alleged role in running Allen out of town, according to Yahoo! Sports' Adrian Wojnarowski), but his career 10.8 points per game scream that he's only as good as his teammates.
And while his teammates are talented, they don't appear near talented enough.
Garnett's 19.2 points and 10.3 rebounds in the postseason may draw his supporters to label him as "back," but they'll just as soon gloss over his lackluster 15.8 points and 8.2 rebounds in the regular season (his lowest totals).
Oh, and don't be surprised if they fail to mention the fact that Pierce's 18.9 points in the postseason were the second fewest he's scored in nine playoff trips.
1. Carmelo Anthony-Amar'e Stoudemire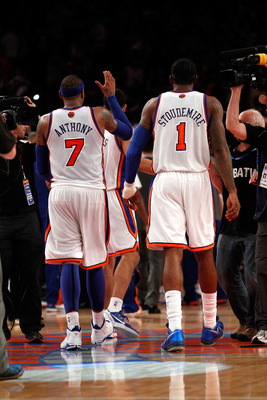 Jeff Zelevansky/Getty Images
Who would've thought that pairing two of the league's most pompous, offensive-only forces would not have worked?
It's not difficult to follow Knicks owner James Dolan's thought process here. If you were going to pair a player who went out wearing his own jersey/motorcycle jacket thing with another superstar, why wouldn't you pair him with one who decorates his house with a massive painting of himself?
All jokes aside, this pairing makes little sense on the court.
Both players need offensive touches to be successful.
Anthony thrives in the isolation game, where he can use his tremendous first step to free himself.
Stoudemire, meanwhile, is capable of scoring when facing up his defender and attacking the basket out of the pick-and-roll.
Here lies the quandary that coach Mike Woodson faces: Which player should his offense feature? And, just as important, how does the other feel about not being the featured player?
New Brooklyn Nets shooting guard Joe Johnson created a mini stir when he claimed the Nets were "definitely" the best team in New York City, according to Stefan Bondy of NY Daily News. With this poorly constructed duo headlining the Knicks, it's hard to argue with Johnson's thinking.
Keep Reading