NBA Summer League 2012: Winners and Losers from Tuesday's Action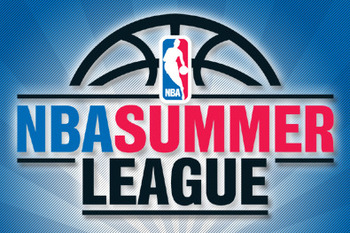 Photo Credit: NBA
Tuesday's slate of games at the NBA Summer League in Las Vegas was chock-full of fantastic performances, however meaningless they may ultimately be. In fact, I could probably fill an entire slideshow with just the "winners" from the day's action.
But, in the interest of being "fair and balanced," I'll have to save some space for the lowlights too, though finding those took a bit more effort.
Not that there weren't plenty of duds out there to be found. After all, this is the Summer League we're talking about, a league largely comprised of guys who will never stick on NBA rosters.
And for good reason.
But before I get too carried away with disparaging what is a highly entertaining operation, let's have a look at Tuesday's winners and losers.
Winners: Rockets Rookies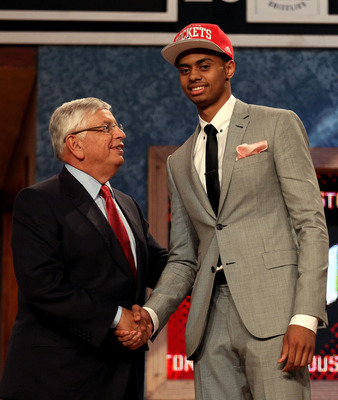 Elsa/Getty Images
I'll be the first to admit that I've already shown plenty of love to the Houston Rockets rookie quartet of Royce White, Jeremy Lamb, Terrence Jones and Donatas Motiejunas.
But just because I've done it before doesn't mean they don't deserve more attention for the way they've been playing in Las Vegas.
Each played an instrumental part in the Rockets' 99-88 win over the Portland Trail Blazers on Tuesday. White didn't shoot well from the field (3-of-10 for six points) and turned the ball over six times, but was still so dynamic in piling up 12 rebounds and eight assists that it's tough to get down on him for his miscues.
Lamb provided some significant punch from the perimeter (23 points, six rebounds, two steals, an assist), while Jones (24 points, 12 rebounds and three assists) did plenty of work of his own on the inside.
As for Motiejunas, the big Lithuanian was once again arguably the most difficult player to defend on the floor, with 20 points and 12 rebounds to show for his perpetually impressive efforts.
Frankly, the Rockets could do worse than starting these four guys alongside Jeremy Lin if need be.
Loser: Wizards' Backcourt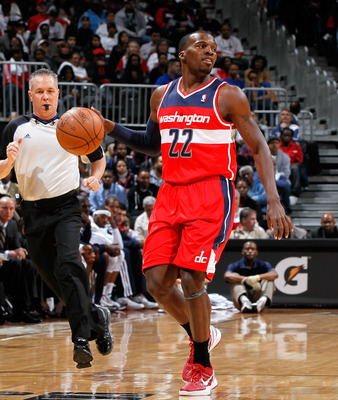 Kevin C. Cox/Getty Images
Consistency hasn't been the name of the game for the Wizards' guards, namely Bradley Beal and Shelvin Mack. Those two combined to score 24 points on 24 shots and wound up with more turnovers (seven) than assists (five).
But as inefficient as Beal and Mack were offensively, they proved to be even more of a liability defensively. They allowed their counterparts in the Memphis Grizzlies' backcourt to rack up a whopping 51 points on 36 shots and forced just four turnovers against eight assists.
To be fair, the Wizards won the game, 83-77, though the rookie Beal and the sophomore Mack were hardly the chief catalysts.
Winner: Josh Selby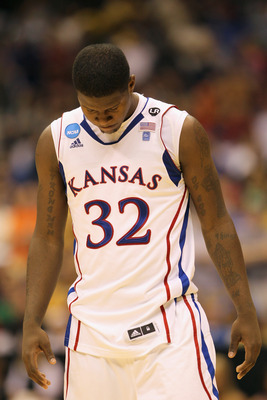 Jamie Squire/Getty Images
And really, let's give credit where credit is due here.
Simply put, Josh Selby performed spectacularly for the Grizz against the Wiz. The numbers alone are impressive—a Summer League-high 35 points on 21 shots (including 7-of-8 from three) with seven steals.
What they fail to portray, though, is the impressive array of shots that Selby used to rack up that total, from buzzer-beating treys to breathtaking finishes at or around the rim and everything in between.
Everyone knows this second-year scoring guard out of Kansas is loaded with talent. The question, rather, has always been one of whether he'd be able to put it all to proper use.
If Tuesday's outburst is any indication, Selby might be well on his way...and Memphis figures to look even smarter for letting go of OJ Mayo as a result.
Loser: Cory Higgins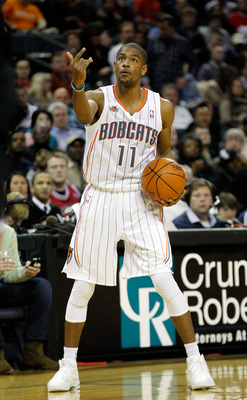 Streeter Lecka/Getty Images
On the other end of the second-year spectrum is Cory Higgins of the Charlotte Bobcats.
The son of Bobcats executive Rod Higgins, Cory did little in his rookie year to show that he was anything more than just a nepotistic addition to the roster and hasn't done anything to change that perception this summer. Higgins went 1-for-7 from the field for four points and accounted for three turnovers (against just two assists) in Charlotte's 81-78 win over the Minnesota Timberwolves.
To his credit, Higgins ripped down six boards and came up with three steals; though, on the whole, he still has plenty of work to do to repay the huge favor that daddy dearest has called in for him.
Loser: Jeff Taylor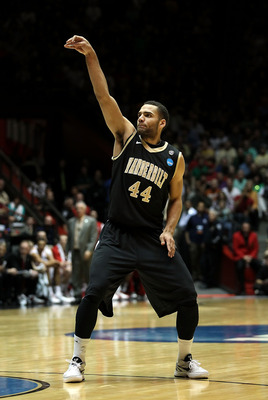 Christian Petersen/Getty Images
Higgins might be the biggest loser overall on the Bobcats' squad, though he had some competition on Tuesday, if only for the night.
That's because the "0-Fer of the Night" belonged to Charlotte second-rounder Jeff Taylor, who took six shots and missed every single one. Taylor's six fouls didn't help his cause in this regard either.
Of course, it could've been worse. The Vanderbilt product could've ended the evening with an empty stat sheet, but instead, managed to put up deuces in points, rebounds and assists.
That's got to count for something...right?
Winner: Byron Mullens
Streeter Lecka/Getty Images
Yet somehow, the Bobcats beat the T-Wolves.
And by somehow, I mean Byron Mullens figured out the secret code for "Beast Mode." The third-year player out of Ohio State erupted for 33 points and eight boards, using his seven-foot frame to dominate in the paint and his feathery touch in the mid-range to torch those who dared him to shoot.
Mullens was actually one of the few bright spots in Charlotte last season. He played far more for the 'Cats than he ever did during his two years in OKC and came through with 9.3 points and 5.0 rebounds in 22.5 minutes per game.
By the looks of things, Mullens looks ready to take yet another step forward in his development in the campaign to come.
Winner: Kawhi Leonard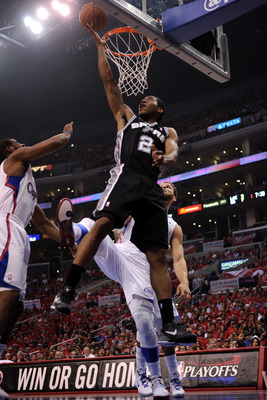 Harry How/Getty Images
Speaking of taking leaps, how about Kawhi Leonard's latest performance? The stud swingman for the San Antonio Spurs exploded for 27 points, eight rebounds, three assists and a steal to lead his team to a 92-81 win over the largely-hapless Los Angeles Lakers.
Of course, with the way that Leonard performed during his rookie season in San Antonio, it should come as no surprise that he'd be able to school some Summer League scrubs, especially those that lost by 50 points to the Miami Heat on Monday.
In any case, the Spurs must be pleased to see the yield from the George Hill trade performing as well as he has.
Winner: Darius Morris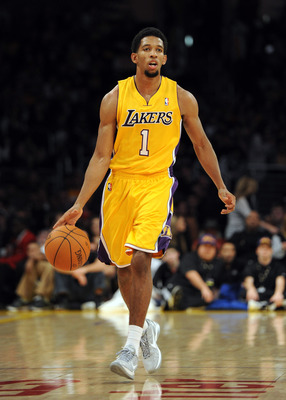 Harry How/Getty Images
If not for Darius Morris, the Lakers would've been in for yet another totally demoralizing result.
Not that an 11-point Summer League loss is anything to write home about, though when you've dropped games by 40 and 50 points, a double-digit deficit like the one LA finished with against San Antonio on Tuesday.
Still, credit Morris for making up much of the difference between those results. The second-year guard out of Michigan went 9-for-9 from the field for 24 points to go along with four assists.
He did turn the ball over four times, foul six times and miss free throws on three occasions, though in the grand scheme of the Lakers' Summer League team, Morris might as well have been Kobe Bryant.
Loser: Fab Melo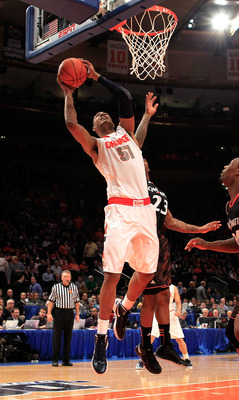 Chris Trotman/Getty Images
Somewhere, Bill Simmons is preparing material for a column about where Fab Melo ranks among the biggest wastes of space in the last decade for the Boston Celtics.
Because so far, he's proving to be little more than another guy who's getting paid because he's T.A.T.A (Tall And That's All). The big Brazilian out of Syracuse continued his summer of mediocrity with five points, two rebounds and four fouls in 14 minutes of play during the Celtics' 79-74 win over the Chicago Bulls.
Dating back to the Celts' stay in Orlando, Melo is averaging 3.0 points and 4.4 rebounds per game as a pro.
In other words, the Sports Guy shouldn't expect Fab to be, well, "fab" as a rookie in Beantown.
Loser: Leon Powe
Elsa/Getty Images
Injuries have really done a number on the pro career of Leon Powe, to say the least. The former Pac-10 Player of the Year has seen his promising prospects on the court diminish along with the health of his knees over the years.
Now, at the age of 28, Powe is trying to work his way back into the NBA after spending last season playing in Puerto Rico.
So far, the results haven't exactly been stellar. Powe saw his first action of the summer for the Bulls against the Celtics, tallying all of three points and a rebound while missing all four of his shots from the floor in 15:18 of playing time.
Here's hoping the bruising forward out of Oakland finds his groove again before he's left out of the league for good.
Keep Reading