USA Basketball: 5 Things to Watch for Against Great Britain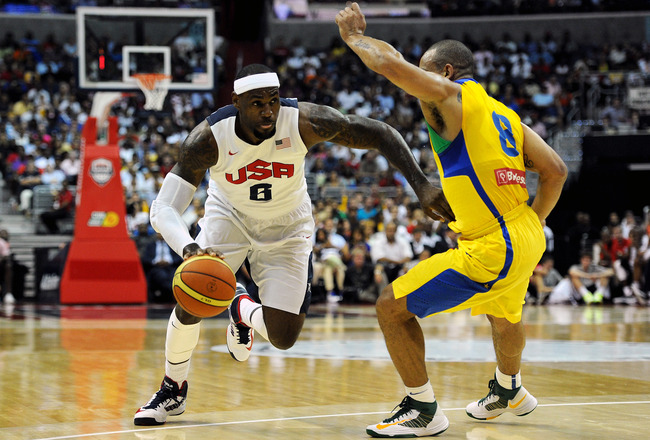 Patrick Smith/Getty Images
After a sloppy 80-69 victory over Brazil on Monday night, the United States men's basketball team will face off against Great Britain on Thursday in Manchester, England.
This lackluster performance against the Brazilians has given way to some criticism, and Thursday's exhibition against Great Britain will afford the U.S. some time to make necessary adjustments before the Olympic games.
As the Olympics inch closer, here are five things to watch for when the United States faces off against Great Britain.
Will the United States Find Some Consistency in the Post?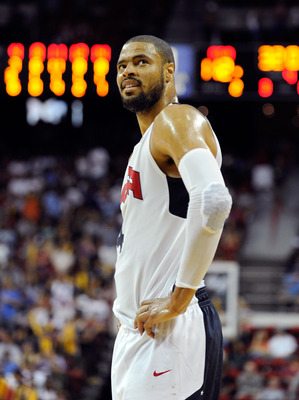 David Becker/Getty Images
Although the United States have shown that they won't be playing a conventional lineup, they will need consistent play out of the few true big men on their roster.
It may not be imperative to feed the ball to guys like Tyson Chandler and Kevin Love on a regular basis against a squad like Great Britain, but as we saw against Brazil, the USA's lack of size was problematic.
It's clear that LeBron James is versatile enough to play and defend all five positions, but there's something to be said for having a true center who can rip down rebounds and make guards think twice before they drive to the cup.
On the offensive end, Chandler posted just three points against Brazil, while Love failed to crack the score sheet.
With an exhibition game against a stout Spanish squad looming next week, the United States will need to find some reliable post play, fast.
Luol Deng's Impact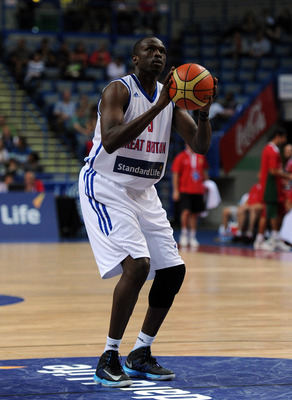 Chris Brunskill/Getty Images
Not many people are aware, but Chicago Bulls' forward Luol Deng is a member of Great Britain's national team.
The 6'9'' Deng averaged 15.3 points and 6.5 rebounds per game in the 2011-2012 season, and he's the only player on Great Britain who is currently playing in the NBA.
Deng may be the only player on Great Britain's team who can match up with length and athleticism that the United States possess on the perimeter, and he will be likely be called upon to guard LeBron James during parts of Thursday's exhibition.
No stranger to playing on a grand stage, Deng will hope to bring some insight and inspiration to a team that may find themselves starstruck at times.
Other Than Kevin Durant, Who's Team USA's Best Bench Player?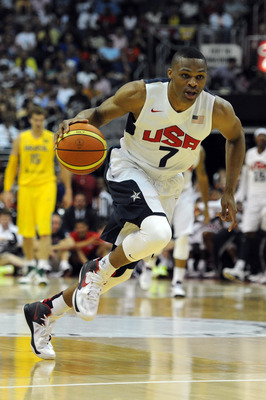 Patrick Smith/Getty Images
Currently Mike Krzyzewski's sixth man, Kevin Durant is undoubtedly the United States' most potent weapon off of the bench.
Durant brings elite jump shooting, length and most importantly size, to a team in desperate need of it. Durant's role on Team USA is clear, but other than the reigning scoring champion, which player outside of the starting five is going to make the biggest impact?
You could argue that Deron Williams is crucial to the success of Team USA, but Williams' real value to the squad is his scoring, something this team should have no problem doing.
An argument could also be made for Andre Iguodala because of his freakish athleticism and defensive prowess, as well.
However, the likely answer looks like Russell Westbrook. Often the target of criticism, Westbrook brings hustle, energy and passion to each and every possession.
Westbrook's willingness to dive for loose balls and do the dirty work is something that this team will need, especially when they find themselves playing down to the level of their opponents.
His game is easy to pick apart, but make no mistake about it, Russell Westbrook will be crucial to Team USA's success.
Will Anthony Davis See Any Action?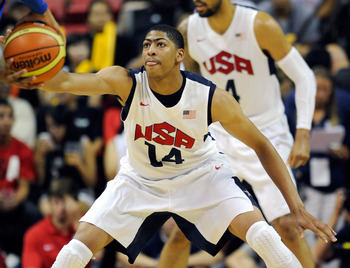 David Becker/Getty Images
"We want Davis." Those were the words chanted by fans throughout the Verizon Center during the fourth quarter of the USA's eventual victory over Brazil on Monday night.
Anthony Davis never stepped on the floor in the USA's 80-69 victory over Brazil, but he did make a slight impact in their drubbing of the Dominican Republic last week.
An alternate for the injured Blake Griffin, the No. 1 overall pick in this year's NBA draft could have some real value for a team devoid of true post players.
Although Davis' game is still evolving, he has the ability not only to establish himself as a good post player, but to stretch the floor as a jump shooter.
Davis' impressive range and shot-blocking ability make him an intriguing piece that coach Krzyzewski could choose to implement against Great Britain.
Will the Half-Court Offense Show Signs of Life?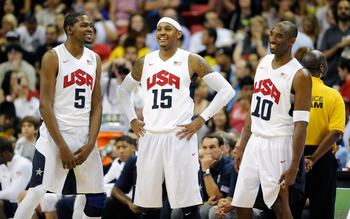 David Becker/Getty Images
The USA's 80-69 victory over Brazil was far from satisfying. Only three players finished scoring in double figures (LeBron James, Chris Paul and Kevin Durant), and of those three, James was the only player to score more than 15.
With a squad comprised of guys like Kobe Bryant, Carmelo Anthony and Deron Williams you would expect to see some balanced half-court offense, but that's exactly what Team USA struggled with Monday night.
After pacing themselves past the Dominican Republic by getting out in transition early and often, the United States were unable to push the ball against a more talented Brazilian squad.
In the half-court the U.S. looked downright putrid at times, settling for contested threes while failing to pass the ball with any real proficiency.
After shooting 40.8 percent from the field and 25 percent from beyond against Brazil, the United States will need to exercise some patience in the half-court against Great Britain.
Keep Reading