NBA Rumors: Should the New York Knicks Choose Raymond Felton or Jeremy Lin?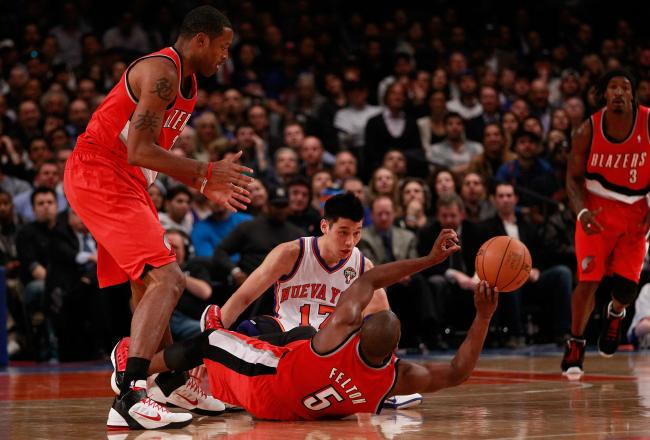 Chris Trotman/Getty Images
So far in the 2012 offseason, the big story for the New York Knicks has been that of the point guard position.
Besides Toney Douglas (who's more of a shooting guard, really), the Knicks went into the offseason with no point guards under contract, which is bad news considering how badly they played without one in the early portion of the 2011-12 season.
But one thing the Knicks did have is the Early Bird rights to restricted free agent point guard, Jeremy Lin, who really exploded onto the NBA scene last season.
After failing to trade for Steve Nash, though, the Knicks decided it would be best to acquire the backup before doing anything else, picking up veteran Jason Kidd.
In the meantime, Lin signed a three-year, $25 million offer sheet with the Houston Rockets, and now that the free agent moratorium period is over, the Knicks are amidst their three day period in which they can decide whether or not to match the offer and bring Lin back to New York.
In a shocking turn of events—especially considering head coach Mike Woodson's adamancy that Lin would return to start—the Knicks instead agreed to a sign-and-trade to bring Raymond Felton and Kurt Thomas to New York, in exchange for Jared Jeffries, Dan Gadzuric, cash and the draft rights to Kostas Papanikolaou and Georgios Printezis.
With Kidd and Argentinian point guard Pablo Prigioni already under contract, the Knicks will likely only go for one of Lin or Felton, and though it seems that they've already made their decision, the Felton sign-and-trade is not quite complete, as Dan Gadzuric was not eligible to be traded until today (July 16th).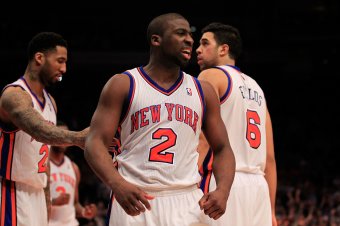 Raymond Felton played some of the best basketball of his career in his initial spell with the Knicks.
Chris Trotman/Getty Images
As a result, there's still time to compare the two point guards, and assess who would be the best fit for the Knicks.
The best starting point here is with the numbers, so here are both players' statistics (as a starter) from the 2011-12 season:
Raymond Felton:
56 games played
32:23 minutes per game
11.7 points per game
6.6 assists per game
2.6 rebounds per game
46 FG%
30 3PT%
Jeremy Lin:
25 games played
34:00 minutes per game
Should the Knicks choose Raymond Felton or Jeremy Lin?
18.2 points per game
7.7 assists per game
3.7 rebounds per game
44.5 FG%
34.3 3PT%
Though they came in half as many games, Lin's statistics are obviously more impressive, as he leads Felton in every category mentioned.
That said, 2011-12 was a markedly bad season for Felton, and with the motivation of returning to New York, one could expect his numbers to return to near his career averages, which are as follows:
534 games played
34:47 minutes per game
13.4 points per game
6.7 assists per game
3.3 rebounds per game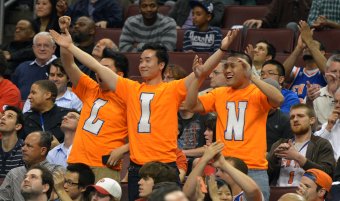 Could "Linsanity" be on its way to Houston?
Drew Hallowell/Getty Images
41.2 FG%
33.0 3PT%
It would be unfair to compare Lin's career numbers to these, as for his career he averages only 19.1 minutes per appearance, but his 2011-12 numbers are still superior on the whole.
Most consider Lin's statistics last season to be more of a flash in the pan than anything else, and though Felton's numbers are a little less spectacular, its easy to see that he will be able to produce at the same level moving forward. With Lin, we just don't know yet.
Dubbed as a future star coming out of UNC with the fifth overall pick, Felton has not lived up to expectations, but what he has done is show that he's capable of at least starting in the NBA, especially if he's only going to be the third or fourth option—which he will be with the Knicks.
For Lin, the trouble comes with his past. Though he showed everyone just what he can do once given the opportunity, the fact that he was cut twice and went undrafted still linger, and lead people to doubt whether last season was representative of who he really is.
The numbers do have a story to tell, but more important is how both players would fit with this Knicks team.
With an offense that will run primarily through Carmelo Anthony, what the Knicks need is more of a passing point guard, who's willing to take a back seat to some extent, but will still be able to control the offense when needed.
For my money, Felton would be a better fit in that sense, as he has never been the type of player to take over games, and instead has fed off the success of others, much like he did with Amar'e Stoudemire back in the 2010-11 season.
With Lin, a lot of his success last season came without Anthony or Stoudemire on the floor, allowing him to be the centerpiece of the Knicks offense.
Though evidently a good passer, Lin was more of a scorer during the "Linsanity" period, and it remains to be seen whether or not he can be effective in the same way when playing alongside Anthony.
Lin, Anthony and Stoudemire have only played together 18 times with Lin playing significant minutes, going a distinctly average 9-9 in those games.
These 18 games included some of Lin's worst performances, including his eight point, eight turnover debacle in Miami.
But speaking of that infamous game in Miami, fans put way too much weight on that game when trying to make a case against re-signing Lin, as it isn't as big a deal as its made out to be.
The Heat were one of the top four defensive teams in the league last season, and of course were the eventual NBA champions, so though Lin's performance was bad, it's not like it came against weak opposition.
More importantly, Felton had similar trouble against the Heat, as coach Nate McMillan allowed him only 15 minutes in the game, which he used to do very little.
Mike Woodson is a head coach who puts the onus almost entirely on defense, and though he has obviously taken a liking to Lin, Felton is a much superior perimeter defender.
With Tyson Chandler shoring up the middle, the Knicks could well be an elite defensive team with Felton and Iman Shumpert on the perimeter, and this is something that will be considered when making the final decision.
But though Lin is not a great defender just yet, Woodson has shown that he's capable of helping players to improve on that end of the floor, with Melo and J.R. Smith in particular making huge strides on that end of the floor last season.
The final point of comparison here are the financials of bringing either player to New York.
The biggest deal that's been made so far in regards to the potential re-signing of Lin has been his contract.
Most Knicks fans would be more than happy to see Lin back in orange and blue next season under a reasonable contract, but the problem is that the Rockets' offer is anything but reasonable.
The Rockets' offer includes a salary of only $5 million and $5.225 million in years one and two, with a jump to $14.8 million in year three, which is a huge number for a team that will be well into the luxury tax threshold by this point.
Meanwhile, the reported deal to bring Felton to New York would pay him only $18 million over four years, according to Sam Amick of Sports Illustrated.
Felton would certainly help the Knicks out in terms of paying a reduced sum of luxury tax, but choosing him over Lin would make it no easier to acquire players in the future, as the Knicks will be well over both the salary cap and the luxury tax "apron" for the foreseeable future.
Though he would cost the Knicks more tax-wise, Lin would undoubtedly bring in a lot more cash for James Dolan, as his marketability went through the roof last season, and doesn't look like stopping any time soon.
It could even get to the point where Lin would actually be more helpful to the Knicks financially than detrimental, as the revenue he brings in could cover the costs of the luxury tax.
Ultimately, this should be considered a win-win situation for Knicks fans. Either way, New York will be getting a capable starter and third option in Lin or Felton, both of whom will be able to contribute to the Knicks in their quest for a championship.
As far as basketball goes, it looks like Felton would be the best fit for the Knicks, and as a basketball fan, that should be what's most important.
It will be tough to see Lin go after all he did for the Knicks last season, but his style of play may be better suited in a situation in which he's not buried behind two star forwards in the pecking order.
Dolan will also have a hard time essentially watching money walk away from him, but he's proven this offseason that he's in win-now mode, and though Lin has great potential, Felton is the sure thing right now.
Besides, if the Knicks emerge as genuine contenders for the Larry O'Brien trophy, marketability and profit won't be anything to worry about.
This article is
What is the duplicate article?
Why is this article offensive?
Where is this article plagiarized from?
Why is this article poorly edited?

New York Knicks: Like this team?