US Olympic Basketball Team 2012: Why This Year's Squad Could Beat the Dream Team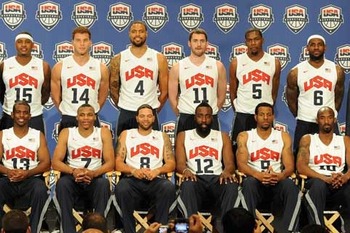 Kobe Bryant isn't one to hyperbolize, so when the Los Angeles Lakers star says something that bends ears and turns heads, it's probably worth listening to.
Such was the case on Sunday, when the Black Mamba, in response to a question about how the current edition of Team USA would fare against the vaunted Dream Team, suggested that this year's squad would win.
Not easily, of course. Kobe was careful to consider caveats, most notably the superior size that the Dream Team had up front. And Kobe, being the ultimate competitor that he is, would never be shy to give his own side the advantage.
But that aside, is Kobe right? Would Team USA—with All-Stars like Dwight Howard, Derrick Rose, Dwyane Wade, Chris Bosh and LaMarcus Aldridge sidelined by injury—be able to beat a team led by Michael Jordan, Magic Johnson and Larry Bird, and otherwise replete with future Hall-of-Famers?
Size in the Middle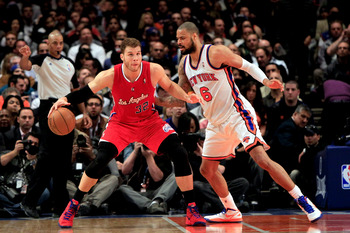 Chris Trotman/Getty Images
To start, let's consider the points that Kobe broached, beginning with the size of the Dream Team. The 1992 squad had two seven-footers in Patrick Ewing and David Robinson, along with Karl Malone and Christian Laettner, who, at the time, was the college basketball Player of the Year at Duke.
At first glance, that would give the Dream Team a dramatic advantage up front against Tyson Chandler, Kevin Love and Blake Griffin. As good a post defender as a 29-year-old Chandler may be, he'd be hard-pressed to match up with a 30-year-old Ewing or a 27-year-old Admiral, who, like Chandler, was named the league's Defensive Player of the Year before taking off for the Olympics.
Neither Love nor Griffin is a traditional, back-to-the-basket big man, which could actually help this year's "Meme Team." Love could potentially draw the Dream Team's bigs away from the paint with his three-point shot, thereby opening up driving lanes for the rest of the squad.
As for Griffin...well, he'd likely be among those parading to the rim using the space Love creates, or eschew the need for a free trip entirely and serve up some of his patented facials.
Still, the Dream Team gets the nod in this regard, though a coach as smart and creative as Mike Krzyzewski should be able to find away to mitigate this particular weakness, if not spin it into a strength.
Earvin and Larry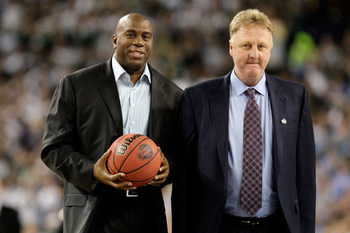 Andy Lyons/Getty Images
In his interview, Kobe also hinted at how some of the Dream Team's vaunted stars (i.e. Magic Johnson and Larry Bird) were on their last legs.
Magic had been forced into retirement in November of 1991 when he found out that he'd contracted HIV and didn't return to the court in any consistent capacity until the second half of the 1995-96 season. Bird, meanwhile, was a shell of his former self at the time, suffering from crippling back problems that forced him into retirement immediately after the 1992 Olympics.
Those two were the elder statesmen on the squad and, in turn, neither was close to the superstar he'd been during the 1980s.
Not that Magic and Bird weren't still effective for Team USA, but rather that they wouldn't have been nearly the threat to the 2012 team that their tremendous legacies might suggest.
Age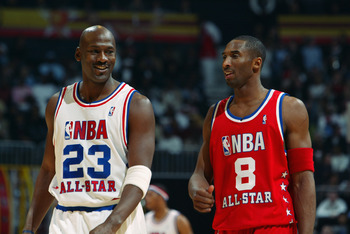 Jamie Squire/Getty Images
In the same breath, Kobe pointed to the youth movement currently making its way through USA Basketball and how the current team's athletic wings would fare against their more-veteran counterparts on the Dream Team.
Aside from a 35-year-old Bird and a 32-year-old Magic, the winners in Barcelona featured a 26-year-old (Scottie Pippen), three 29-year-olds (Michael Jordan, Charles Barkley and Chris Mullin) and a 30-year-old (Clyde Drexler). That's an average age of around 29 years old—or, two-to-three years past the typical peak of athletic performance for men.
Put Bird and Magic in the mix, and that number creeps up to 30...and that's just for the wings!
The 2012 team's wings, on the other hand, are 22 (James Harden), 23 (Kevin Durant and Russell Westbrook), 27 (LeBron James), 28 (Andre Iguodala and Carmelo Anthony) and 33 (Kobe). The average age? Between 26 and 27.
How exactly LeBron would match up against MJ, with both at the height of their respective powers, would be fascinating to see, though it'd be tough to imagine anyone from the '92 team being able to stop the three-time MVP.
And good luck to those old fogies trying to slow down OKC's hyper-athletic trio.
Experience/Chemistry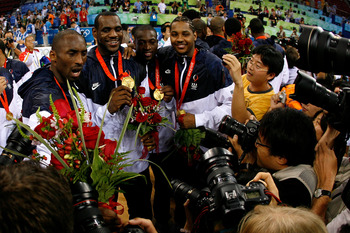 Harry How/Getty Images
At first glance, the Dream Team's age would seem to translate to a greater wealth of wisdom and experience on the basketball court.
While that may be true in some sense (i.e. playing together in All-Star Games), it doesn't quite translate against the "Meme Team," many of whom have played together in the NBA and/or in international competition.
The Dream Team had two sets of players (MJ and Pippen, Stockton and Malone) who'd played together at any level—college, pro or otherwise.
That pales in comparison to the camaraderie inherent in the "Meme Team." At the NBA level, there's OKC's Big Three, the Knicks' duo of Carmelo and Tyson and the Clippers' pairing of Chris Paul and Blake Griffin. Dial back the clock a little further, and the UCLA connection of Kevin Love and Russell Westbrook emerges.
What's more, so many of these guys played with and against each other at the AAU level when they were in high school, an advantage that didn't exist back in the 1970s and 1980s to the degree that it does with the dominance of the traveling club circuit today.
And, this is all without mentioning the most important ingredient of all—that the majority of the players on the 2012 squad have played together on the international stage in some form or fashion, an avenue of experience that the Dream Team first pioneered. Kobe, LeBron, Carmelo, CP3 and Deron Williams won gold together in Beijing in 2008, two years before Durant, Westbrook, Love, Chandler and Iguodala did the same at the FIBA World Championships in Turkey.
Those two groups have never competed together before, nor have Griffin or Harden even experienced international basketball.
But that's still infinitely more experience on the court than the older, wiser Dream Team would've had. That sort of pre-existing chemistry would have to count as something of a leg-up for the "Meme Team."
Versatility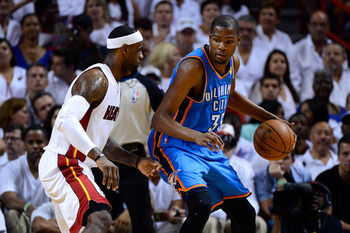 Ronald Martinez/Getty Images
As far as on-court attributes are concerned, Coach K's London-bound team might actually be able to best Chuck Daly's gold medalists in the versatility department.
Yes, I'm aware that Magic and Bird were on the Dream Team, but, as discussed earlier, they weren't the same guys who dominated the '80s at that point.
Sure, Michael, Scottie, Chris Mullin and Clyde Drexler could switch between shooting guard and small forward (big whoop) and Barkley was an undersized power forward. But, by and large, they—along with the rest of their Dream Teammates—were traditional, one-position players.
This year's team, on the other hand, is largely comprised of unconventional players who can guard multiple positions and succeed from spots all over the court. For instance, Durant is a small forward by definition, but shoots the ball like a 2 and is tall enough to be a 3. Love is a "stretch 4" who's equally effective in the post and out on the perimeter.
Then there's Westbrook, the combo guard who attacks the basket like few have ever before; Iguodala, the jack-of-all-trades on the wing; Harden, a silky-smooth shooting guard who can handle the ball and create for his teammates.
And, last but certainly not least, there's LeBron, who can play and guard all five positions on the floor.
With the roster at his disposal, Coach K could potentially throw out a lineup that includes LeBron at power forward, Durant at small forward, Russell Westbrook at one guard spot and, say, D-Will/CP3 or Kobe at the other.
And, if Coach K really wants to screw with Daly's Dream Team, he could slide in Griffin at center, or move LeBron to the middle and throw in Iggy or Carmelo on the wing.
The possibilities are endless, too endless for the Dream Team to keep up.
Point Guards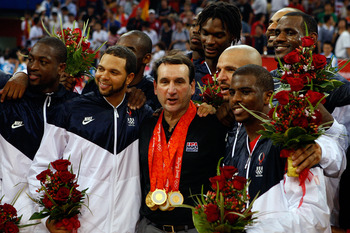 Streeter Lecka/Getty Images
The NBA is a point guard's league these days, just as basketball as a whole has evolved into a point guard's game.
In that regard, today's Stars and Stripes would be better equipped than those that went to the Olympics 20 years ago. The Dream Team had two (Magic and John Stockton) while the "Meme Team"—with CP3, D-Will and Westbrook—has three.
Or two-and-a-half, if you'd rather count Westy as a combo guard.
Here, again, the issue of age and basketball viability comes into play. Stockton was already 30 by the time the Dream Team went to Barcelona, while Magic, as mentioned earlier, was 32 and relatively out of practice after retiring on account of HIV.
That, as opposed to a 23-year-old Westbrook, a 27-year-old Paul and a soon-to-be-28-year-old D-Will, the latter two of whom are smack dab in the middle—not on the tail end—of their respective primes.
Defensively, Magic was never known for stopping the opposition and Stockton, while five times elected to All-Defensive teams and still the NBA's all-time steals leader, would presumably having a tough time handling the quickness of Paul, the strength of Williams and the freakish athleticism of Westbrook.
Of course, there's the problem of those three trying to contend with a 6'9'' Magic, though shifting LeBron to that spot should serve as something of a solution.
Who Wins?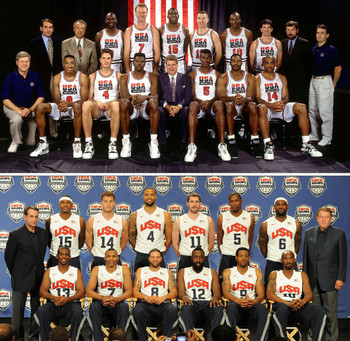 Photo Credit: Bleacher Report
And so, we return to Kobe's supposedly ludicrous assertion that the current crop of All-Stars would be able to beat the oft-revered Dream Team, though perhaps not handily.
The '92 squad would be bigger, older and more "experienced" (and lay claim to more Hall passes), but would presumably have some difficulty handling the '12 team's youth, athleticism, chemistry, versatility and point guard play.
Believe or not, the difference between the two would likely come down to how each coaching staff handles its particular roster. More specifically, in what ways would Coach K employ his spectacular stockpile of interchangeable parts to frustrate Daly's more traditional collection of great-but-older players?
In any case, if Doc Brown's flux capacitor were a real thing and the march of science could bring these teams together as they were upon heading to the Olympics, basketball fans everywhere would be treated to a fantastic, hard-fought game between two of the most overwhelming convocations of talent ever assembled.
With the "Meme Team" winning, of course, before heading across the pond to claim Olympic gold in London and, perhaps, becoming the last squad of the best American players to compete without David Stern getting in the way.
Keep Reading