USA Basketball 2012: Kobe Bryant Insane to Say His Squad Can Beat Dream Team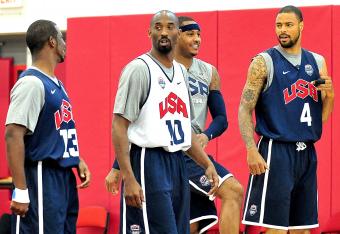 Kobe Bryant just learned who his teammates would be on the 2012 USA Olympic men's basketball squad on Saturday, but he's apparently already comfortable enough with them to claim that they would beat the famous 1992 Dream Team.
Jimmy Smith of The Times-Picayune captured some footage of the Los Angeles Lakers superstar discussing a hypothetical matchup between the team assembled for the upcoming London Games and the one that absolutely destroyed the competition in the '92 Barcelona Games.
The highlight of the interview is when a reporter asked Bryant if the current Team USA could beat the 1992 version.
Black Mamba compares and contrasts the two rosters a bit before saying he believes his side would pull out the victory.
This is just an absolutely ludicrous statement by Bryant, who further proved he's one of the most arrogant players in the history of the league and now somewhat delusional.
Let's take a look at the level of talent on that '92 team compared to the '12 squad.
PG: John Stockton, Magic Johnson vs. Russell Westbrook, Deron Williams, Chris Paul
CP3 might be considered the best pure point in the game right now, but Magic and Stockton were two of the greatest to ever play.
Russell Westbrook isn't even a traditional point, and his slashing ability is overrated in international play. D-Will might be a solid point, but he can't hold a candle to the two Dream Teamers.
SG: Michael Jordan, Clyde Drexler vs. Kobe Bryant, James Harden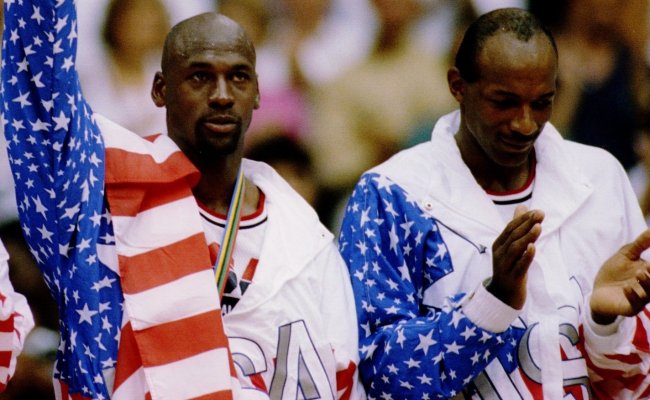 Mike Powell/Getty Images
MJ is the greatest player of all time, no doubt about it. Clyde would also be a superstar in the modern NBA due to his insane athleticism and slashing ability.
While Kobe is the best player in the current NBA, he pales in comparison to Jordan's greatness, and Harden is just coming into his own.
SF: Larry Bird, Scottie Pippen vs. Kevin Durant, LeBron James, Carmelo Anthony
This is the only position at which the 2012 team has a clear advantage. Bird was well past his prime in '92, although Pippen was on top of his game and reinventing the position as a point forward in the NBA.
However, he did not assume that role on Team USA and was better used as defender.
The modern roster has future Hall of Famers in KD, LBJ and possibly 'Melo. They can all score at a high level and would be too athletic for the defenders to reasonably lock down.
PF: Charles Barkley, Karl Malone vs. Blake Griffin, Kevin Love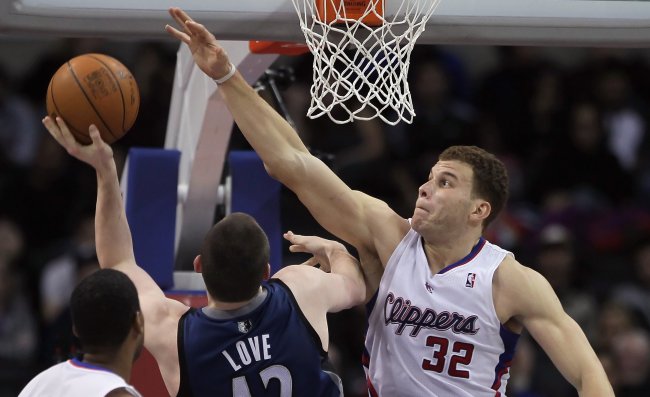 Jeff Gross/Getty Images
This is another matchup that just isn't fair. Griffin and Love are promising and exciting players moving up in the league, but they are fringe All-Stars and have yet to show the greatness that Barkley and Malone displayed throughout their careers.
While Blake and Love may be more exciting to watch than the Round Mound of Rebound and The Mailman, they aren't as icily effective or nearly as reliable.
C: Patrick Ewing, David Robinson vs. Tyson Chandler
Chandler is completely outmatched here. Even as the reigning Defensive Player of the Year, he'd have a tough time keeping up with Ewing and Robinson, two of the best shooting centers in history.
The old guys were great Olympic athletes because they could stretch the floor and open the smaller international court up for their shooters and slashers while still banging for boards and playing great D.
The current Knicks star is only a true asset on the defensive end, as his shooting is best described as poor.
Conclusion
The Dream Team would clearly beat the 2012 Olympic team and has better players at four of the five positions.
It is widely considered the best roster ever assembled for a reason. Kobe Bryant needs to recant his statement, as it has proved to be wildly inaccurate.
This article is
What is the duplicate article?
Why is this article offensive?
Where is this article plagiarized from?
Why is this article poorly edited?