Ranking Ersan Ilyasova and Top 10 European Players Age 25 and Under in the NBA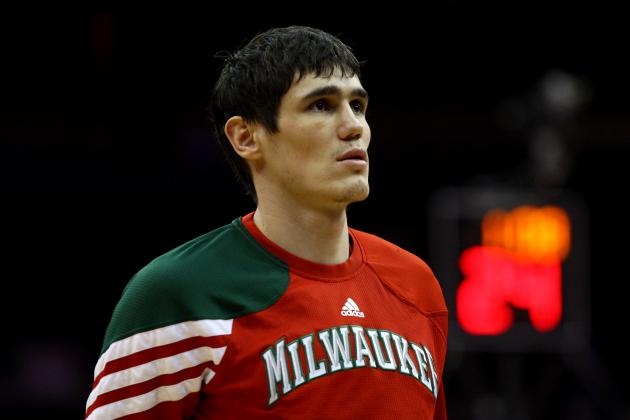 Chris Chambers/Getty Images

There's a lot to like about Ersan Ilyasova. He's relatively young (he turned 25 in May), he's tall (6'10"), he plays hard and he looks remarkably like James Franco.
Now, Ilyasova will be paid almost as handsomely as his Hollywood doppelganger once he signs a new four-year, $45 million contract with the Milwaukee Bucks.
But is the Turkish forward the best European youngster in the NBA? Who else from the 25-and-under crew from across the pond can top him?
Read on to find out!
Begin Slideshow

»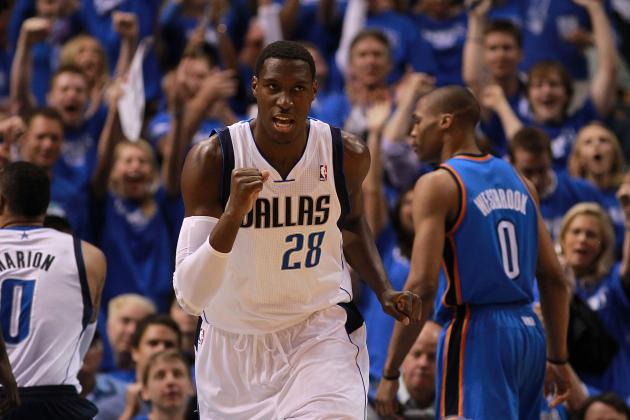 Ronald Martinez/Getty Images

Hey, at least Ian Mahinmi made one top-10 list that doesn't directly involve the Dallas Mavericks, right?
To his credit, Mahinmi isn't just any 6'11", 230-pound stiff. The wiry Frenchman posted career highs across the board last season for the Mavs while playing more than twice as many minutes per game as he'd ever garnered in his three previous NBA seasons.
Nobody's expecting the 25-year-old Mahinmi to be anything more than a backup big man for the foreseeable future, though he's certainly proven that he belongs in The Association.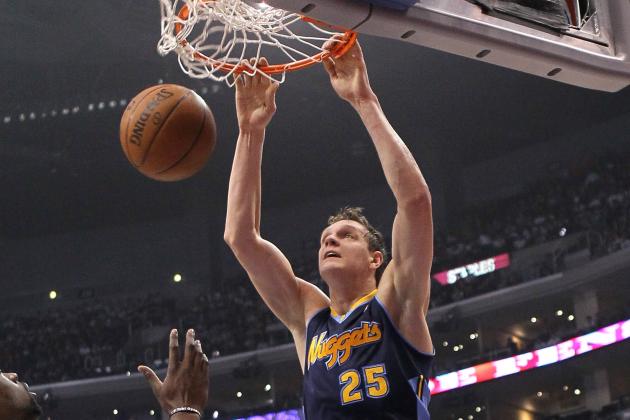 Stephen Dunn/Getty Images

Timofey Mozgov just makes the cut here in terms of both his place on this list and his eligibility for it; the Denver Nuggets center will celebrate his 26th birthday on July 16th.
For now, though, Mozgov is young enough and good enough for a shoutout. The 7'1", 250-pound Russian has been surprisingly productive in limited minutes to this point, posting 5.1 points and 4.5 rebounds in a mere 15.6 minutes per game with the Nuggets last season.
Mozgov may not be a star-in-the-making, but at his size and with his particular skill set, he should be able to fashion a career beyond standing in for Blake Griffin's posters.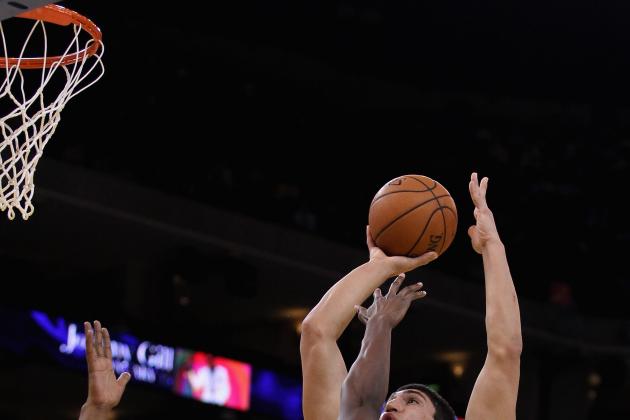 Ezra Shaw/Getty Images

Enes Kanter, on the other hand, still has the potential to be a regular starter and a rather productive player down the road. The 20-year-old Swiss-born Turk averaged a measly 4.6 points and 4.2 rebounds in 13.2 minutes per game off the bench during his rookie season with the Utah Jazz.
Kanter is still incredibly raw, with a game currently predicated almost entirely on size (6'11", 262 pounds) and strength and largely devoid of skill or finesse.
But at his age and with his massive frame, Kanter—the No. 3 pick in the 2011 draft—still has plenty of "upside" at his disposal before anyone can reasonably cast him aside as a bust.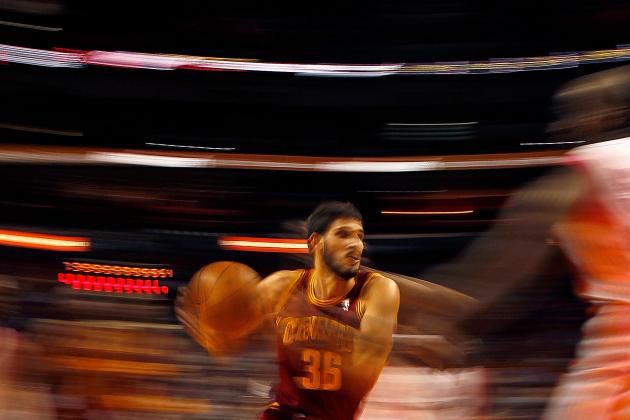 Mike Ehrmann/Getty Images

Omri Casspi's status as a European import is up to some debate. Casspi hails from Israel, which, on the one hand, is a closer geographical fit with the Middle East, but is home to a host of teams who regularly compete (and win) in the Euroleague.
For the sake of this discussion, though, Casspi will be hustled in with the Euros, even though he'd easily be tops on a short list of players hailing from the Middle East. Casspi has averaged 8.7 points and 4.2 rebounds per game through his first three NBA seasons, though he's seen his playing time (and productivity) dip with each successive campaign.
The 24-year-old isn't exactly an A-plus defender, but at 6'9 and 225 pounds, he has the requisite size, skill and shooting touch to be a solid starting small forward in the NBA when given the opportunity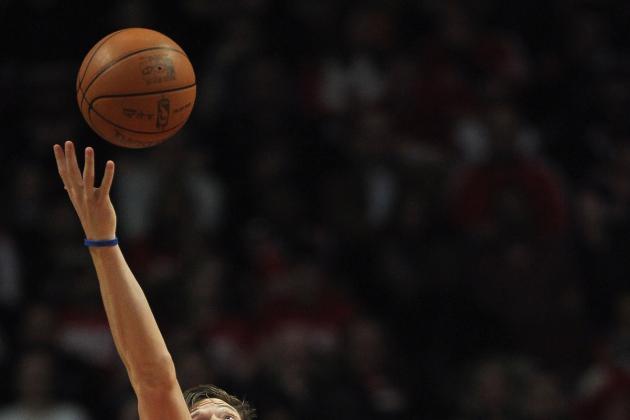 Jonathan Daniel/Getty Images

Swedes are particularly uncommon in the NBA, though Jonas Jerebko is doing his best to change that for the better. The 6'10", 231-pounder has been pleasantly productive during his two seasons with the Detroit Pistons, posting averages of 9.0 points and 5.5 rebounds in 25.7 minutes per game.
Jerebko came back strong last season from a strained Achilles' tendon that sidelined him for the entire 2010-11 campaign. Unfortunately, his playing time may continue to slip from here on out, with Greg Monroe slated to slide over to power forward to make room for rookie Andre Drummond and Tayshaun Prince and Austin Daye already entrenched at small forward.
At least Jerebko's getting his money—he's owed $4.5 million per season through 2013-14.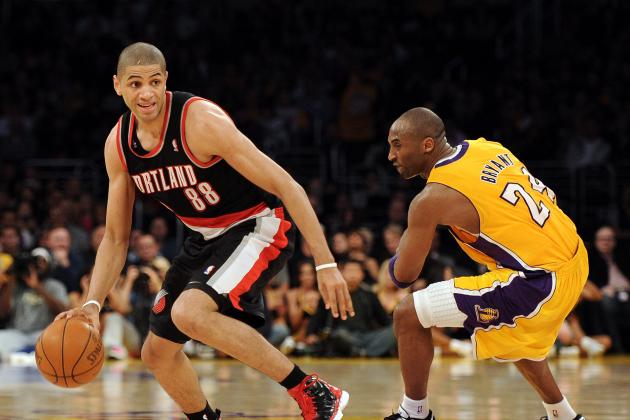 Harry How/Getty Images

Wherever Nicolas Batum winds up—be it with the Minnesota Timberwolves or back with the Portland Trail Blazers—he'll be expected to break out as the star for which he's long been touted.
Batum is currently entertaining a four-year, $45 million offer sheet from the T-Wolves after posting career-highs in points (13.9) and rebounds (4.6) with the Blazers last season. The 6'8" swingman would be a welcome addition to a Minnesota team in need of some talent on the wing.
And, at just 23 years of age, the high-flying Frenchman still has yet to play his best basketball.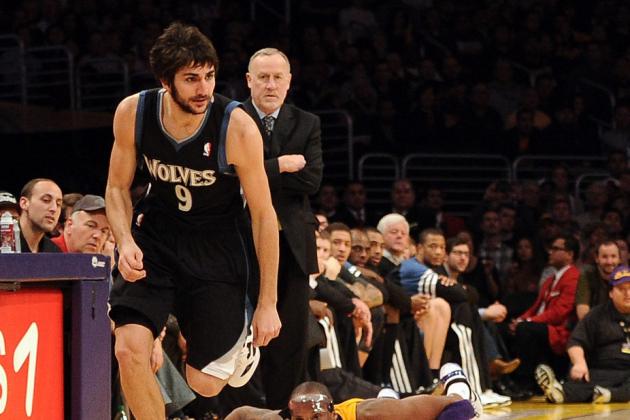 Harry How/Getty Images

Ricky Rubio's spot on this list is largely contingent on how he bounces back from a season-ending knee injury. The 21-year-old Spaniard was phenomenal at times during his rookie campaign in the Twin Cities, scoring 10.6 points, dropping 8.2 dimes, ripping down 4.2 rebounds and sneaking away with 2.2 steals per game.
Granted, Rubio's shooting—35.7 percent from the field, 34 percent from three-point land—was abysmal, though his 80.3 percent free-throw accuracy portends improvement in that department.
The real concern, though, rests with Rubio's ACL. If Rubio continues to work diligently to rehab his knee and everything heals properly, then he may yet grow into one of the league's best point guards.
If not, he might still have a solid career in the NBA, though not nearly of the caliber at which his early returns had hinted.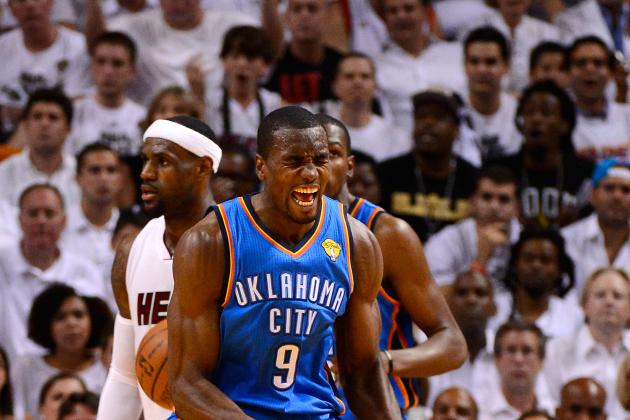 Ronald Martinez/Getty Images

Serge Ibaka was born in the Republic of the Congo, but finds himself counted as a European by virtue of his upbringing in and international representation of Spain.
The 6'10", 220-pound forward has developed into a spectacular shot-swatter and a solid all-around contributor for the Oklahoma City Thunder. Aside from leading the league in blocks with 3.7 per game, Ibaka averaged 9.1 points and 7.5 rebounds as the starting power forward for the Western Conference champions.
There's been plenty of chatter already about the 22-year-old Ibaka possibly commanding a max contract when he becomes a restricted free agent next summer. Whether he's actually offered that money (or even deserves it) is another story entirely.
For now, though, it's safe to say that Ibaka is among the more promising European players in the NBA today, with plenty of potential yet to be mined on the offensive end.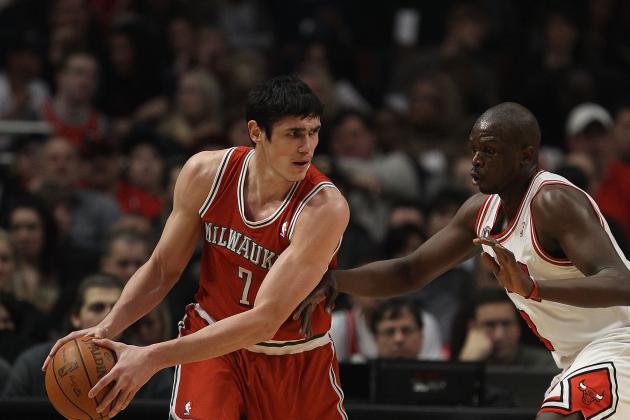 Jonathan Daniel/Getty Images

Ersan Ilyasova would be the best young European baller in the NBA if not for his feast-or-famine tendencies on the court.
On the one hand, the 25-year-old Turkish forward can explode for 29 points and 25 rebounds on any given night, as he did against the Nets this past season. On the other hand, he's apt to fall short of double-digit scoring, as he did on 23 occasions with the Milwaukee Bucks in 2011-12.
Not that the Bucks were at all deterred by that, judging by the $45 million deal he's set to sign once July 11 rolls around.
But with averages of 13.0 points and 8.8 rebounds—along with 49.2 percent shooting from the field and 45.5 percent from three—that sort of compensation is still somewhat justifiable.
As is his standing as the second-best 25-and-under Euro in the league.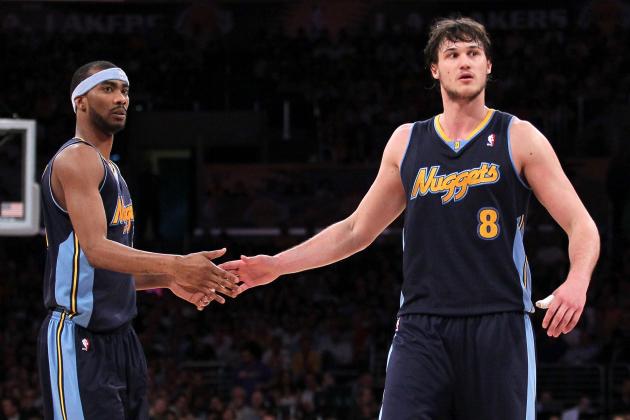 Jeff Gross/Getty Images

Of all the young Euros in The Association, Danilo Gallinari is the one best suited to multiple All-Star appearances if his current health holds.
To be sure, Gallo suffered his fair share of injuries this past season (and missed 23 games as a result), but his combination of size (6'10 and 225 pounds) and scoring ability (14.0 points per game for his career) make him a potential star on the wing for the Denver Nuggets.
If the 23-year-old Italian continues to expand his game and refine his shooting stroke, he'll give fans in New York even more reason to regret ever having shipped him out in the Carmelo Anthony trade.