Undrafted NBA Free Agents 2012: Drew Gordon and Other Top Post Players to Watch
July 1, 2012

Jonathan Ferrey/Getty Images
Points in the paint are essential in the NBA. The best big men not drafted that can help teams in the post will be snatched up quickly. The top big men in the draft that weren't selected were Xavier Gibson, Cameron Moore and Drew Gordon.
These men will all end up in the NBA on someone's roster, and they should create a tremendous impact as reserves. At the very least, these guys will be able to spell the starters on whatever team gives them a shot. 
Xavier Gibson, PF/C, Florida State
Size: 6'11" 266 pounds
Stats: 6.8 points per game, 4.4 rebounds per game, 1.3 blocks per game in 18.3 minutes per game
Gibson didn't get a lot of minutes at Florida State, but that was because Bernard James received more minutes than him. Gibson will contribute in the NBA better as his style fits the NBA game more.
NBADraft.net's Ryan Mattocks states this about Gibson's game:
"The best thing I can say about Gibson at this point is that he knows who he is as a player and does what's asked of him."
When a guy knows what he does well and can use that to his team's advantage, a team will fall in love with him and use him a lot off the bench.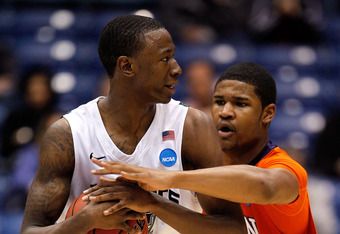 Gregory Shamus/Getty Images
Cameron Moore, PF, UAB
Size: 6'10" 233 pounds
Stats: 16.1 points per game, 10.5 rebounds per game, 2.4 blocks per game in 35.8 minutes per game
He's not afraid to go up and get a rebound. He also can score points in bunches and play defense. His biggest weaknesses can be coached out with a willing enough coach.
One weakness Ryan Mattocks of NBADraft.net points out is that he "has fallen too deeply in love with his turnaround jumper, which he releases too low." And that is a big problem for him—opponents can block that shot a lot.
However, he is a guy that should be worth taking a chance on.
Drew Gordon, PF, New Mexico
Size: 6'9" 239 pounds
Stats: 13.7 points per game, 11.1 rebounds per game, 1.0 blocks per game in 30.8 minutes per game
Gordon is the cream of the undrafted free-agent crop. His double-double averages in college should have propelled him onto the radar of quite a few NBA teams. He also has solid size and strength to play in the post.
He isn't ever going to be a starter, but his ability to come off the bench and contribute as a rebounder and to the defense will keep him on an NBA roster for a decent career.