NBA Offseason: Which Up-and-Coming Teams Will Surprise the NBA Next Season?
June 30, 2012

Christian Petersen/Getty Images
The upcoming season has its early favorites already, but no one is quite certain what underdog will make a run in 2012-13. 
Each year, young, up-and-coming teams work their way into contention, beating the favorites ahead of them and turning unknowns into household names.
The Oklahoma City Thunder succeeded in making a small-market franchise national fan favorites over the past few seasons, surprising many by joining the NBA's elite only three years removed from a 59-loss season.
The Los Angeles Clippers have also joined title talks as they have finally ascended the steps leading out of the cellar. The 2011-12 Clippers had the best winning percentage in franchise history while making the playoffs for the first time since 2005-06.
It has yet to be seen which teams will emerge in 2012-13 to take the NBA by storm, but a few are top contenders for huge improvement this coming season.
Washington Wizards
The Washington Wizards are a young team that has a ton of potential, but have yet to show they are major competitors. 
Washington's is led by young guard John Wall, who was drafted first overall in 2010. Wall has played well with the Wizards, but the lack of talent around him has made it hard to achieve any type of success.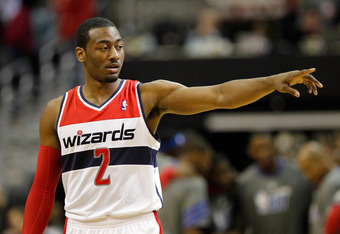 Rob Carr/Getty Images
This week, Washington has worked on improving their roster by adding Emeka Okafor and Trevor Ariza. The two veterans will help Wall in his continued transition to the NBA.
The vets will also help coveted first-round pick Bradley Beal. The Florida product will be an impressive scoring threat to complement Wall.
Minnesota Timberwolves
The T-wolves are ready for a breakout season.
Minnesota has been waiting a long time for the true materialization of Kevin Love and his ability to win.
In 2011-12, Ricky Rubio finally came to the NBA from Europe and played at a high level. Before hurting his knee, Rubio was in a battle with Kyrie Irving for Rookie of the Year.
Rubio still finished second despite going down in March.
Minnesota is now attempting to acquire Pau Gasol, according to the AP. 
A revamped T-wolves team with Gasol and Love in the frontcourt getting passes from a healthy Rubio would be something to keep an eye on in 2012-13.