2012 NBA Season: Power Ranking the 10 Best Alley-Oops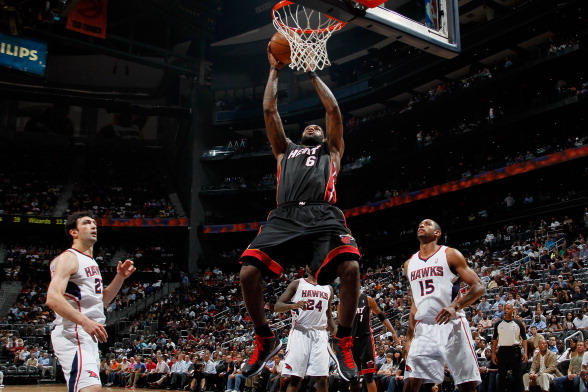 Kevin C. Cox/Getty Images

Next to sliced bread, the submarine and Rocky IV, the alley-oop is probably the greatest invention of all time.
There is nothing more exciting than when you're watching your favorite team and you see someone lob up a ball with the knowledge that your favorite player is going to come out of nowhere and slam it home.
Despite the fact that this past season was condensed to 66 games, we saw our fair share of exciting plays. The following are the 10 greatest alley-oops of the 2011-2012 NBA season.
Begin Slideshow

»
While it was incredible to see Rondo and LeBron jaw it out for the Eastern Conference title, this alley-oop gave us a taste of what it would be like to see the two superstars play together.
While the NBA All-Star game can be considered lackadaisical at times, dunks like these are what the fans crave.
The Knicks' season can be closely compared to a roller coaster: they went down, up, down, up, etc.
But when they were going up, they were playing with the intensity of a college team in the heart of March Madness. This dunk symbolized the unselfishness that the Knicks possessed during their hot streak.
Nobody thought the Nuggets had a shot at the playoffs going into the year, but they played well above anyone's expectations. This alley-oop symbolizes the potential and drive to win that this team has.
The dunk wasn't the best part of the alley-oop, but rather the fact that Ricky Rubio actually dribbled the ball between someone else's legs. That calls for a round of applause.
When LeBron first announced that he was "taking his talents to South Beach," the first image that popped into my mind was this exact play, I swear. It was simple: Wade plus LeBron equals crazy alley-oops that appear on SportsCenter every single morning.
This play is the pinnacle of having a loaded roster. It's the type of dunk that makes you say, "It's not fair that those two are allowed to play on the same team."
Even though J.R. Smith chucks up a lot of shots and can often take the Knicks out of the game in the process, he can contort his body in so many ways to formulate dunks like these that simply make you say, "Wow."
This dunk is very under-appreciated despite the fact that he spun around, caught the ball with one hand and flushed it down backwards. Are you kidding me?
Quick! Look! Something exciting in New Jersey that isn't a football team from New York!
Sorry, you missed it—they moved to Brooklyn.
This dunk should get basketball fans everywhere excited.
Why? Because this is the combination we are going to see for the next seven to 10 years. The potential that Westbrook and Durant have together is exponential, and it is scary to think of how many championships they can win together.
This whole play made me seriously question LeBron's eligibility to play in the NBA. I'm pretty sure you have to be entirely human to qualify.
If there aren't already, there should be laws that prohibit half-man half-apes from playing in the NBA.