The Biggest Injury Risks in the NBA Heading into the 2012-13 Season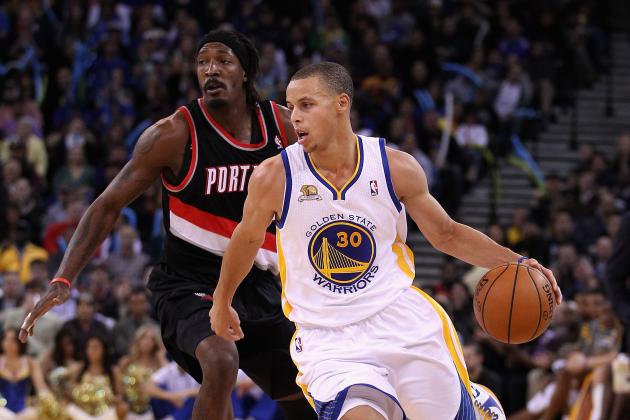 Ezra Shaw/Getty Images
Stephen Curry's ankles have been worrisome for some time now.
With players like Derrick Rose already scheduled to miss time to start the 2012-2013 NBA season, the concern for injury will never be higher. This will be the first full NBA season in two years and players will react differently to the change coming out of the lockout-shortened season just as much as going into it.
After playing in a condensed 66-game schedule, the NBA will return to a full 82-games next season. For two sets of players, rookies and sophomores, this will be their first taste of a full NBA season. For others, there is no telling of the wear and tear this past year had on them.
These 10 players are at the biggest risk for injury in the upcoming season due to past experiences, age or youth. While we wish harm on no player, teams should be wary of these players—especially if they are looking to sign them in free agency.
Begin Slideshow

»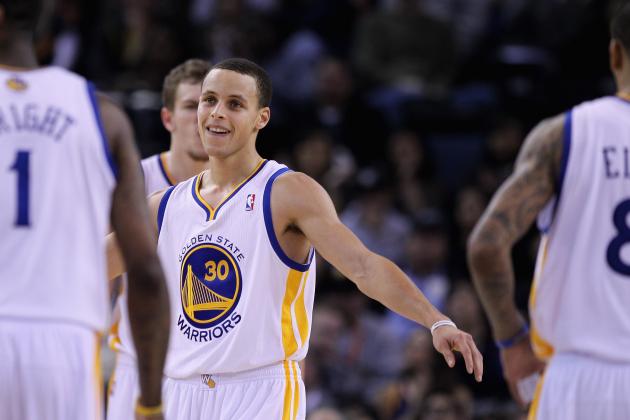 Ezra Shaw/Getty Images
Stephen Curry has been hampered with a nagging injury.
Stephen Curry is spending his second straight offseason under the knife. Even more worrisome for Golden State, the reason is once again the same right ankle that hampered him last season.
While he missed only 10 games total in his first two NBA seasons, Curry was unavailable in 40 of 66 games in 2011-2012. It seems like he just has a chronic issue with the one ankle and now with two surgeries on it, he is very unpredictable.
The ankles are such an integral part of a basketball player, especially one of Curry's speed and agility. Having two surgeries on one ankle in under a year is very troublesome for a 24-year-old player.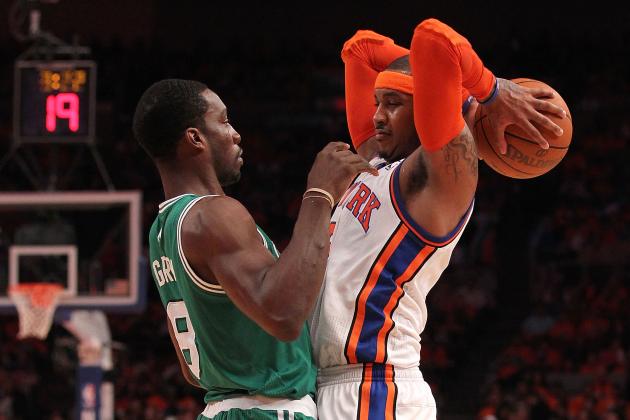 Nick Laham/Getty Images
Jeff Green did not play in the 2011-12 season.
Jeff Green missed only 13 games over his first four seasons in the NBA. Then last year happened and Green missed all 66 games for the Boston Celtics.
Last December, it was declared that Green had serious heart complications. He underwent surgery and spent the entire season in the hospital or on the sidelines. Now he is an unrestricted free agent and looking for a new deal.
Teams should do their due diligence on Green before offering him a contract. There is no telling what future complications may arise with Green, making him a definite injury risk.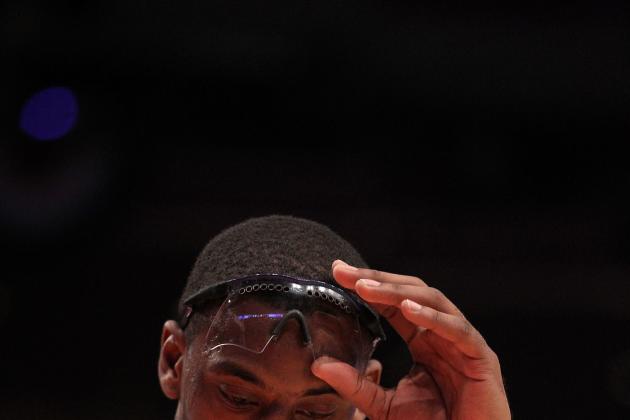 Nick Laham/Getty Images
Amar'e Stoudemire's knees are not doing to well.
Amar'e Stoudemire struggled with some injuries last season and is noticeably slowing down as he ages. Stoudemire has gone through serious surgeries on his knees in the past, which has sapped a lot of the explosiveness he once showed in Phoenix.
Stoudemire has missed significant time in four of his 10 NBA seasons, including the most recent one. His contract will make it difficult to move, but his injury history will make it just as difficult.
Whether it be his back or his knees, it is clear that Amar'e Stoudemire is aging scarily fast.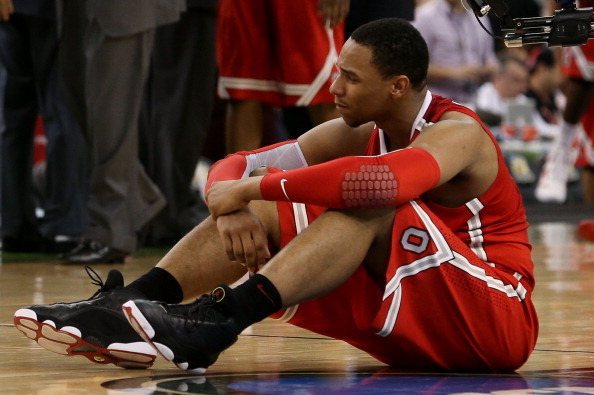 Jeff Gross/Getty Images
Jared Sullinger already has red flags about his health.
Well, that didn't take long. Almost immediately after the conclusion of the NBA draft, The Celtics announced that first-round pick Jared Sullinger may need surgery.
Sullinger was a top prospect following the 2010-2011 season and would have been a lottery pick. However, the impending lockout helped to scare him off and he returned to Ohio State for another year.
That year wound up hurting his stock more than anyone could have imagined.
Sullinger struggled through back pain during his sophomore campaign and a pre-draft MRI revealed that he had a herniated disk.
The immediate concern over the health of a first-round pick has landed Sullinger on this list.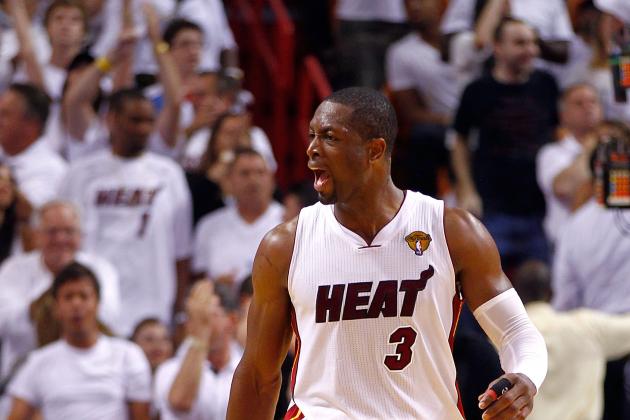 Mike Ehrmann/Getty Images
Dwayne Wade struggled through the playoffs on bad knees.
Dwyane Wade was noticeably different during this year's playoffs. The reason came out a few days ago—it was made public that he would be undergoing surgery on his left knee (via the AP).
This means Wade is out for the Olympics this summer and will have the whole offseason to recover. However, how much can he recover at this point? He broke the 30-year-old threshold in the middle of the season and does have a decent history with minor injuries.
Wade has never played in more than 79 games in a season and missed 10 or more games in four of nine professional seasons. This past year, it was both a thumb injury and then the nagging knee problems.
Next year it will surely be something else.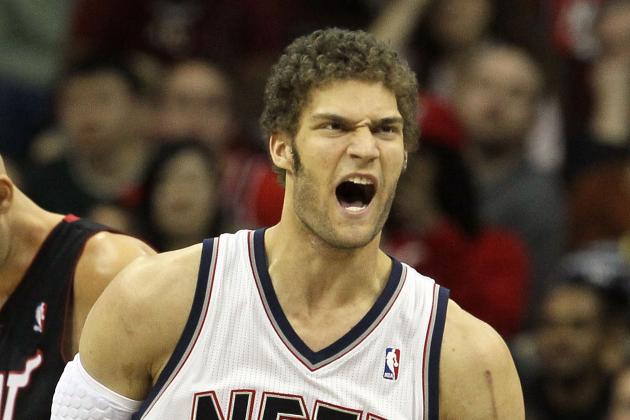 Jim McIsaac/Getty Images
Brook Lopez missed almost all of last season.
Prior to 2011, Brook Lopez was the model of consistency. He did not miss a single game in his first three NBA seasons. However, all that came tumbling down this past year.
Lopez suffered a broken bone in his foot during a preseason game that forced him to miss the Nets first 32 games of the season. He then returned for five games before suffering a whole new injury to the same foot.
The scary part is that this is a common injury for men of his size, according to About.com It would truly be a shame if this is something that continues to hamper the seven footer and ruin a promising young career.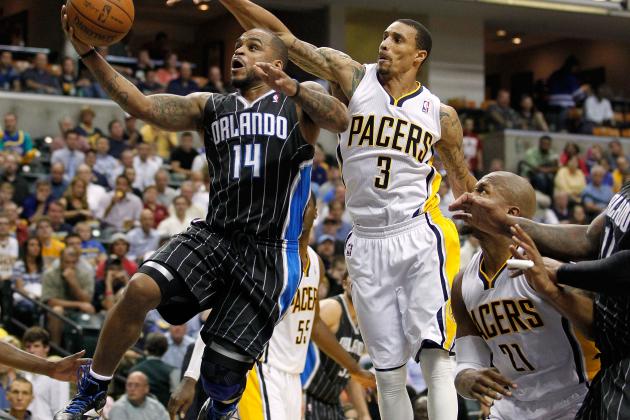 Gregory Shamus/Getty Images
Jameer Nelson hasn't proven himself to be injury-free.
Jameer Nelson has never really been a picture of good health. The Orlando point guard has missed 10 or more games in four of his first eight seasons in the NBA and never played more than 79 games (once).
This could be the final year of Nelson's contract if he opts to stay in Orlando, and he needs to prove he can remain healthy for an entire 82 games in order to maximize his next contract.
Nelson's injuries have run the gamut of causes and effects.
I'm not sure if that is a good thing or a bad thing when it comes to predicting a player's proneness to injury. I think it may be better to have a consistent injury than be labelled as someone who lets a variety of things take them off the court consistently.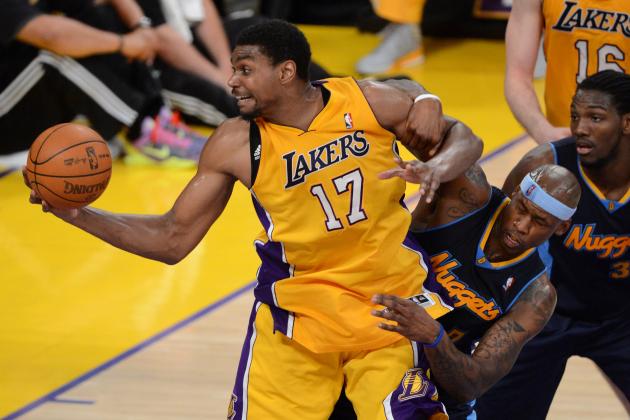 Kevork Djansezian/Getty Images
Andrew Bynum may be due for an injury.
It almost feels like Andrew Bynum is due for an injury.
He has had only one complete season and that was back in 2006. Since then, it has been one injury after another until a remarkably consistent 2011-2012 season in which he missed just six games.
Bynum has missed more than 15 games in five of his seven seasons in Los Angeles—an alarming rate. He is entering into the final year of his contract and another consistent, injury-free year would mean major dollar signs on the other end in free agency.
He has consistently struggled with knee pains and even had a procedure done during the All-Star break to help him continue on. He is scheduled to undergo another procedure in Germany this summer which may help him out (via the LA Times).
I still wouldn't ever bet big money on him playing a full season, though.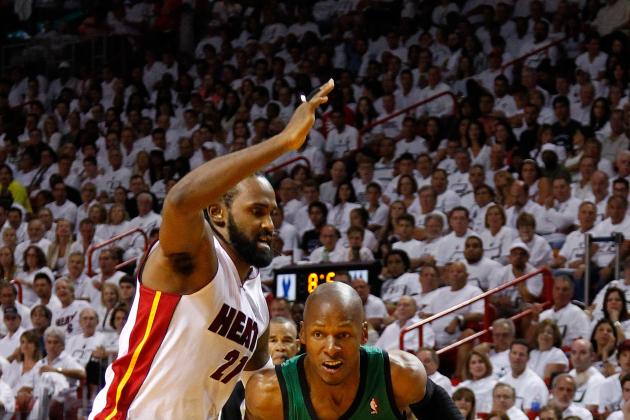 Mike Ehrmann/Getty Images
Ray Allen is entering a very injury-prone part of his career.
Over the course of Ray Allen's illustrious career, he has only missed greater than 10 games four times. His career has spanned 16 seasons; however, all anyone will think of is what happened recently.
Allen missed 20 regular season games this past season as well as a couple playoff contests. He will be 37 years old at the start of next season, and he went through offseason surgery to repair his ankles.
Allen's future is up in the air right now as an unrestricted free agent. He has a great many suitors, but they should be warned that a 37-year-old man cannot run around like such anymore and not inure himself as some point.
The recovery process will continue to get longer and longer as well.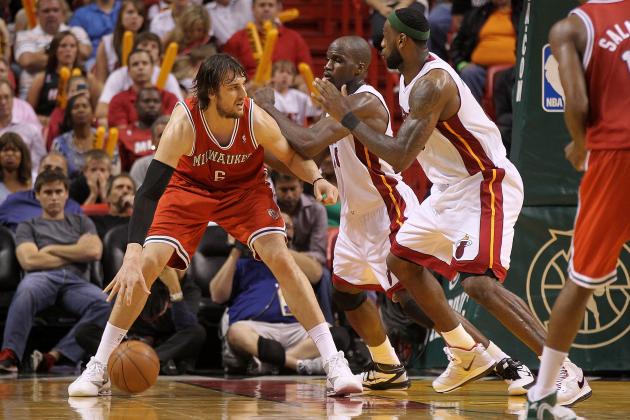 Mike Ehrmann/Getty Images
Andrew Bogut once again was injured this season.
Andrew Bogut has been the opposite of the picture of health during his NBA career. He has completed remotely close to the 82 games just twice in his seven-year tenure.
Bogut has experienced a long list of setbacks since arriving in the NBA—the most recent of which is the broken ankle that sidelined him for the majority of the 2011 season.
While he claims they have just been unlucky situations, there is no doubting that his career has been defined by them so far (via Sports Illustrated). The former No. 1 overall pick will need to prove quickly in a new city that they have been nothing more than a mirage, and he is actually the durable center that Milwaukee drafted.