NBA Trade Rumors: Three-Team Deal for Lamar Odom Makes Sense for All Sides
June 28, 2012

Stephen Dunn/Getty Images
A return to the Los Angeles Clippers—and the city he loves—makes a lot of sense for Lamar Odom. Shedding his salary makes a lot more sense for the Dallas Mavericks.
And if the Utah Jazz can find a way to land Mo Williams in the process, well, that's basically the perfect trade for all teams involved.
It just might happen. From Marc Stein and Chad Ford of ESPN.com:
The Utah Jazz have emerged as the potential third team in the Los Angeles Clippers' ongoing trade discussions to acquire Lamar Odom from the Dallas Mavericks, according to sources close to the process.

Sources told ESPN.com that the Jazz are willing to take on Mo Williams in a three-team trade scenario that would send Odom to the Clippers and enable the Mavericks to shed Odom's salary without taking back any salary.
In the deal, the Jazz would use the trade exception to add Williams without cutting salary elsewhere. And as Stein and Ford have reported, the deal will ultimately come down to whether Williams is willing to take his $8.5 million player option to play with the Jazz next year rather than becoming a free agent.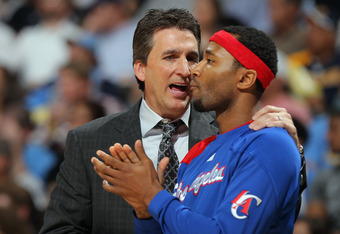 Doug Pensinger/Getty Images
Alongside his well-known love affair with the city of Los Angeles, Odom would actually be a great fit for the Clippers. His athleticism and ability to fill several roles off the bench would be huge for the Clips, and I could see him fitting nicely into the team's transition game.
Meanwhile, the Jazz could certainly use some help at guard, and Williams wouldn't want for minutes in Utah.
Honestly, is Williams going to do anything in the next year to drastically change his worth? Isn't he risking losing out on a few million bucks to sign a multi-year deal by not taking the $8.5 million this season?
It seems to be a win for everyone. The Mavs clear out cap space for Deron Williams, the Clips add the versatile Odom to the front line, Odom returns to Los Angeles, the Jazz add some scoring at guard and, if Williams decides to accept his player option, he'll make a cool $8.5 million next year and see plenty of the court.
The ball's in your court Mr. Williams.
Hit me up on Twitter—my tweets are more accurate than Spain's passing.