Detroit Pistons Reportedly Trade Ben Gordon to Charlotte Bobcats
June 27, 2012

The Charlotte Bobcats and Detroit Pistons continued Tuesday's trade parade with a reported deal that sent Ben Gordon and a future first-round pick to Charlotte for Corey Maggette.
The news comes from Yahoo! Sports' Adrian Wojnarowski:
Detroit has traded Ben Gordon and a protected future first-round pick to Charlotte for Corey Maggette, league sources tell Y! Sports.

— Adrian Wojnarowski (@WojYahooNBA) June 27, 2012
Let's take a closer look at this swap of high-volume scorers. 
What It Means
Maggette, who is heading to his fourth different team in the last five years, is coming off arguably the worst season of his career.
In 32 games for the Bobcats, the dynamic wing shot just 37 percent the field, but his distinguished ability to get to the free-throw line still led to a 15-point average the past season. 
When healthy, however, Maggette can be an electric scorer, as he proved in 2010 when he averaged 19.8 ppg on 52 percent shooting from the field.
Ben Gordon, of course, has seen his career take a step back since joining the Pistons. After averaging over 20 points per game in 2009 (and 2007), Gordon has seen his scoring dip below 14 per contest for three straight years. 
As far as contracts go, Maggette will make about $1 million less than Gordon in 2012-13, but Gordon has a player option in 2014 while Maggette comes off the books. 
What Happens Next
The Pistons' addition of Maggette means he will challenge Tayshaun Prince for time at small forward. And Brandon Knight and Rodney Stuckey can then move ahead as the starting guards without Ben Gordon taking away minutes.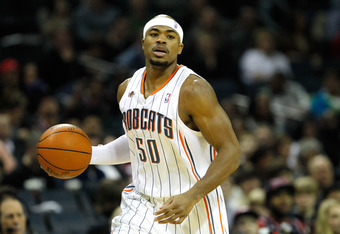 Streeter Lecka/Getty Images
It also means they are likely to take a big man with the ninth pick in the draft.
As far as Charlotte goes, the addition of Gordon is a little perplexing. He can play both guard positions, but young Kemba Walker (and D.J Augustin, who is a restricted free agent) is entrenched at the point guard position and Gerald Henderson is coming off a career year at the 2. 
Nonetheless, the Bobcats need veterans who can step in and contribute right away, and at the very least, Gordon gives them a scoring option off the bench they didn't previously have.
As far as the draft pick Charlotte receives, CBS' Ken Berger tweeted this clarification:
Sources confirm pick going to Charlotte is lottery-protected in '13, top-8 in '14, top-1 in '15, unprotected in '16.

— Ken Berger (@KBergCBS) June 27, 2012
So you can be sure Michael Jordan will be cheering for the Pistons to make the playoffs next season.