Michael Kidd-Gilchrist: Is Kentucky Standout Poised to Have Best NBA Career?
June 26, 2012

Ronald Martinez/Getty Images
When we look back at the 2012 NBA draft in a few years, Michael Kidd-Gilchrist could be remembered as the draft class' top player.
Anthony Davis out-shined Kidd-Gilchrist in Kentucky, and he continues to steal all the spotlight in draft coverage. Almost a complete lock to land with the New Orleans Hornets as the No. 1 pick, Davis is this year's elite talent.
However, do not be surprised if Kidd-Gilchrist develops into a more complete player.
The shooting guard/small forward averaged 11.8 points per game on 49.1 percent shooting and 7.6 rebounds for the Wildcats last season. While Kidd-Gilchrist will never challenge for a scoring title, the 18-year-old picks his spots well and makes his limited shot attempts count.
Defense is also a strong part of Kidd-Gilchrist's repertoire. He can follow the path of Kawhi Leonard and Iman Shumpert and immediately become a lock-down defender during his rookie campaign. 
Jonathan Givony of Draft Express broke down Kidd-Gilchrist's superb defensive abilities in his scouting report.
He's extremely versatile on defense as well, being asked to guard point guards to power forwards, sometimes within the same game. He has ideal physical attributes here, with his terrific size, strength and length. He also moves his feet extremely well, and is competitive a player as you'll find on this end of the floor. It's obvious that he truly enjoys his work here, which is pretty rare at his age. His shows outstanding instincts blocking shots and getting in the passing lanes, and does a great job of contesting shots, playing the game with a real nasty streak.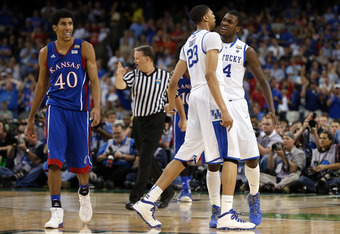 Jeff Gross/Getty Images
Most elite college prospects pile up the stats as their offense's focal point, but Kidd-Gilchrist learned at a young age how to assimilate into a team and find his niche. Playing on a Kentucky team loaded with NBA-ready talent, Kidd-Gilchrist played second-fiddle to Davis—a role that suits him perfectly.
While he will not receive the luxury of playing with Michael Jordan, Kidd-Gilchrist resembles Scottie Pippen, a tremendous all-around team player who can quietly play a pivotal role for a top contender. Maybe he will play for Jordan, though, if the Bobcats select him with the No. 2 pick.   
Nothing about Kidd-Gilchrist screams future superstar, and he is not the guy who should be the franchise's primary player.
Then again, what player in this draft can rejuvenate a team?
Davis can alter a game with his shot-blocking abilities, but he will need to develop more of an offensive game in order to lift the Hornets back to relevance. 
Coming off an impressive season, averaging 17.9 points per game and 11.8 rebounds, Thomas Robinson displays the tools to emerge as a force at power forward. Robinson offers more dynamic athleticism, but Kidd-Gilchrist can play tenacious defense. Also, will Robinson be able to impose his will on larger NBA players?
Bradley Beal, a superior scorer and also a fine rebounder, looks like a young Eric Gordon who can help spark a struggling NBA franchise. But despite comparisons to Ray Allen, Beal only shot 33.9 percent from long range last season, so he is not exactly a sharp shooter.
The main knock on Kidd-Gilchrist is his deficient outside shooting. Kidd-Gilchrist hit only 25.5 percent of his three-pointers, but his numerous other strengths make up for his one weakness. If Kidd-Gilchrist can develop enough of a shooting stroke to just make the occasional open shot, he should delight whichever team selects him.
Kidd-Gilchrist does not present the highest ceiling, but he might be the draft's safest bet. At worst, his career trajectory follows the path of Shawn Marion, who excelled as an unsung hero for the Phoenix Suns before helping the Dallas Mavericks win a championship.
If he is more fortunate, he will find his Jordan and play the role of Pippen to perfection.