Anthony Davis: Career Projections for Consensus No. 1 Pick in 2012 NBA Draft
June 25, 2012

Jeff Gross/Getty Images
Long before the Kentucky Wildcats' season ended with a national championship, Anthony Davis was the hottest name in the 2012 NBA Draft. The superstar freshman took over college basketball, en route to winning almost every major award under the sun. 
Davis is a potential franchise changer, with his unique combination of size, athleticism and defensive skills. He is a rare talent that it is so easy to dream on, which takes some of the drama out of the top of the draft. 
Since it appears to be a given that Davis will be taken by the New Orleans Hornets with the No. 1 overall pick in Friday's draft, here is a look at what to expect from the forward as his journey to NBA superstar begins. 
Offensive Game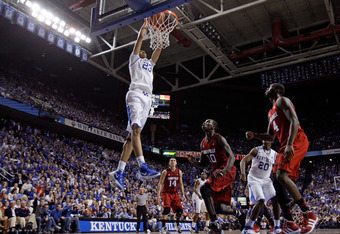 Andy Lyons/Getty Images
Here is where Davis has the most work to do when he arrives in the NBA. He was a monster in the middle at Kentucky, but the NBA has players who can match his size and athleticism. 
He doesn't have a great low-post game right now, nor is his shot very fluid. Davis needs to work on getting more physical with the ball in his hands. Part of that will be adding muscle to his frame, as he is listed at just 222 pounds. 
Unless you are Kevin Durant and able to shoot the ball from anywhere on the court, being a 222-pound power forward in the low post is not likely to work out well.
Expect a short period of adjustment as Davis fills his body out. When he gets to where he needs to be, he should have no problem developing into a 15-18 points per game scorer at his peak in the NBA. 
Defensive/Rebounding Game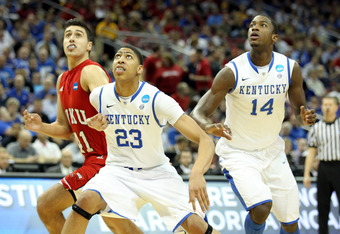 Andy Lyons/Getty Images
Davis is going to shine defensively the second he steps on the hardwood in an NBA arena. While his lack of muscle will hurt him on the offensive side of the ball, it should have virtually no bearing on his defensive prowess. 
The Kentucky product has such great leaping ability and is so explosive on the defense that he will be able to block shots and wreak havoc on NBA power forwards and centers. 
Plus, as an added bonus, Davis has such great footwork and body control that he can step out to defend small forwards and shooting guards on the wing, if necessary. 
As a rebounder, Davis should develop into a player who is grabbing at least 10 per game. He has such long arms and a great ability to box out that it is hard to see a scenario where he doesn't turn into one of the best rebounders in the league. 
There are going to be a few Defensive Player of the Year awards in Davis' future. 
Final Verdict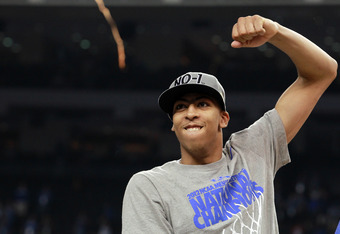 Ronald Martinez/Getty Images
Davis is a superstar amongst stars in this draft class. With a deep, talented group of players, it takes a special talent to really stand out above the rest. 
Davis has that kind of ability, and there is no reason to think he won't turn into one of the 10-15 best players in the league. 
Given the young talent in the NBA right now, I don't know if Davis will ever win an MVP award, but there have been plenty of superstars who have never gotten that honor. He will be a double-double machine in the NBA, with 18 points and 12 rebounds per game in his prime.