NBA Draft 2012: Which Schools Will Send the Most Prospects to the NBA This Year?
June 26, 2012

Ronald Martinez/Getty Images
The Kentucky Wildcats have dominated the NBA draft the previous two seasons, having eight players selected, but can they control another draft class this year or will another school take over?
In many recent drafts, bigger universities have had a lot of success. You're going to hear NBA commissioner David Stern or deputy commissioner Adam Silver announce schools from the ACC, Big Ten, Big 12, Pac-12 or SEC more often than not. Rarely do you see many players selected from American East, Ivy League or Mid-American schools—among others.
Over the last few seasons the NCAA champion has had success through teamwork and not necessarily the dominance of a single player. We saw great talent throughout the entire Kentucky roster this past season, but how many Wildcats will be drafted? Which other schools will send the most prospects to the NBA this year? Here are three universities that will dictate the draft this year.
Vanderbilt Commodores
Who would've predicted at the start of the college basketball season that the Vanderbilt Commodores would defeat No. 1 Kentucky Wildcats in the SEC Championship game to earn a spot in the NCAA tournament?
I certainly didn't, but somehow they made it happen and nearly upended Wisconsin in the third round of the NCAA tournament. I do know that they got there on the backs of three upperclassmen.
John Jenkins, Jeffery Taylor and Festus Ezeli were Vanderbilt's top three scorers last season. Each project to be draft picks, according to DraftExpress.com. Ezeli and Taylor will likely be late-first-round selections while Jenkins could go early in the second round.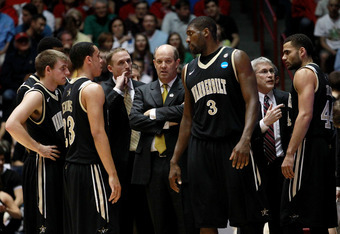 Ronald Martinez/Getty Images
Only four schools produced three draft picks last year, and just two schools had at least three players drafted in 2010.
North Carolina Tar Heels
The University of North Carolina is only one of two schools—the other being Kentucky—over the last three NBA drafts to have at least four players selected.
The Tar Heels are likely to produce another four players in this year's draft, according to DraftExpress.com. Harrison Barnes, Tyler Zeller, John Henson and Kendall Marshall are all expected to be drafted in the first 30 picks of the draft.
In 2009, UNC produced a similar set of NBA prospects, having Tyler Hansbrough, Ty Lawson, Wayne Ellington and Danny Green all taken within the 60 picks. That team, however, won the NCAA championship, whereas this current set of players fell to Kansas in the Elite Eight.
Despite exiting the tournament early, North Carolina is still one of the best teams in college basketball history and continues to produce NBA-ready players. This year is no different. 
Kentucky Wildcats
This shouldn't be a surprise to anyone. The Kentucky Wildcats were by far the best team in college basketball this past season and will end up sending the most players into the NBA.
Every mock draft on the planet has Anthony Davis going No. 1 overall to the New Orleans Hornets, but here's ESPN's Chad Ford's in case you need some proof. Michael Kidd-Gilchrist will be a top-five draft pick, and Terrence Jones and Marquis Teague should follow him later in the first round, according to DraftExpress.com.
If having four players taken in the first 30 picks wasn't enough, Kentucky should also see Doron Lamb and Darius Miller get selected early in the second round for a total of six players being drafted.
To put how special this Kentucky class of future NBA players is, no team over the last 10 years has been able to have more than five players taken. We may not see a team filled with so much NBA talent as Kentucky for a long time to come.