"Big Three" as Well as Media Burns Most Important Man on the Court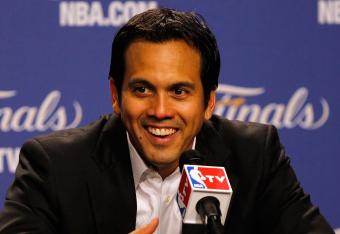 Mike Ehrmann/Getty Images
Before I start off this article I would like to congratulate the 2012 NBA Champions for their impressive season and storybook playoff run, but the Miami Heat showed nothing but disrespect to the man who was the field general on and off the court.
The man I'm talking about is the Heat's head coach Erik Spoelstra.
The 41-year-old coach in my mind received no credit from the fans, media and his marquee players *cough cough* Lebron James, Dwayne Wade and Chris Bosh. When the Chicago Bulls won their first NBA Championship in 1991, Michael Jordan (the greatest player who will ever play basketball) and other players were all hugging and showing respect to their head coach Phil Jackson, as they were getting drenched in champagne and smoking cigars.
What the fans and "The Big Three" did to their coach was nothing short of a disgrace.
Not once on the television did we hear any of the "Big Three" comment on how Spoelstra coached them through the thick and the thin or how he pushed the team to their limits throughout the season. It was sicking. Spoelstra is indeed an phenomenal NBA coach.
Spoelstra joined the Miami Heat's staff in 1995 as the team's video coordinator. Just two years in the job, the Heat promoted Spoelstra to assistant coach/video coordinator. In 2001, the Heat once again promoted Spoelstra, this time as the director of of scouting.
Spoelstra even scouted Heat superstar Dwayne Wade back in 2003.
In 2006, Spoelstra accommodated legendary NBA head coach Pat Riley as the 2006 Miami Heat won the organization's first NBA Championship. After being eliminated in the first round of the 2006-07 playoffs and a gruesome 15-67 2007-08 campaign, Riley announced that he would step down as head coach and name Spoelstra his successor, an honorable feat for anyone to be called the successor to an legend. Riley had nothing but praise for Spoelstra.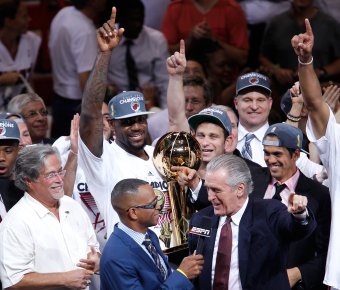 Mike Ehrmann/Getty Images
"This game is now about younger coaches who are technologically skilled, innovative and bring fresh new ideas," Riley said in a press conference to reporters. "That's what we feel we are getting with Erik Spoelstra. He's a man that was born to coach."
Since taking over as head coach Spoelstra has done nothing but improve the Heat organization with every passing year, as evident from his improving record in the regular season and playoffs. Right now, Spoelstra has a regular season record of 194-118 (.622) and the most playoff wins as head coach in Heat history with 34 wins. Spoelstra has been to three NBA Finals (one as assistant) and came away with two rings (one as assistant).
When the underrated coach went to the podium, he seemed like the least important person up there. ESPN's Stuart Scott asked him a few poor questions and then he was gone. Even the fans gave him a sad little roar when he was called up to center stage by Scott.
Another thing I've noticed was that Spoelstra was never seen hoisting the trophy. Not on the podium, not in the locker room, and not on the television. Thank God at least one player acknowledged Spoelstra, when Udonis Haslem dumped the sweet red Gatorade over his head.
This was not "The Big Three's" NBA Championship, this was the Miami Heats'. Yes players are important factors in sports (especially when you have three of the best players in the NBA in your starting five), but it takes one man to make up the starting five, take criticism for the team and watch hours of game film to make up a game plan for an upcoming game and that title is called head coach.
"King James," surely acted like a king when he made the entire playoffs and NBA championship about him and his princes (Wade and Bosh). James was nothing but an tyrant. Give credit when credit is due, Spoelstra managed to keep three egotistic players in line throughout 89 games, took criticism for the teams disappointing 2011 NBA Finals appearance and managed to put six low-tier to middle-tier athletes to support the "Big Three".
The 2012 Miami Heat are the most disgraceful, self-absorbed team to ever win the NBA Championship. The NBA and Erik Spoelstra deserve a better team to win a championship with.
This article is
What is the duplicate article?
Why is this article offensive?
Where is this article plagiarized from?
Why is this article poorly edited?

Miami Heat: Like this team?