Chicago Bulls: Ranking the 10 Best NBA Free Agents to Target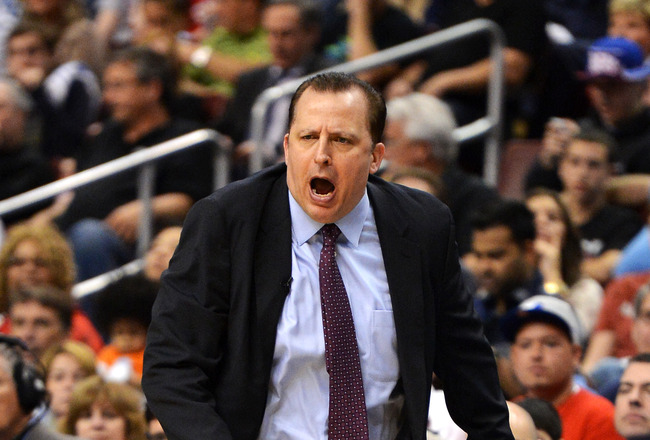 Drew Hallowell/Getty Images
The Chicago Bulls enter the 2012 NBA Free Agency period as a good team with a lot of important holes to fill across the roster. The question is: where will Chicago find the right players?
The Bulls are a strong team, but they will need to add several critical pieces in order to contend. A versatile wing scorer who can create his own offense is a must, as is a true power forward who can bang in the post.
Chicago also needs capable players at point guard and small forward, for when Derrick Rose and Luol Deng are sidelined with injury, and new depth across the roster.
The Bulls have a surprising amount of flexibility to play with this offseason. As a contending, big-market team and well-run organization, the Bulls will attract older free agents looking to play for the veterans' (cap-exempt) minimum while playing for a title.
They also have trade bait, the mid-level exception and a few other small bits of wiggle room within the cap rules.
So, who should the Bulls target in NBA Free Agency? Former stars Jason Kidd and Ray Allen beckon at the guard spots, as does veteran Andre Miller. Read on to see who else the Bulls should consider adding to the roster!
No. 10: Jason Kidd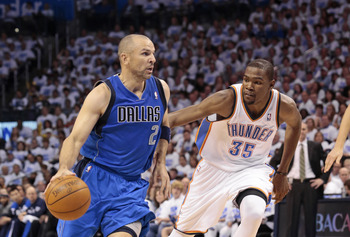 Brett Deering/Getty Images
Kidd is not a superstar anymore; in fact he probably isn't a starting quality point guard.
However, he can still pass the ball well and could tide the Bulls over until Rose returns if he is willing to sign for a veteran's minimum deal and Chicago fails to find a better option.
No. 9: Josh Howard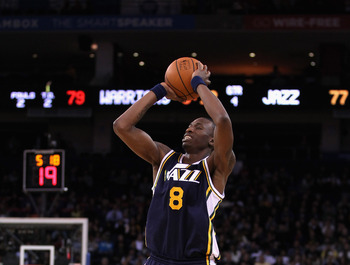 Ezra Shaw/Getty Images
At age 32, Howard continues to recover from the injuries that devastated the prime of his career.
In 2011-2012, he was slightly below replacement level and almost fully healthy: averaging 8.7 points and 3.7 rebounds per game while shooting 40 percent from the field.
If he can show he has his shooting touch and passing ability back and is healthy, Howard would make an intriguing bench fit for the Bulls if he signs for the veteran's minimum and replaces Ronnie Brewer's contributions.
No. 8: Jordan Hill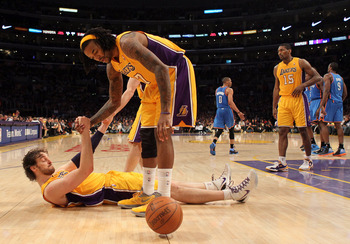 Stephen Dunn/Getty Images
Hill is a surprisingly good bench player who gets almost no press.
Last season, he averaged nearly five points and five rebounds in 14 minutes per game, an extremely impressive rebound rate. He also sported a player efficiency rating of 15.80, which is above league average.
If the Bulls trade Taj Gibson, who will be a very coveted player this offseason because he is still a year away from restricted free agency, for a top draft pick or young player, Hill would be a sneaky-good replacement.
He plays good defense and would replicate Gibson's rebounding, toughness and decent offense if he gives his minutes.
No. 7: Leandro Barbosa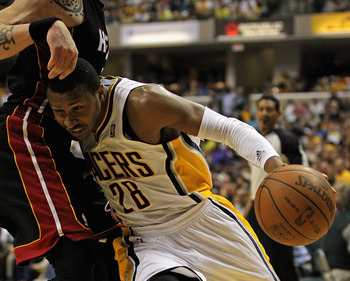 Jonathan Daniel/Getty Images
After becoming something of a cult icon with the Phoenix Suns, Barbosa fell off the NBA map.
But he was quite good last year off the bench, averaging 11 points in 21 minutes while shooting 38 percent from behind the arc. The Bulls need a two guard who can shoot the ball from range and play 25-30 minutes per game, and Barbosa could fill that void.
No. 6: Steve Novak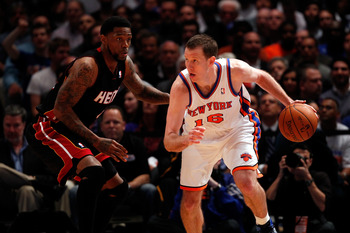 Jeff Zelevansky/Getty Images
It's rarely mentioned but the Bulls don't have any big men who can shoot the ball from past 15-20 feet.
Novak is one of the league's best long-range shooting big men and had an above league average efficiency rating last year. He would spread the floor and give Chicago's offense an entirely new dimension.
And Chicago may also look to target another Knicks power forward, Amare Stoudemire, in a swap with Carlos Boozer.
No. 5: Andre Miller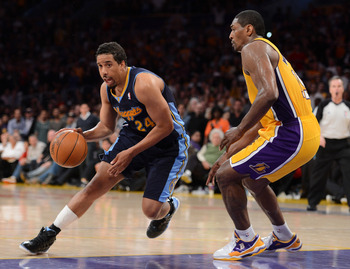 Harry How/Getty Images
Miller is like that golden record: the old guy who still plays well when he gets the opportunity.
Miller may be the perfect stopgap solution at point guard for the Bulls, because he is good enough to start and tide over a team but will defer to Rose when he returns.
No. 4: Kirk Hinrich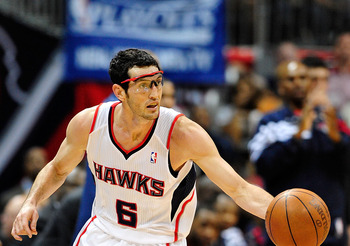 Grant Halverson/Getty Images
Bring back Captain Kirk!
Hinrich was a fan favorite for years and the Bulls would love him back at the right price.
He is still relatively young and, if healthy, can play starting-caliber ball at the point until Rose returns, then provide quality backup minutes at both guard positions.
No. 3: Grant Hill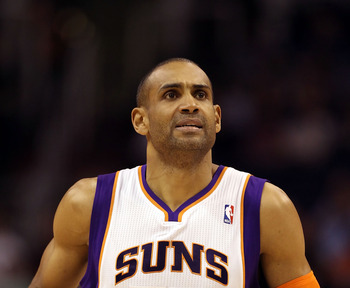 Christian Petersen/Getty Images
Hill is aging, but perhaps because he lost so many games to injury in his prime, he is still going strong.
He still averaged 10 points, three rebounds and two assists in 2011-2012 and was a starting small forward for the Suns. If he will play for a small contract, he is the ideal replacement (and then backup) for Luol Deng.
No. 2: Courtney Lee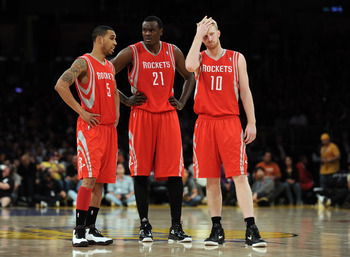 Harry How/Getty Images
Lee is restricted, but the Bulls should target him anyway because the Houston Rockets have a glut of decent swingmen and will not overpay to keep him.
Lee is no star, but he is a starting-caliber two guard who plays strong defense, knocks down threes, can get his own shot on the rare occasion and is young enough to continue to improve.
Chicago also has a lot of options at the two-guard position. They might sign Brandon Roy out of retirement or trade out for guard J.J. Redick, a player they tried hard to sign in 2010.
They could also draft a player late in the first round, like Evan Fournier or John Jenkins, or trade up (likely with Taj Gibson) to get Dion Waiters, Austin Rivers, Jeremy Lamb or Terrence Ross.
No. 1: Ray Allen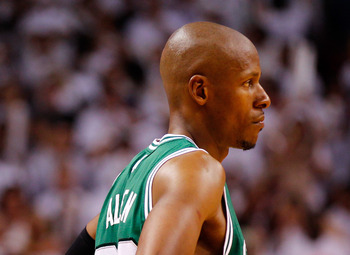 Mike Ehrmann/Getty Images
Allen is exactly the type of veteran the Bulls need to add to start becoming a true contender.
Chicago needs a starting shooting guard who can mentor his replacement, and that is exactly what Allen did with Avery Bradley in Boston.
He is still a very efficient shooter, when healthy, and knows coach Tom Thibodeau enough to fit right into the Chicago locker room. If the Bulls can get him at the right price, it's a great signing.
Keep Reading

Chicago Bulls: Like this team?