To Miami Heat Haters: Them Winning the Championship Is Actually a Good Thing
April 2, 2017
Mike Ehrmann/Getty Images
Love them or hate them, and you probably hate them, the Miami Heat winning the NBA Finals this year is good for everyone. Now that makes plenty of sense for Heat fans, but you haters have to dig a little deeper to find the good in that scenario. But trust me, there's plenty of good.
Oh, unless you're a legit Thunder fan, then there's no way to polish this turd—sorry. 
Background On the History of Heat Haters Hatin'

Full disclosure: I'm not a "hater" of LeBron James…anymore. Like almost everyone in America, I found ESPN's hour long broadcast of "The Decision," self-aggrandizing, insensitive and just generally pretty vile. Not to mention completely anti-climatic, since the news that he would be signing with the Heat broke early that day. But, I've since forgiven him. 
I've often wondered if anyone at ESPN, or even LeBron James himself, reconsidered the benefit of an hour long special, the premise of which was built on a surprise announcement, when there was no longer a surprise to announce. Though, I suspect nobody gave it a second thought, which is why LeBron really should have hired some PR professionals well before 2012.  
I was only a casual basketball fan back then and am genetically predisposed to hating on Ohio, particularly Cleveland, so I really didn't have a horse in that race. If LeBron wanted to take his talents to South Beach and hang out full-time with his BBF (best bro forever) Dwyane Wade—who cares? Nobody outside of Cleveland and Miami cared until "The Decision," that's when the the hate seeds were planted.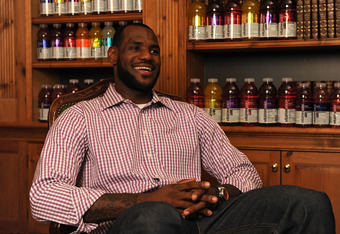 Larry Busacca/Getty Images
Then he followed it with that ridiculous pep rally promising 50 championships or whatever, which really seemed like he was rubbing it in the face of already dejected Cavs fans. Even with my anti-Cleveland status recorded on my birth certificate, that seemed a little harsh. That's when the hate began to grow and was eventually projected on the entire Heat organization. 
LeBron seemed ready to play the villain and tried to embrace his new image, but it never quite fit. Being a villain under the media spotlight of a superstar athlete requires ice water in your veins—like Kobe Bryant—and LeBron just doesn't have it. 
LeBron wants to be liked. He has said he's sorry. He has said he'd like to play in Cleveland again one day. Yet the hate persists. 
The Painful Irony: Your Hate Feeds the Media LeBron Lust 
In terms of sports media, hate is just good for business. Adoration is all fine and good, but it doesn't sell nearly as well. Talking about what a swell guy Wes Welker is gets boring in a hurry and then people want to get back to complaining. And right now, there's nothing that people like complaining about more than the Heat's imminent NBA Championship. 
Suddenly everyone outside the Miami metro area is a Thunder fan—am I right? Yet, the top story on every episode of SportsCenter, FirstTake and all of those other shows that probably annoy the bejeezus out of you on ESPN is LeBron James and his Miami Heat. Every foul is analyzed, every shot is scrutinized and everything he and D-Wade did before, during and after the game is chronicled in tedious detail.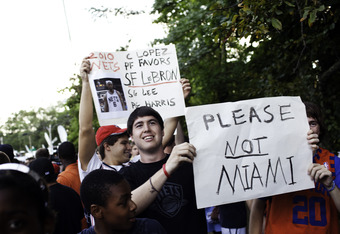 Christopher Capozziello/Getty Images
Wanna know what book LeBron is reading before the game? We got that. Wanna know what music LeBron is listening to as he lays on the locker room floor before the game? We got that. Wanna know what color bow-tie LeBron picked to compliment D-Wade's pants at the post game presser? We got that. Wanna know the brand, size, cut and color of LeBron's underwear and the detergent used to wash them? We probably have even got that—we're just saving that for Game 5. 
The fact is, LeBron James is going to be a top story for most of his career, but there's one thing that can drastically cut down on the amount of things there are to say about him. And that's all I really want—a little less LeBron and the Heat—although, a lot less would be better. Unfortunately, sometimes the journey is painful, but is often worth it in the end. Which is why…
The Miami Heat Have to Win the Championship 
Because it will actually make life better for everyone (again, except for Thunder fans) in the long run. First, all that energy being directed at desperately not wanting the Heat to ever win a championship with LeBron can be redirected to something less negative. That's just good for the spirit. 
Secondly, the constant "will he or won't he" discussion about whether or not LeBron will ever win a championship will have to cease. There will be no questions left to ask about whether he is going to be championship-less like Charles Barkley or if he's got the goods like Michael Jordan. Lingering questions and comparisons to MJ will live on, but the debate will have been mostly settled.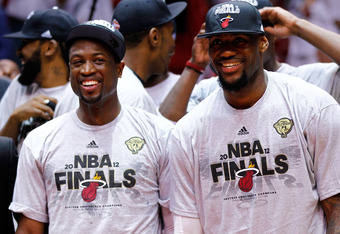 Mike Ehrmann/Getty Images
Third, if LeBron maintains his level of play and manages to hit his big shots late in the championship game, Skip Bayless will finally have to shut up about his "clutch gene." Or what he perceives as a lack thereof. Bayless has been one of LeBron's most vocal and unabashedly biased detractors for quite some time and there are few things that bring a smile to my face like that old vulture eating crow.
And finally, there will be no question about whose team the Heat is anymore—it will be LeBron's. He's the best player in the world and seemingly bionic and Dwyane Wade is aging and his body is starting to show the wear and tear expected of a veteran his age. It's going to happen sooner or later, and sooner is preferable.  
If they don't win the championship, this utterly useless debate will rage on in the media until they do. D-Wade wouldn't have brought LeBron to town if he wasn't prepared for this to happen eventually. So let's put this thing into overdrive with a championship, then we can finally put this issue, and all the others discussed, to bed—permanently. 
At some point in your life you've probably heard the saying "don't put off until tomorrow what you can do today." I'm not one for cliches, but in this instance, it really encompasses my overarching point. The Heat are going to win a championship with LeBron James, there's no getting around it. And since there's no getting around it, better it happen now.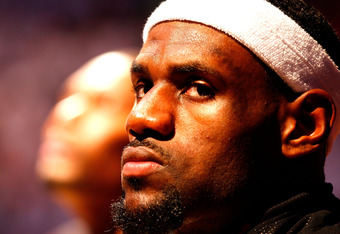 Mike Ehrmann/Getty Images
Just think of the Heat as a big crusty scab on your leg and the championship is the band-aid that needs to come off. As much as much as it sucks, the only thing to do is rip that thing off. At first it will hurt, but then you'll be relieved. 
We'll all be relieved. But nobody will be more relieved than LeBron James.