Indiana Pacers' Tyler Hansbrough Caught Chugging a 40 at North Carolina Bar
June 20, 2012

Jonathan Daniel/Getty Images
Tyler Hansbrough was so thirsty that he simply had to take some swigs from the 40 ounce beverage he had in hand, instead of walking to the bar and ordering a drink. 
At least, that is the assumption we draw from an odd report and a silly picture that comes along with it. 
Deadspin reports on a picture they were given from a fan. Allegedly, this is Pacers' forward Tyler Hansbrough chugging a 40-oz. on Saturday night at Red Dog's in Wrightsville Beach, North Carolina.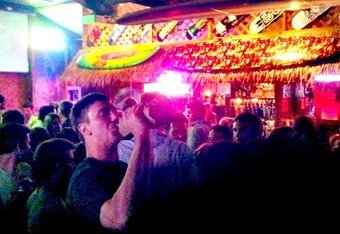 Last time we saw Hansbrough, he was laying out Dwyane Wade with a tremendously flagrant foul. He was also getting leveled by the Heat's Udonis Haslem shortly after. 
The Pacers gave the Heat quite the scare, but in the end, the Heat took their playoff series. Now, it seems, the Pacers' enforcer decided to take some time off by ordering heavy on the cheaper drinks. 
I have never been to Red Dog's, but it looks like a place that would make you a mean pina colada, considering their decor. 
Perhaps they have a full bar that can accommodate even the most discerning palate. However, they just didn't have what Hansbrough was looking for in a malted beverage. 
It begs the question, just what is in the brown paper bag. 
It could be Mickey's, a malted thirst quencher I was happy to imbibe as a college man. It fit well into my budget of zero dollars. 
Oh, I hope it wasn't Olde English, which punishes you for the mess you will get into later that night by tasting like turpentine mixed with the world's atrocities. 
Then again, it could just be Budweiser or Coors, the Charlotte Bobcats of 40-oz drinks. 
In other news, Hansbrough's cool status just went up a couple of notches. 
Follow me on Twitter for more high-larious news.