USA Olympic Basketball: Forming the 2012 Roster If Program Still Used Amateurs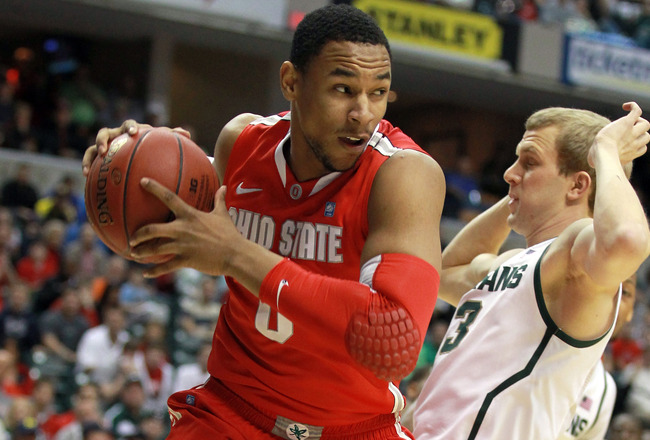 Andy Lyons/Getty Images
Basketball is always a highly-anticipated event at the Olympics, and Team USA will bring a lethal lineup of NBA stars to the 2012 Games. But what if America still used amateur players as it did prior to 1992?
The U.S. used to send premiere college players and NBA draftees to the Olympics, and notable recent amateur Olympians from the 1980s included Michael Jordan, Patrick Ewing, David Robinson and Danny Manning.
What would this year's group of collegiate stars and draftees look like? It would certainly be stacked with talent at every position, and it would feature several Kentucky Wildcat stars and UNC Tar Heel standouts.
Here's what the 2012 National team would look like if the program used amateurs. The team has a great mix of size, skill, athleticism, leadership and international competition experience.
Starting Point Guard: Kendall Marshall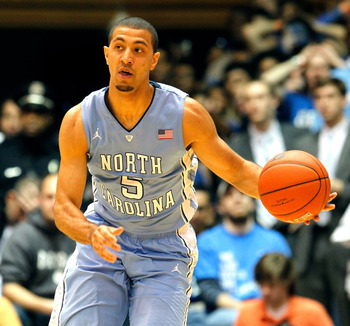 Streeter Lecka/Getty Images
Phoenix Suns draftee Kendall Marshall was one of the best collegiate point guards of the last decade, and he carved up the ACC the last couple years with his deft passing.
No amateur is more capable of orchestrating a potent offense and a talented roster than Marshall. The 6'4" lefty would put pressure on international defenses by pushing the ball and feeding his athletic teammates on the secondary break.
If defenses back off Marshall in the half-court setting, he's more than willing to knock down open jumpers: the former Tar Heel shot 47 percent from the field and 39 percent from three-point land last season.
Starting Shooting Guard: Damian Lillard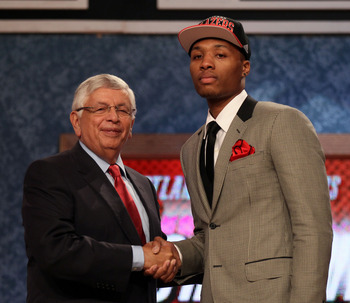 Elsa/Getty Images
Weber State standout and future Portland Trail Blazer star Damian Lillard put up some outlandish numbers last season.
He hoisted 495 shot attempts, yet he maintained a shooting percentage of 47. He put up 230 three-point attempts and hit 41 percent of them. He was second in the NCAA with a gaudy 34 PER, and he was third in scoring with 784 total points.
How did Lillard get all this done? He's a fantastic ball-handler, changes pace and direction, creates space for jump shots, and can hit off-balance shots from anywhere on the floor.
At 6'3", he's not the ideal size for an international shooting guard, but his magnificent skills merit the starting spot.
Starting Small Forward: Michael Kidd-Gilchrist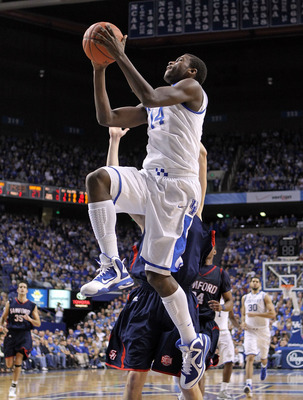 Andy Lyons/Getty Images
With his defense, rebounding and energy, Michael Kidd-Gilchrist would thrive in the Olympics against international competition.
The Bobcats' first-round pick already has some global hoops experience. He was a key part of the U.S. under-17 team's gold medal run in the 2010 FIBA World Championships in Hamburg, Germany.
That tournament plus the NCAA title run at Kentucky gave him all the preparation he would need for the Olympic stage.
Kidd-Gilchrist's court awareness, fast-break prowess and overall versatility help him mesh with any group of teammates, even if it's only for a summer.
Starting Power Forward: Thomas Robinson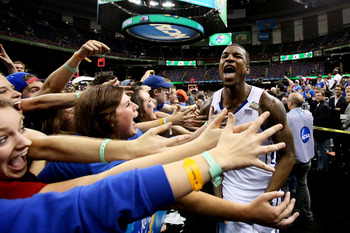 Jeff Gross/Getty Images
From a strength and explosiveness standpoint, Sacramento Kings draftee Thomas Robinson would be a huge matchup problem for international teams.
The 6'8" bruiser used his motor and nose for the ball to dominate the paint in the Big 12 and lead Kansas to the NCAA title game.
Although he doesn't have the prototypical international style of play, Robinson has the lateral quickness to guard European and South American power forwards, even if they step out to the perimeter. Offensively, he can attack and get to the free-throw line.
Starting PF/C: Anthony Davis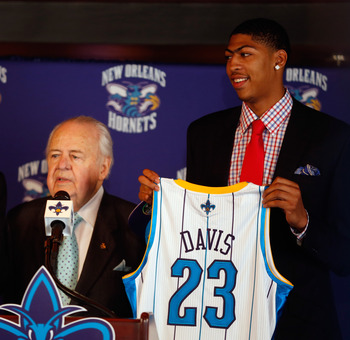 Chris Graythen/Getty Images
College basketball's king might make the big boy Team USA anyway, but on the amateur team, he would be a featured piece.
The NBA's No. 1 pick would protect the rim against foreign foes, and attack it on the other end with a flurry of alley-oops and put-backs.
He might get pushed around a little against some of the physical centers, but his agility and length picks up the slack.
His help defense and ability to start the fast break with blocked shots is indispensable.
Sixth Man: Dion Waiters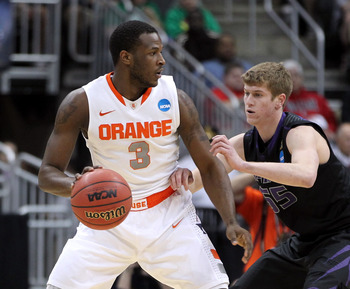 Gregory Shamus/Getty Images
Who would be a better sixth man for the amateur version of Team USA than the NCAA's most dynamic sixth man?
Syracuse Orange star Dion Waiters brought an infusion of scoring, energy and defense off the bench for the Big East's most talented squad. He could fill a similar role at the Olympics, using his athleticism and aggressiveness to reignite the team.
With sharpshooters such as Damian Lillard, Harrison Barnes, Austin Rivers and Bradley Beal on the roster, Waiters wouldn't be pressured to make lots of outside shots. He'd be free to attack the rim and play his game.
Reserve Guard: Austin Rivers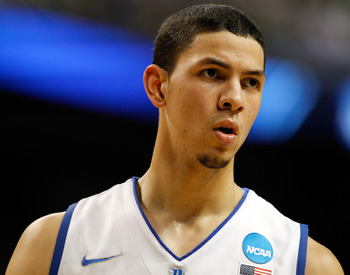 Streeter Lecka/Getty Images
In his one season at Duke, Austin Rivers showcased enough talent to crack the top 10 in the NBA Draft.
There are few players in the history of college basketball who could get to the tin easier than Rivers, who has a lethal first step and tremendous body control on his forays to the hoop.
It's difficult for anyone to keep him in front of them, and that includes any potential Olympic foes. Of course, he may have trouble of his own on the other end of the court, but his offensive skills are worth it.
Rivers is an elite shot-creator who will thrive with strong post players and a true point guard running with him.
Reserve Forward: Harrison Barnes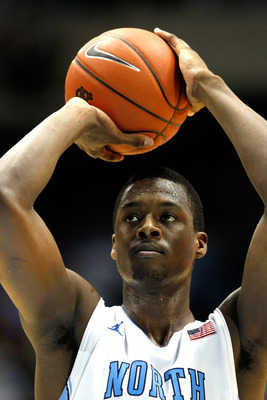 Streeter Lecka/Getty Images
Out of all the sharpshooters on this squad, Harrison Barnes is the tallest, so he could be a unique asset for this club.
The 6'8" small forward represented the red, white and blue in 2010 on the Junior National Select team at the Nike Hoop Summit in Oregon.
He's a different type of player than Michael Kidd-Gilchrist, but in a good way. Barnes is a more polished scorer, and even though he's not as stout on defense, he's still an underrated defender. He'd throw a new wrinkle at opponents when subbing in for MKG.
Barnes scored 17 points on a North Carolina team that had several scoring options, so he's an excellent choice to put up numbers off the bench when Dion Waiters and Austin Rivers aren't in the game.
Reserve Forward: Jared Sullinger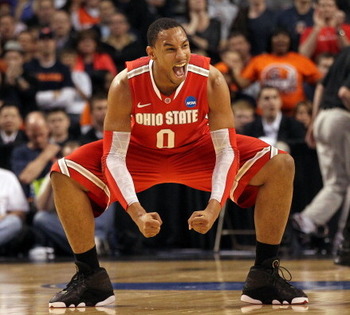 Jim Rogash/Getty Images
Former Ohio State star Jared Sullinger saw his draft stock nosedive after his back issues drew concerns from NBA executives. But that doesn't take away from the fact that he's a powerful presence in the paint.
He dropped to the No. 21 pick in the draft, but he's No. 1 in the class in footwork, post moves and positioning.
In addition to his interior decorating, Sullinger has developed a dependable jump shot, both from mid-range and three-point land. He made 16 of his 40 three-pointers this season (40 percent).
Sullinger was also on the 2010 Junior National Select team with Barnes.
Reserve Center: Tyler Zeller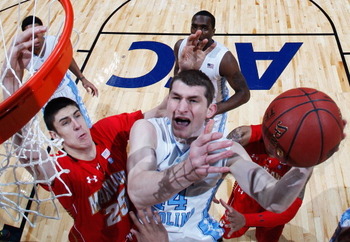 Kevin C. Cox/Getty Images
The 2011-12 ACC Player of the Year was coveted by the Cleveland Cavaliers so much that they were willing to give up three draft picks for him.
Whether Tyler Zeller is worth those three picks remains to be seen, but he's certainly one of the most efficient and productive centers in the country.
His PER last season was 29.9, and his career PER was 27.3, tops in ACC history. Zeller is also the ACC all-time leader in offensive rebounds (305) and offensive rating (122.7).
His ability to rebound, finish in the paint and run the floor makes him a valuable pivot man.
Reserve Guard: Bradley Beal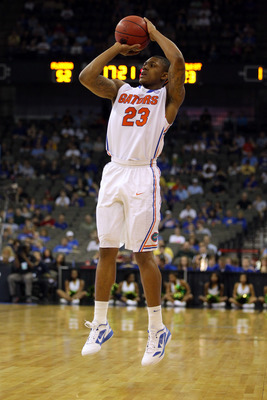 Doug Pensinger/Getty Images
Bradley Beal rounds out our backcourt as an outside shooter who has international basketball experience. The 6'4" sniper played alongside Michael Kidd-Gilchrist and Andre Drummond at the FIBA U-17 World Championships in Germany.
The future Washington Wizards shooting guard would help stretch defenses and open the driving lanes for slashers like Damian Lillard, Dion Waiters and Austin Rivers.
He didn't astound us in his year at Florida, but during the NCAA Tournament, he stepped up and scored 16 points and grabbed eight rebounds per game. Improving his left-handed dribble will turn him into a dangerous pro.
Reserve Forward: Draymond Green
Rob Carr/Getty Images
The final spot on the roster is saved for the collegiate veteran who would serve as leader and a mentor for this young bunch.
Oh, and Draymond Green can play basketball pretty well, too.
Michigan State won the Big Ten regular season title three times and the conference tournament once during Green's four years in East Lansing.
He's the basketball equivalent to a five-tool player. His knack for rebounding, passing and timely scoring made him a triple-double threat on any given night for the Spartans.
Injury Replacement: Andre Drummond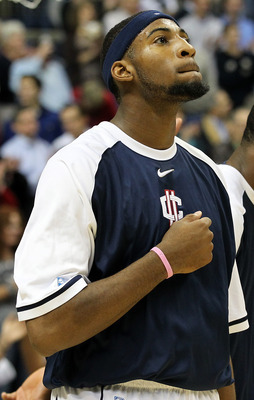 Jim Rogash/Getty Images
Detroit Pistons draftee Andre Drummond assumes on-call duties as an imposing post player.
It seems unfair to exclude someone as physically gifted as Drummond from the active roster, but the reality is that Anthony Davis, Thomas Robinson, Tyler Zeller and Jared Sullinger give the team all the size and skill it needs.
If Drummond was a bit more polished and showed us more during his year at UConn, he would have made the 12-man roster.
Nevertheless, he gives the squad a dangerous resource (and FIBA experience) in its back pocket.
Injury Replacement: Doug McDermott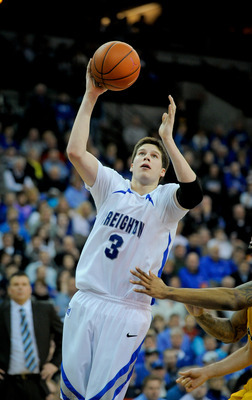 Eric Francis/Getty Images
The lone non-draftee on this team, Creighton's Doug McDermott definitely deserves consideration for placement on the active roster.
McDermott scored 23 points per game for the Bluejays this past season, and he was easily the best mid-major forward in the country. His great hands, footwork and instincts allow him to rebound effectively and score from the perimeter and interior.
The 2011 FIBA U-19 standout could have entered this year's NBA Draft, but he smartly opted not to.
Even though he put up a high volume of shots and was the target of every defense he faced, he still shot the ball extremely efficiently in 2011-12: 60 percent from the field and 49 percent from three-point range.
Follow Daniel on Twitter: @Danielobleacher
Keep Reading