Jim Rome, David Stern Interview: Stern's Rant to Rome Embarrassing for NBA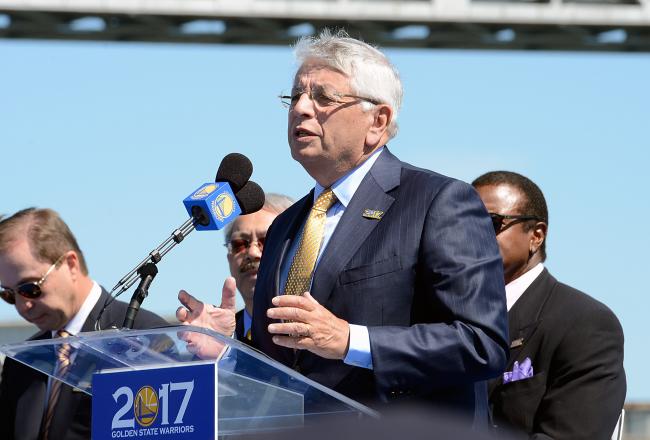 Thearon W. Henderson/Getty Images
Let's play a game. In one corner, we'll have a 19-year-old baseball phenom who is tearing his sport to shreds right now. In the other, we'll have a 69-year-old commissioner of one of the most popular sporting leagues in the world.
Now, we'll ask both a question that toes the line of journalistic etiquette and see which one explodes.
If you picked 19-year-old phenom Bryce Harper of the Washington Nationals, that's a clown answer, bro.
If you picked the commissioner of the National Basketball Association, you deserve a cookie.
That's because David Stern was asked by sports talk radio show host, Jim Rome, whether the NBA Draft Lottery was rigged. Stern's response to Rome was interesting: "Uh, you know, I have two answers for that, I'll give you the easy one—no—and a statement: Shame on you for asking."
After a bit of back and forth between Rome and Stern in which Rome defended himself for asking the question, Stern fired back with, "Have you stopped beating your wife yet?"
Before I go after Stern, I do want to say that I felt like Rome was baiting Stern to get a juicy sound bite (which he wound up getting, by the way).
As Stern mentioned later in their interview, Rome has made a career off that and it's a good bet that was the motive behind asking that question. For that, point Stern.
On the other hand, it is a fair question for Rome to ask. People do think the lottery is rigged, and people do think there's a conspiracy. Even Charles Barkley, one of the top voices of the NBA, voiced concern over the process.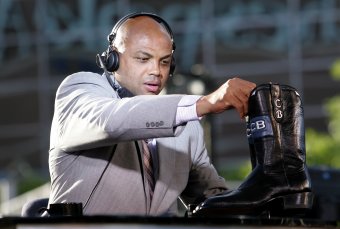 Even Charles Barkley thinks the NBA Draft Lottery process is "turrible."
Brett Deering/Getty Images
Accusing leagues and teams of conspiracies is how sports fans work when their team doesn't win something. As a Timberwolves fan, I've heard people believe that Stern would not have given such a hard punishment for an under-the-table Joe Smith signing if it had been done by a bigger market team.
(Note: The Timberwolves were stripped of five first-round picks in 2000 after the deal.)
With that, there are plenty of reasons that people could think there's a fix. So if there isn't a fix, Stern should just be able to laugh it off and say "No, there's not a fix." End of story.
Instead, Stern took the low road and acted like a 19-year-old with his comments. Even the addition of a domestic assault accusation (as Rome does not have any history of domestic violence) makes Stern look paranoid that people are uncovering his secrets.
The NBA should be embarrassed that their fearless leader melted in front of some scathing comments, and it may be time that Stern rides off into the sunset before it's too late.
This article is
What is the duplicate article?
Why is this article offensive?
Where is this article plagiarized from?
Why is this article poorly edited?