NBA Free Agents 2012: 7 Teams That Must Pursue Kris Humphries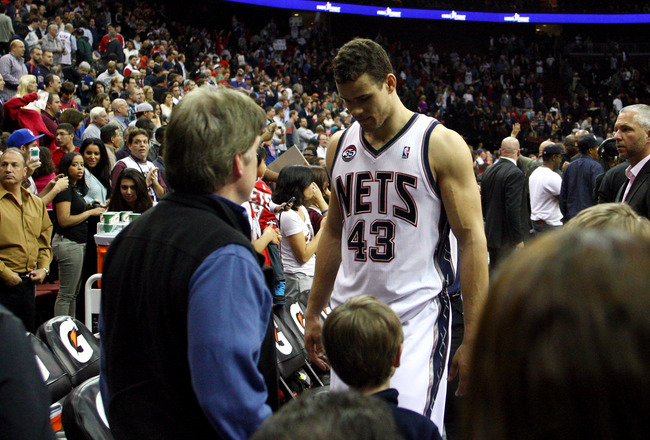 Chris Chambers/Getty Images
Although the NBA has yet to crown a champion for the 2011-2012 season, it is never too early to look ahead. Many of the players available for hire this summer could serve as missing pieces to teams looking to get over the hump, including Kris Humphries.
Humphries, a player who has found himself in the spotlight for many other reasons than basketball throughout his career, is actually one of the most underrated guys in the league today.
He can rebound with the best of them, does a great job of finishing around the rim and will be looking to cash a big check this summer after stepping up in Brook Lopez's absence and showing his worth.
Just how much is he worth? Much more than people give him credit for. Like him or not, he would be a great addition to any team, but these seven organizations would be foolish to not pursue Humphries this summer.
Boston Celtics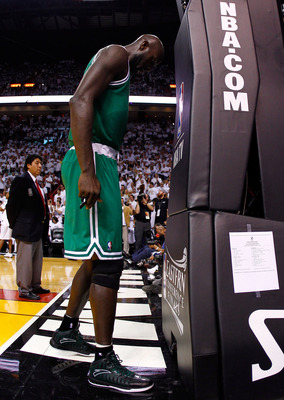 Mike Ehrmann/Getty Images
Assuming Boston's Big Three go their separate ways, the Celtics will be left without their big man KG and will have to fill the gaping hole his departure results in sooner rather than later.
Clearly, Humphries is no Garnett, but then again KG is really a once-in-a-generation type player.
What Humphries does bring to the table is youth, relentless rebounding and a very underrated offensive game. Although the Celtics are likely to retain Bass, he is really not one to bang inside and grab 20 boards like Humphries can.
Something and someone the Celtics must keep in mind if they do indeed part ways with Garnett.
Los Angeles Lakers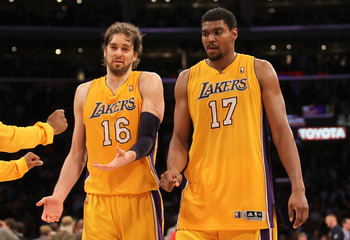 Stephen Dunn/Getty Images
Once agin, the Lakers are on this list because I am assuming they trade Pau Gasol.
Gasol is one of the better big men in the league, but he's been labeled as soft and inconsistent—two things Humphries is far from.
You know exactly what you are going to get from him—a hard worker who plays until the final buzzer. He will go after every rebound and almost always comes away with a double-double.
Humphries may not be an All-Star, but then again neither was Gasol this past year. Pair him with Andrew Bynum and the Lakers will still have an extremely good four/five combination—a much better one than say Bynum and Josh McRoberts or Bynum and Troy Murphy.
Atlanta Hawks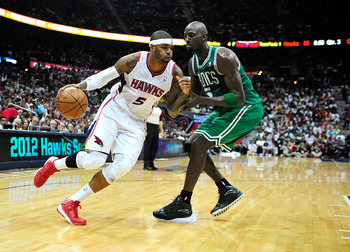 Grant Halverson/Getty Images
The Atlanta Hawks can never seem to find a way to push them over that hump. For the past few years they have consistently found themselves seeded in the middle of the Eastern conference.
What could they be missing? They've got two of the better shooting guard and small forwards in the league in Joe Johnson and Josh Smith and also arguably a top-five center in the league in Al Horford.
However—this past season in particular—players like Smith were forced to play out of their position. It's no secret he is more of a perimeter player; he has been his whole career. But as of late, Smith has been asked to play a lot more power forward for the Hawks.
The addition of Humphries would benefit them in many ways, but none more than allowing Smith to go back to being one of the bigger and most athletic wings in the league.
A starting lineup with Jeff Teague, Johnson, Smith, Humphries, and Harford might be just enough to compete with the other talented teams in the Eastern Conference.
New Orleans Hornets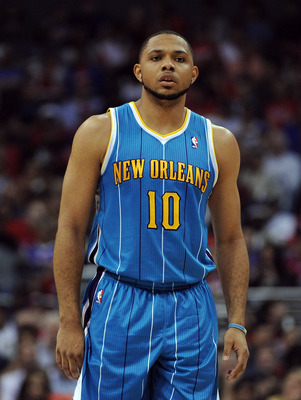 Harry How/Getty Images
The Hornets have been having some good fortune as of late and if they put it all together, they will have a young and talented team at the beginning of next season.
Assuming they can convince Eric Gordon to stay, the tandem of him and Anthony Davis will be a very talented one. It would also be good for Davis to be playing alongside a big man like Humphries who can rebound, plays both sides of the ball and has the experience that Davis lacks.
The combination of Davis and Humphries would not be something I'd look forward to dealing with on game day.
Philadelphia 76ers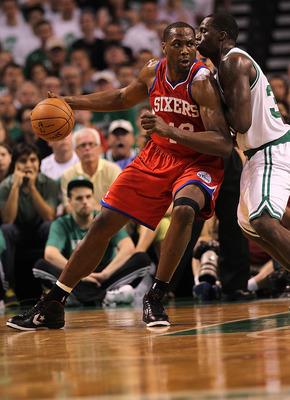 Jim Rogash/Getty Images
The bottom line is Elton Brand is getting old. In reality, he overachieved this past season and it's no secret his career is going downhill.
Yes, the 76ers do have young players such as Thaddeus Young and Nikola Vucevic waiting for their chance to step into a starting role, but at the end of the day they are nowhere near as proven as Humphries.
The Hump, as I like to call him, may be the player the 76ers are looking for to push them over just that.
Toronto Raptors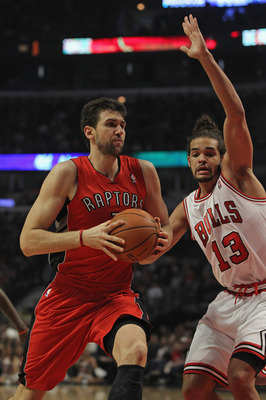 Jonathan Daniel/Getty Images
It seems as though the Raptors will never be serious contenders, but I'm sure this won't stop them from trying to put together championship-caliber teams.
This past season they had to deal with a very serious injury that kept their superstar, Andrea Bargnani, out for the entire season.
With him back healthy next year, Toronto will be looking to continue to improve and place talent around their core of Bargnani and Demar Derozan.
Everyone knows Bargnani is not exactly the toughest center in the league and he could use a guy like Humphries by his side to do the dirty work he tends to avoid.
Denver Nuggets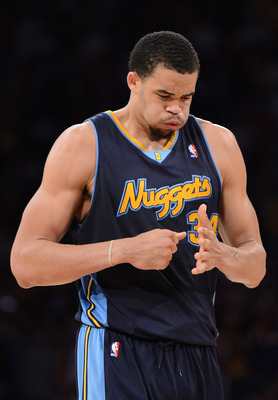 Harry How/Getty Images
In my opinion, the Nuggets were smart to trade for JaVale McGee. If McGee can ever get his head on straight, which is a big if, he will serve as a solid anchor to the defense and thrive as one of the most athletic centers this league has ever seen.
That being said, Chris Anderson is nowhere the player he used to be, Al Harrington is a solid threat coming off the bench, and Kenneth Faried is a good energy player. But none of their big men are really capable of what Humphries has shown the potential to be: one of the best rebounders and consistent double-double players in the league.
Denver has a lot of good role players and just can't seem to land that big name since Carmelo Anthony's departure and although Humphries is no superstar, he is an upgrade at the position no matter what angle you look at it from.
Keep Reading