Miami Heat: The Pros and Cons of Signing Steve Nash
May 29, 2012

Christian Petersen/Getty Images
After dispatching the Boston Celtics in Game 1 of the Eastern Conference Finals, the Miami Heat look to be in cruise control. The chemistry and rotations of the team look to be at an all-time high. Considering power forward Chris Bosh is still on the inactive list, it shows just how special this Miami team is.
Granted, having two All-Stars in LeBron James and Dwyane Wade is a significant help, but they can't take all the credit. The entire Heat supporting cast has stepped up, filling their roles and ensuring the Heat make a deep run in the playoffs. It would seem losing Bosh was a blessing in disguise for Miami, as it has made everyone come together. For this reason, the Heat need to be very cautious as free agency arrives. Steve Nash has mentioned he would 'definitely listen' if Miami came calling. However, is it in both parties' best interests?
Nash is one of the most skilled point guards the NBA has ever seen. Playing the point requires Nash to have the ball in his hands the majority of the time on the court. Miami is not your textbook example when it comes to explaining how a team should work—a small forward and a shooting guard run the team's offense, and their power forward is not your prototypical big man either.
Joining Miami would force Nash into an off-ball role, and let's face it: have you ever seen or thought about Nash playing off the ball? He could be used in spurts, but James and Wade create too much offense for this team to add another dimension to it. A player like Chauncey Billups would be perfect, yet Nash does not possess the off-ball, spot-up shooting type abilities Miami requires for their point-guard, at least not that we have seen.
Unless he can make a significant adjustment in his game to accommodate the on-ball dominance of James and Wade, Nash would struggle in the Heat's system. As I mentioned before, he could be used in fragmented slots throughout the game as Miami's playmaker, but this would be unlikely, especially as the playoffs arrive and everything shifts to a half-court offense. Adding him would no doubt make the Heat a stronger team, but it brings to mind another Eastern Conference team.
The Boston Celtics revolve around Rajon Rondo. He is one of the top point guards in the league, whether he can score or not. His speed, agility, defensive prowess, on-court awareness and phenomenal basketball IQ makes him essential to Boston's success. The Celtics have been effective with this style of play. However, if one compares them to how Miami would fare with Nash, it is very different. Ray Allen, Paul Pierce and Kevin Garnett are all elite shooters in their respective ranges.
Rondo often efficiently penetrates and kicks the ball out. He also works on the perimeter and feeds it inside to the Boston big men. Aside from Pierce and Garnett, the rest of the team cannot create their own shot. Allen is one of the best off-ball shooters in league history, and profits greatly by playing alongside Rondo, evidenced by his 45 percent shooting from deep this season.
Now, Wade and James do not possess the same shooting skills as Allen and Pierce. Bosh has similar offensive talents to Garnett, and would benefit with Nash in pick-and-pop situations. Wade and James both learned to play off-ball alongside each other, and could possibly be successful. This scenario brings to mind the Phoenix Suns team of 2005.
An ensemble of Nash, Amar'e Stoudemire, Shawn Marion and Joe Johnson led the Suns to a 62-20 record, topping the Pacific Division. Phoenix had the top offensive rating at that time, as Nash led the way with 15.5 points and 11.5 assists per game. However, this team did not possess the offensive creativity that James and Wade can offer.
Whether or not this could be a good thing remains to be seen, as Nash instinctively requires the ball. Keeping in mind the next highest assist average came from Johnson at 3.5 (in 39.5 minutes) points to the one dimensional offense that Boston has now, as Pierce comes after Rondo's 11.7 assists with 4.5 per game.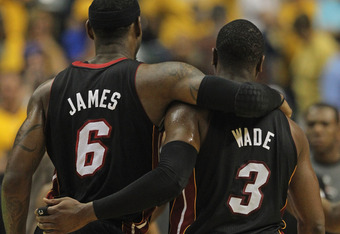 Jonathan Daniel/Getty Images
Miami is the complete opposite, and can have Wade or James score, drive or pass to open teammates on the perimeter. This season, James averaged 6.2 assists followed by Wade's 4.6. Miami's offense is running extremely smoothly as of late, and adding Nash would force Miami to take a step back in something they've strived to perfect. 
It is no doubt Nash is a spectacular player. He is on track to become just the fifth player in NBA history to accumulate over 10,000 assists for his career, and is one of the best shooters in league history. Adding him to a star-studded Heat team would be fantastic for both parties in one aspect, but disadvantageous in another. It was a huge adjustment for Wade and James to play off-ball and still be successful. Could the same work for Steve Nash, a player who mechanically sets up his teammates while handling the ball?
We will undoubtedly receive an answer on October 30th.