Dwyane Wade and 10 High-Profile NBA Players Only Getting Worse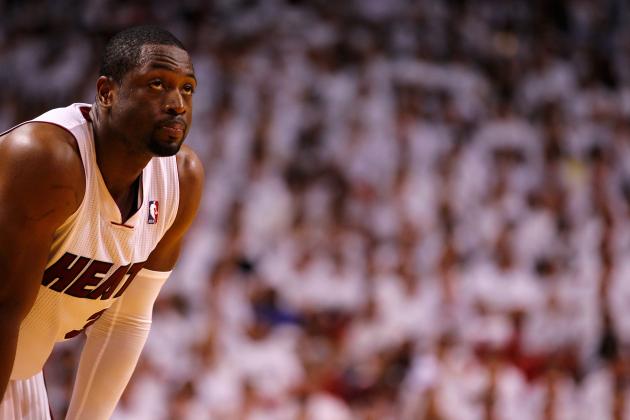 Mike Ehrmann/Getty Images

We build our heroes up just to see them fall.
We fail to understand individual desires, ulterior motives and the underlying reasoning behind injuries. We value an indisputably brilliant season over a masterful career. What we also do, however, is evaluate the facts.
Whether it's the route a player willingly takes or a simple inability to put forth the level of production they once were able to achieve, some just lack what they once possessed. Unfortunately, this is not a generational trend. It occurred early in the league's history and will continue until the league's end.
And this generation is not immune to such an event. Here is a list of 10 of the NBA's big names who can vouch for such an unfortunate truth.
Begin Slideshow

»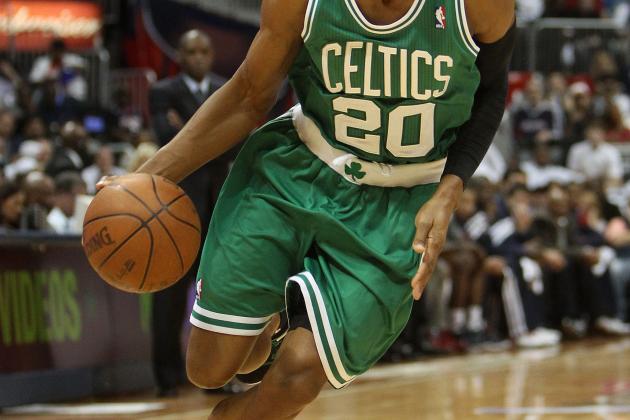 Mike Zarrilli/Getty Images

Ray Allen still has a few good years in the tank, as well as a few NBA records that he can pad. Unfortunately, Allen's time as a starter on a true championship contender may have come to a close.
One can't help but admire Allen for his efforts in the 2012 postseason, finding himself thrusted into the starting lineup despite the presence of bone spurs in his faulty ankle. While Allen's defense has been solid, he's shooting just 26.9 percent from long range over 11 postseason games.
The worst shooting streak of his career.
Allen will be a valuable sixth man to a legitimate title contender in 2013, but his ability to play 30-to-35 high-quality minutes may be gone. If it's not, he''s awfully close to it.
2011-12 Season Averages: 14.83 PER, 14.2 PPG, 3.1 RPG, 2.4 APG, 1.1 SPG, 45.3 3PT%
2011-12 Postseason Averages: 10.30 PER, 30.5 MPG, 9.9 PPG, 4.0 RPG, 1.2 APG, 0.8 SPG, 26.9 3PT%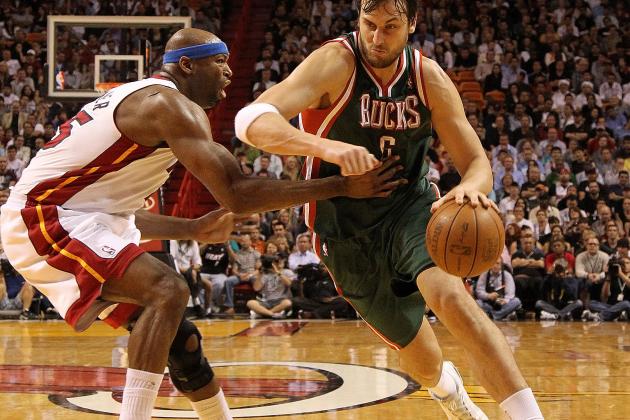 Mike Ehrmann/Getty Images
Will Andrew Bogut ever complete a regular season again?
The 2005 first overall draft choice has played an entire NBA season just once in his career: his rookie year in 2006. Since then, he's played in more than 70 games just once and failed to reach 60 games in two of those other five seasons.
Worst of all, Bogut has suffered from season-ending injuries in two consecutive years.
While a fresh start is always helpful for a struggling player, Bogut's struggles are all health-related. Even if he should continue to produce at a high level, an injury could always be around the corner. If not physically, this has to have taken it's toll mentally.
2010-11 Season Averages: 65 GP, 16.77 PER, 12.8 PPG, 11.1 RPG, 2.0 APG, 2.6 BPG
2011-12 Season Averages: 12 GP, 14.92 PER, 11.3 PPG, 8.3 RPG, 2.6 APG, 2.0 BPG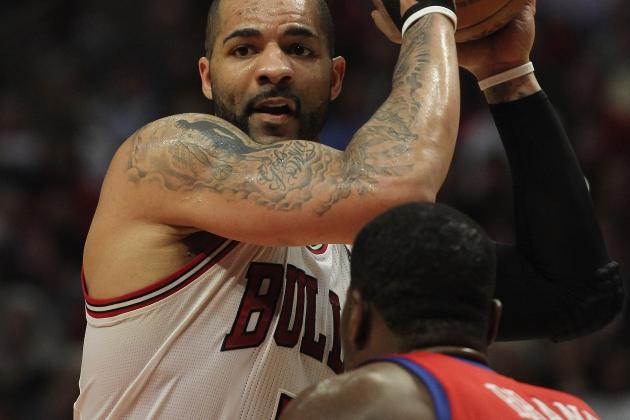 Jonathan Daniel/Getty Images

What more can we say?
Carlos Boozer played solid basketball in 2012, but saw his lowest point per game average since 2003 (15.0 PPG). He also hauled in his lowest rebound and assist numbers since 2003. For the record, 2003 was Boozer's rookie season.
Whether it's his inability to run the pick-and-roll with Derrick Rose, his tendency to settle for long jump shots or inability to score when the Bulls need him most, Boozer is a true source of frustration. He's also a pure example of a player on the decline.
Just be thankful that he finally played a full season without injury.
2011-12 Season Averages: 19.79 PER, 15.0 PPG, 8.5 RPG, 1.9 APG, 1.0 SPG, 53.2 FG%
2011-12 Postseason Averages: 10.10 PER, 13.5 PPG, 9.9 RPG, 3.0 APG, 0.8 SPG, 42.2 FG%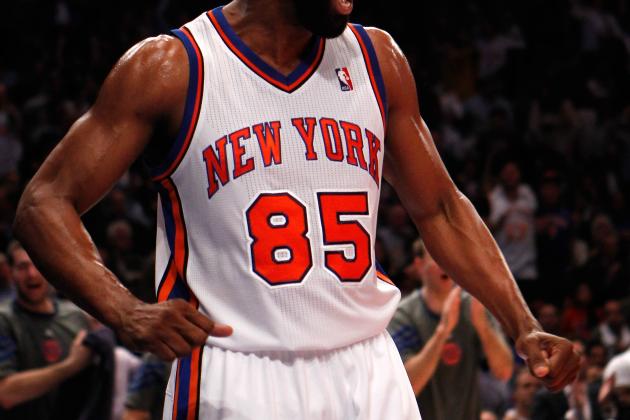 Jeff Zelevansky/Getty Images

Baron Davis was once one of the game's best point guards, combining a fiery passion with unmatched scoring ability for his position. He was also one of the league's better facilitators, a quality that remained with the 1999 third overall draft choice through 2011.
In 2012, Davis accelerated a process that had been building slowly, posting his lowest career point, assist and rebound numbers since his rookie year. He also shot a career low 37.0 percent from the floor.
For the sake of saving your future appetite, I will not include the gruesome video of Baron Davis' dislocated kneecap. What I will say, however, is that this injury can only expedite the decline of Davis' career. Quite a shame, as Davis should go down as one of the best players of his generation.
2010-11 Season Averages: 28.4 MPG, 17.00 PER, 13.1 PPG, 6.7 APG, 1.3 SPG, 41.7 FG%
2011-12 Season Averages: 20.5 MPG, 10.05 PER, 6.1 PPG, 4.7 APG, 1.2 SPG, 37.0 FG%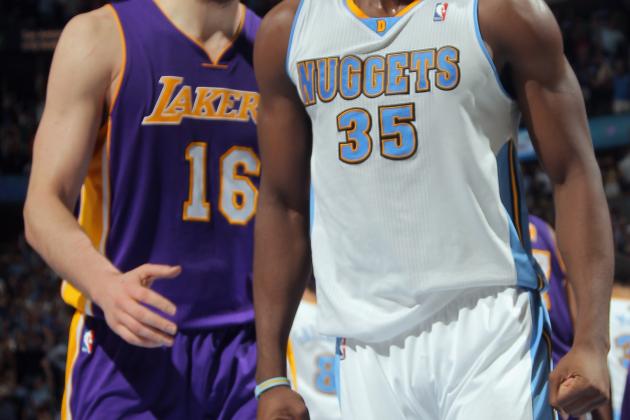 Doug Pensinger/Getty Images
Pau Gasol took a backseat to quite a few opponents this postseason.
For the second consecutive postseason, Pau Gasol proved to the world that he just can't get it done under the bright lights.
After a disappointing 2011 playoff campaign, in which Gasol put up just 13.1 points and 7.8 rebounds, the Lakers power forward continued to struggle with playoff averages of 12.5 points and 9.5 rebounds in 2012. He was constantly outperformed by a rookie, Kenneth Faried, and dominated in the paint by Serge Ibaka.
Gasol may continue to be a great regular-season player, but his legacy and quality of play continues to weaken.
2010-11 Postseason Averages: 17.30, PER 13.1 PPG, 7.8 RPG, 3.8 APG, 1.7 BPG
2011-12 Postseason Averages: 17.30 PER, 12.5 PPG, 9.5 RPG, 3.7 APG, 2.1 BPG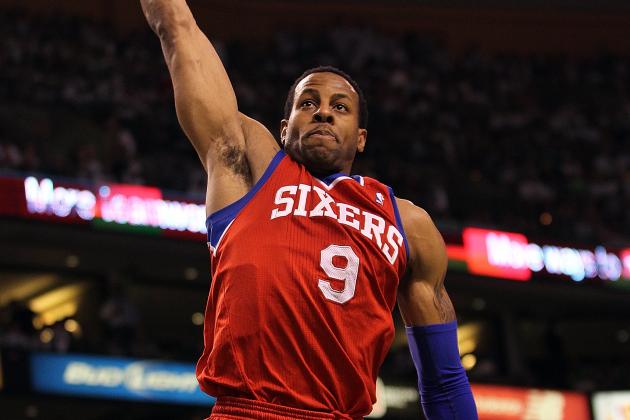 Jim Rogash/Getty Images

When you lack any resemblance of a mid-range jump shot, rely heavily on your athleticism and score most of your points in the paint, age is your worst enemy. With Andre Iguodala rapidly approaching 30, the enemy may be too much to handle.
Iguodala remains one of the league's best defenders, a trait of his that is likely to remain in spite of his aging. What lacks, however, is his explosiveness in attacking the basket. While one may point to a selection of big dunks, Iguodala averaged just 12.4 points per game—his lowest since 2006.
It's been a steady decline for Iguodala, as he's seen his point per game average go down in four consecutive seasons. He's also seen his minutes decline, calling for some to speculate that Iguodala is approaching his end in Philadelphia.
If anything is encouraging, however, it's the fact that the new era A.I. shot 39.4 percent from distance in 2012, the highest percentage of his career. His previous high was 35.4 in 2006.
2009-10 Season Averages: 17.82 PER, 17.1 PPG, 6.5 RPG, 5.8 RPG, 1.7 SPG, 44.3 FG%
2011-12 Season Averages: 17.59 PER, 12.4 PPG, 6.1 RPG, 5.5 APG, 1.7 SPG, 45.4 FG%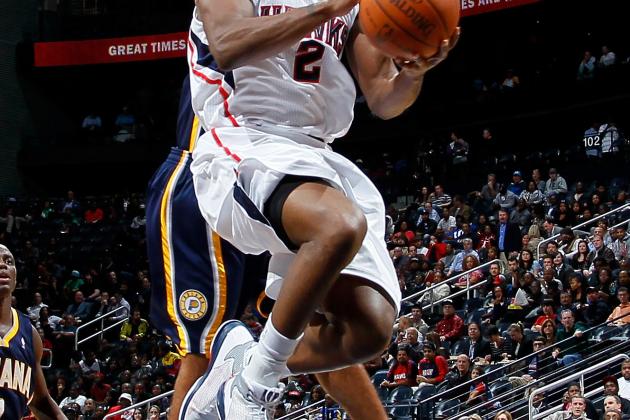 Kevin C. Cox/Getty Images

Ever since signing a six-year, $123.7 million contract in 2009, Joe Johnson just hasn't been the same. He's become much more of a mediocre scorer, often forcing unnecessary shots as a likely result of the burden bestowed upon him after signing that monster contract.
He's career has been in a steady decline, going from 25.0 points per game in 2007 to 18.8 in 2012. His win shares have also gone from 8.4 to just 6.4 in that same period. In other words, Joe Johnson just isn't helping his team pick up the W's as he used to.
Let it be known that Johnson is 30 years old and has always relied on his elite athletic ability. It may be time for him to become the official tertiary option for the Atlanta Hawks, behind Josh Smith and Al Horford.
2011-12 Season Averages: 18.50 PER, 18.8 PPG, 3.9 APG, 3.7 RPG, 0.8 SPG, 38.8 3PT%
2011-12 Postseason Averages: 12.10 PER, 17.2 PPG, 3.5 APG, 3.5 RPG, 1.3 SPG, 25.0 3PT%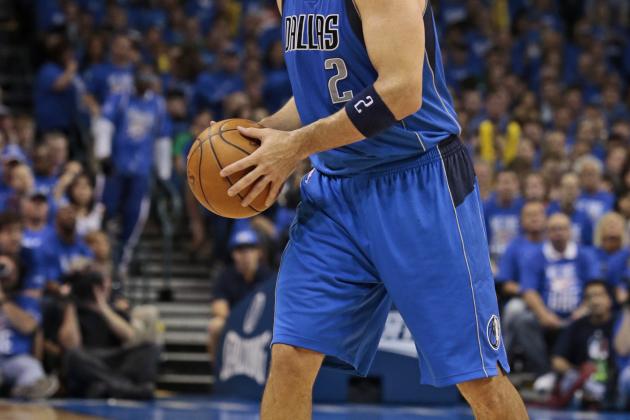 Brett Deering/Getty Images
It was a rough ride for Jason Kidd in 2012.
Jason Kidd has had one of the most storied careers in NBA history. He's also found himself in the midst of a serious decline, dropping his assists-per-game averages for three years running. 2012 just so happened to be the worst statistical season of his career.
While Kidd's average of 1.9 turnovers per game was a career-best, the 5.5 assists and 6.2 points marks career-lows. His 36.3 percent shooting from the floor was none too encouraging, either.
As great as it was to see Kidd win his first career title in 2011, it may be time for him to consider a reserved role as the mentor for a young point guard. If not, it may be time to consider retirement.
2011-12 Season Averages: 13.11 PER, 28.7 MPG, 6.2 PPG, 5.5 APG, 4.1 RPG, 1.7 SPG
2011-12 Postseason Averages: 17.10 PER, 36.0 MPG, 11.5 PPG, 6.1 RPG, 6.0 APG, 3.0 SPG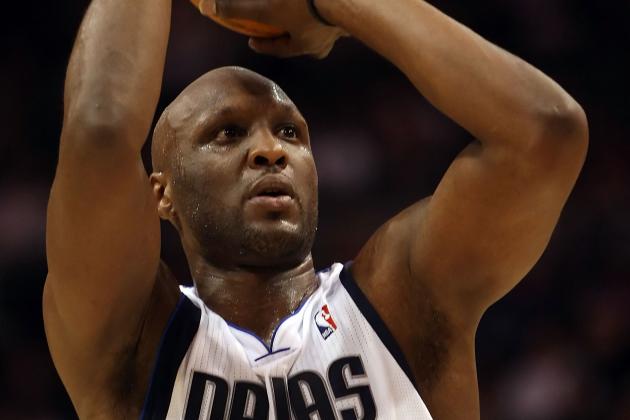 Christian Petersen/Getty Images

To say Lamar Odom had an up-and-down season would be a fallacy. It's been down, down and a bit further south.
After demanding a trade from the Los Angeles Lakers, Odom played in just 50 of the Dallas Mavericks' 66 games before leaving the franchise due to his lack of professionalism and immaturity. Seriously, what's your reasoning for it?
It's hard to imagine a franchise taking a chance on Odom after what transpired in 2012. Just ask Terrell Owens.
2011 Season Averages: 32.2 MPG, 19.50 PER, 14.4 PPG, 8.6 RPG, 3.0 APG, 53.0 FG%
2012 Season Averages: 20.5 MPG, 9.26 PER, 6.6 PPG, 4.2 RPG, 1.7 APG, 35.2 FG%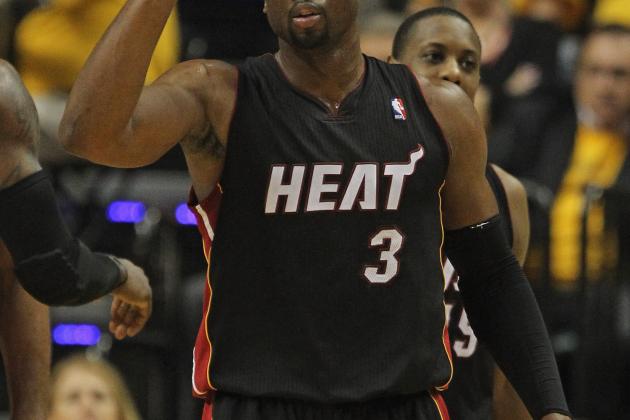 Jonathan Daniel/Getty Images

What must be understood is that Dwyane Wade's talent is not on the decline. Instead, it's his production and legacy due to the fact that he consistently concedes to a player whose physical dominance exceeds his own.
All to be a great friend and mentor.
While I applaud Wade's efforts, as very few would take the back seat for the progression of another. It's clear that his individual dominance remains. Wade's average of 33.0 points, 7.3 rebounds. 3.7 assists, 1.7 blocks and 1.0 steals per game over the Heat's three consecutive wins is evidence of such.
If only he'd give that type of effort on a nightly basis and ignore the legacy he's building for another player.
2011 Season Averages: 25.65 PER, 25.5 PPG, 6.4 RPG, 4.6 APG, 1.5 SPG, 1.1 BPG
2012 Season Averages: 26.37 PER, 22.1 PPG, 4.8 RPG, 4.6 APG, 1.7 SPG, 1.3 BPG