NBA Draft 2012: Stock Evaluations for the Top 10 Prospects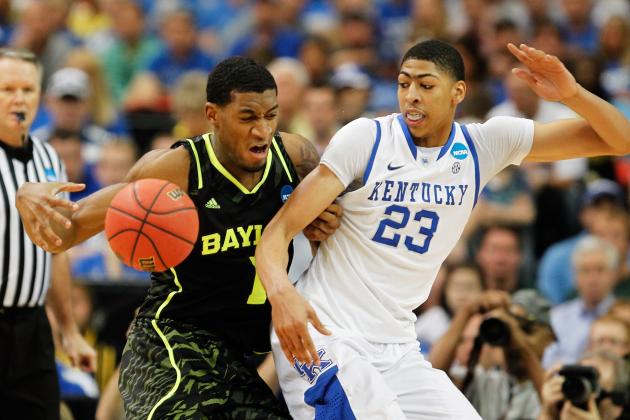 Streeter Lecka/Getty Images

The NBA draft is right around the bend now, and the top 10 has begun to shape up and order itself. Within that top 10, I will tell you whose stock is rising and whose is falling. Anthony Davis is still the lock for the No. 1 pick, and it seems nothing will loosen his grips on that title.
The order of the top 10 is derived from Chad Ford's big board, which can be found on ESPN.com.
Begin Slideshow

»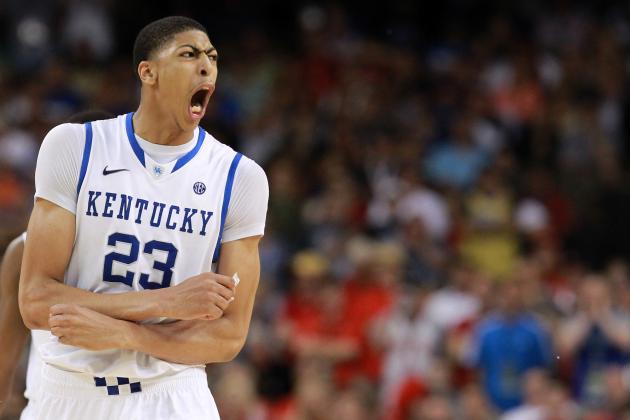 Ronald Martinez/Getty Images

Anthony Davis was the nation's best player for the entire year.
As a freshman, the 6'10" power forward led the NCAA in PER. On top of his already lengthy frame, Davis has a ridiculous 7'4" wingspan and has shown how well he can use those long arms by totaling 186 blocks.
Even though Davis was Player of the Year, his potential has not yet been touched in terms to how good he can be. With work on the offensive side of the ball in the post, and some help with strengthening his body, Davis is another David Robinson. Can't miss with this kid, and his draft stock tells the same story.
Draft Stock: Soaring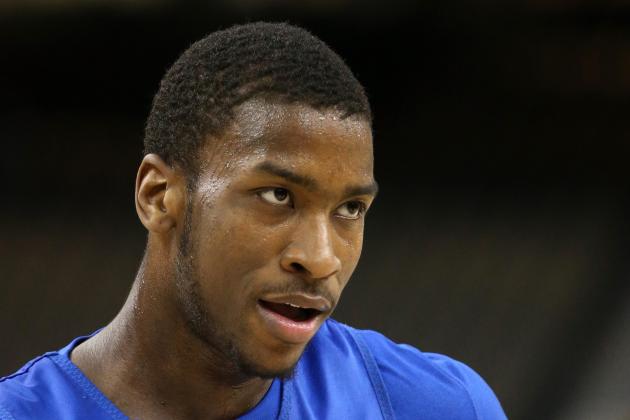 Ronald Martinez/Getty Images

Two freshmen kick off the top 10 for Chad Ford, and both are from Kentucky.
Michael Kidd-Gilchrist is one of the best defenders entering the draft, as he has the ability to be a lockdown defender at numerous positions. His motor runs extremely high at all times, and Kidd-Gilchrist has emerged as a leader.
Despite his immense athletic talent, there are worries about his perimeter game and aggressiveness scoring at a higher level. Although he is still a can't-miss top prospect, the emergence of another player may hurt his stock at the second overall pick.
Draft Stock: Slightly Falling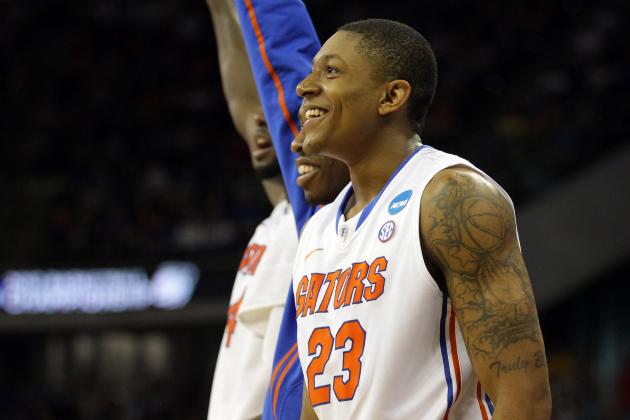 Doug Pensinger/Getty Images

Bradley Beal is a complete shooting guard, who has an NBA body and the ability to fill in at point guard if needed.
Coming out of high school, Beal was immediately labeled as a Ray Allen-type of shooter with a better ability to handle the ball.
Entering Florida, Beal became the main ball-carrier and his shooting suffered because of it. With the lack of shooting statistics from behind the arc being his only knock during his first and only collegiate season, Beal has NBA scouts marveling over his offensive talent.
Beal has the chance of being selected No. 2 in this year's draft, as teams seem to still be deciding between he and Michael Kidd-Gilchrist. Although Kidd-Gilchrist is a sure talent, I have Beal moving ahead of him because of his offensive potential in all aspects and ability to play both positions in the backcourt effectively.
Draft Stock: Rising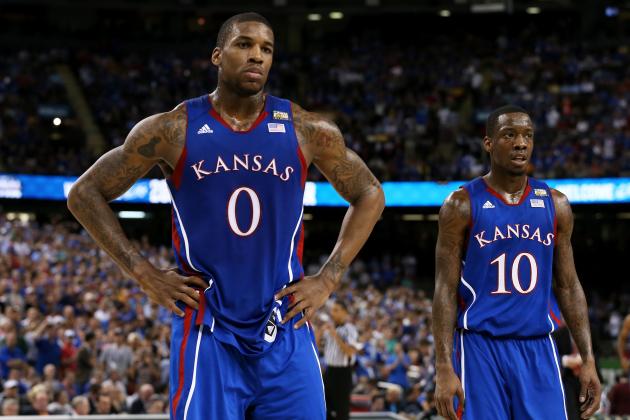 Jeff Gross/Getty Images

For a large part of the year, many believed Thomas Robinson could upend Anthony Davis as Player of the Year.
Robinson is a beast under the boards and is a proven scorer. He showed his ability to lead a team, as he took Kansas to the championship even though they were not regarded to be that good. Robinson has everything scouts look for when it comes to his motor, aggressiveness and drive.
The knock against Robinson, however, is his size.
Although he is listed at 6'10", he is expected to be more in the range of 6'7" when measured by the NBA. At that size, he is small for his position, which adds concern to the troubles he showed with his length in college.
A smaller issue is the perimeter game of Robinson. Although he is very good at creating his own shot on the perimeter despite his size, he has let it play too great of a role in his game. He needs to be a big man down low in the NBA, both physically and mentally.
Draft Stock: Falling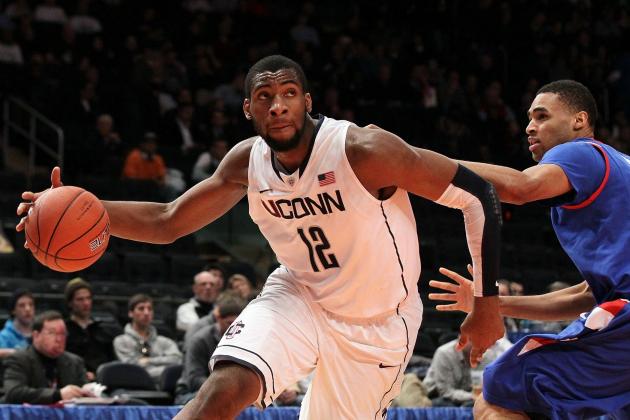 Jim McIsaac/Getty Images

Andre Drummond began the year on Chris Ford's big board at the No. 2 spot. Since, he has fallen to fifth. The reason for his fall is the very disappointing season he has had compared Kentucky's Anthony Davis.
UConn as a team had a part in that, since they had troubles getting Drummond the ball, but throughout the year the big man showed inconsistency and at times a lack of effort. If it wasn't for his great size and remarkable talent, Drummond would find himself falling even further.
In the NBA, Drummond has the ability to be a great post-up scorer, as well as contribute immensely on the defensive side of the ball with rebounds and shot-blocking abilities. All of which, though, Drummond needs to show a more consistent effort with.
Draft Stock: Falling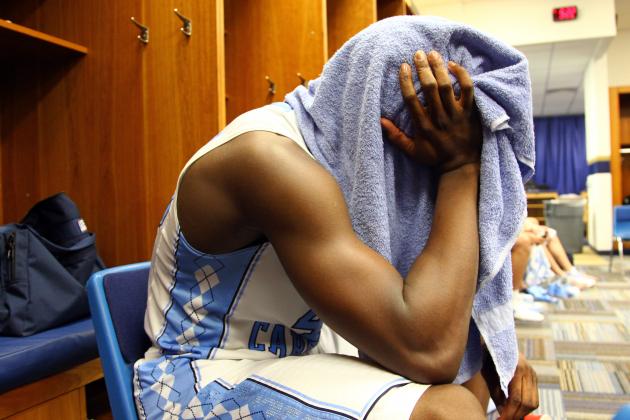 Dilip Vishwanat/Getty Images

For two years now, Harrison Barnes has been in the discussion of being the first selection overall. His play, though it has been good, keeps him out of the discussion.
Barnes is a wing player with a high basketball IQ, who can score from just about anywhere on the court. His talents are not debatable, as he has limitless potential—but his one-dimensional play has taken away from him.
During the NCAA tournament, Barnes was tested after the loss of Kendall Marshall—North Carolina's floor general. NBA scouts will not likely look at the performance in high-pressure situations, but rather his lack of production when he is required to create his own shots.
Besides a streaky second half versus Kansas, Barnes disappointed. The glaring weakness in this part of the game leaves him a little less desirable.
Draft Stock: Falling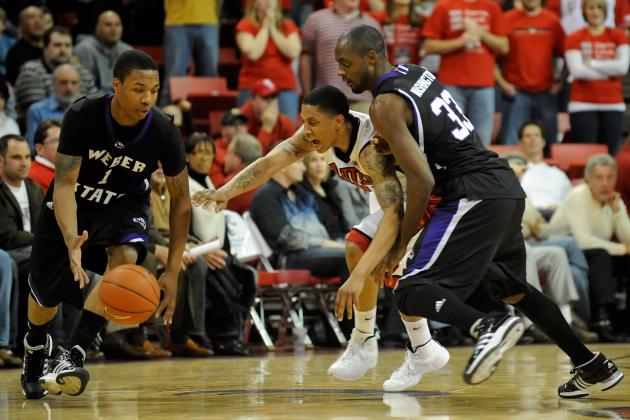 Ethan Miller/Getty Images

Damian Lillard's main—and possibly his only—downfall is the school which he plays for. Weber State does not receive much attention, and for most of the year, neither had Lillard. That changed during the Big Sky final, where he shined in front of many NBA scouts. With general managers now paying attention to Lillard, he has become the top point guard in the draft.
Lillard helped his draft stock even more in Oakland during his workout, and Chad Ford was a witness to it—providing us with this on his Twitter account:
Here's video from @Dame_Lillardworkout in Oakland on Saturday. Impressive stuff espn.go.com/video/clip?id=…

— Chad Ford (@chadfordinsider) May 28, 2012
With almost no flaws in his game, Lillard has risen up the big board and will only continue to do so.
Draft Stock: Soaring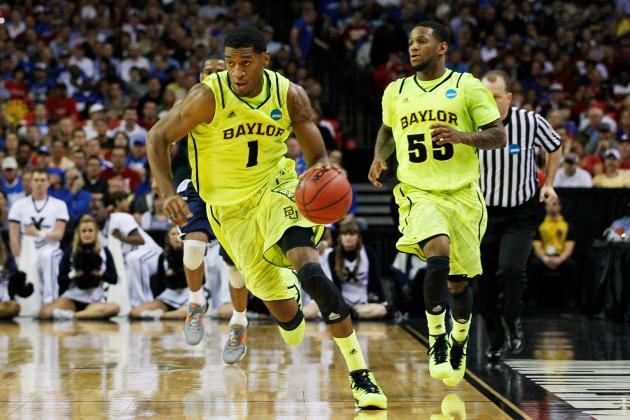 Kevin C. Cox/Getty Images

Perry Jones has, for two years now, fallen short of expectations. He may be the most gifted player in the draft, but has yet to play like it. He has however, wowed many in his workouts.
Although he has the big 6'11" frame of a center, Jones is a great wing player and looks more comfortable facing the basket with the ball in his hands. That's not typical for a big man in the NBA, but he has a good stroke and phenomenal abilities that cannot be ignored.
The knock on Jones is his motor. A top talent talent with a lazy motor is always a frustrating combination, and that is what will make most general managers shy away. When he wants to work hard, he is one of the best players you will see—and could be a superstar.
Draft Stock: Rising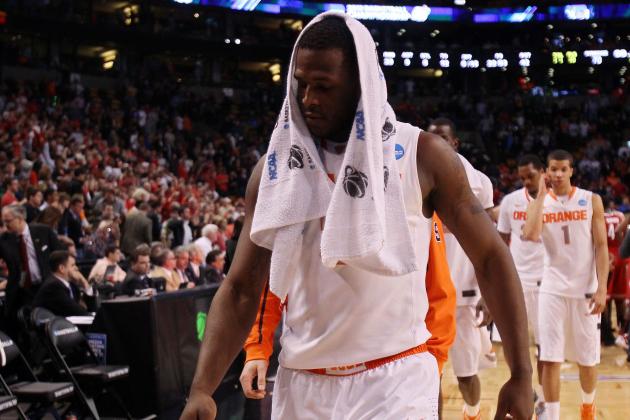 Elsa/Getty Images

Dion Waiters is a love-or-hate type of player. Some think he is one of the best talents in the draft, while others believe he is just too much of a risk to draft so high.
As a shooting guard, Waiters is best when exploding to the rim and is very hard to stop if he gets into a rhythm. His shooting could be more consistent, but his ability to drive and score is matched by only a few within this draft. His upside is high, since he is so strong and can take a game over.
The general managers who are not so high on Waiters are scared of the interpretation that he sometimes is not a team player. His inconsistencies scoring are also a concern.
Draft Stock: Falling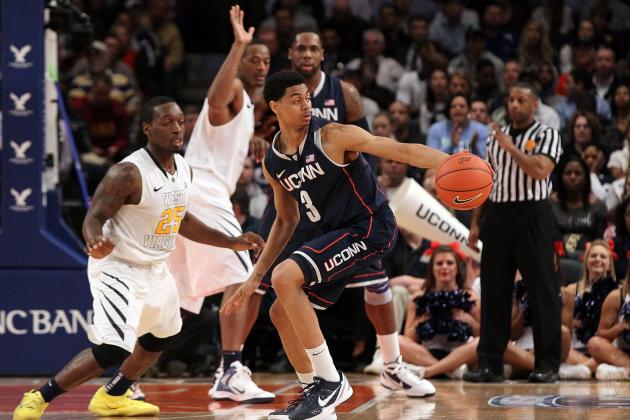 Jim McIsaac/Getty Images

The one thing about Jeremy Lamb that cannot be ignored, is his rare seven-foot wingspan at the shooting guard position.
With that wingspan, Lamb is a player who can score from anywhere on the floor. He is terrific with the mid-range jumper and also has the ability to create his own shots or drive to the rim and score.
Very well-rounded, Lamb has great potential.
The downside is the glaring inability to be the leader of a team. With Kemba Walker gone, Lamb struggled to be the top option for Connecticut—and turned in a rather disappointing season, losing in the first round of the NCAA tournament. His upside is still there though, after an excellent freshman performance two years ago.
Draft Stock: Rising