NBA Free Agency 2012: 11 Players Who Must Take Pay Cut to Contend for a Title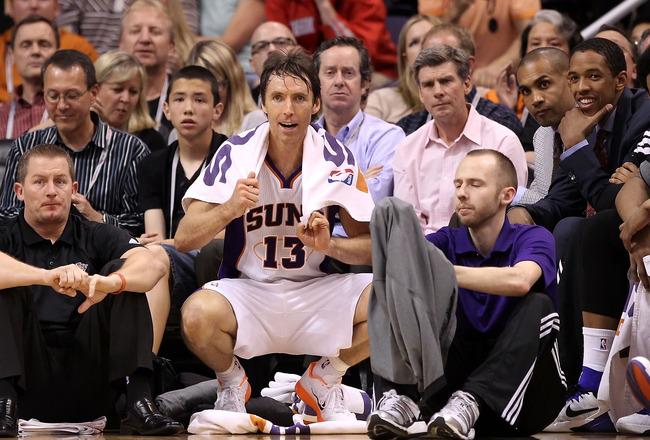 Staying or going? Two-time league MVP Steve Nash is one of this season's big free agent prizes.
Christian Petersen/Getty Images
The money or the ring?
It's not always an "either-or" proposition, but it certainly can be.
If you're an aging star in the NBA and want to win a ring, then latching onto a talented team for the final years of your career might be the best path to a title.
It also might mean taking a pay cut.
In a league with a fairly rigid salary cap, the teams that are on the cusp of being champs are often those with the least amount of available salary cap room. Those that are still struggling at the bottom of the standings are often the teams with the most cash to burn.
It's actually a choice without a wrong or right answer. Instead, it's one that sheds light on the priority of the individual free agent.
The choice can be boiled down to "the money or the ring."
Which NBA free agents are facing this choice this summer?
Steve Nash: Phoenix Suns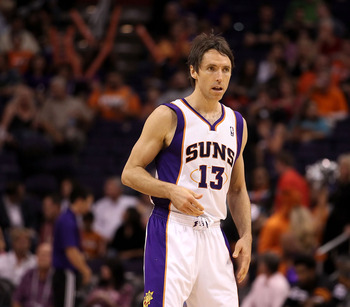 Could Steve Nash be headed out of Phoenix?
Christian Petersen/Getty Images
Steve Nash has won two league MVP awards. He's been to the Western Conference finals three times. However, the eight-time All-Star has yet to even appear in the NBA Finals.
Time is running out for Nash. Even though his overall product has yet to dip into decline, he is 38 years old.
That type of impressive production will only last for so long.
This summer when Nash enters the open market as an unrestricted free agent, he will find plenty of suitors.
Those teams most on the cusp of being legitimate title contenders are also teams that might not be able to afford to match or exceed the amount Nash currently earns. No one likes taking pay cuts, but for Nash a pay cut from his current salary of more than $11 million a year to something in the neighborhood of $ 8 million may be required for him to sign with a team on the verge of a title.
Then again Nash may find riches with a team not as close to immediate pursuit of the NBA's ultimate prize. The decision will be interesting to observe.
Tim Duncan: San Antonio Spurs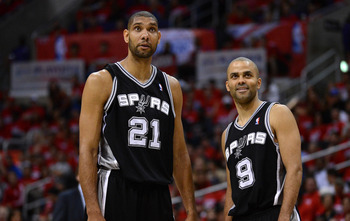 Is the current playoff run the final journey for Duncan and Parker?
Harry How/Getty Images
Luckily for Tim Duncan, on the off chance he decides to leave the Spurs and seek out the largest contract available, no one will be able to accuse him of not being a winner.
Duncan has already won four NBA titles and may be on the path to a fifth. Whether he wins or loses this season, he has some major decisions to make for next year.
The simple fact is that Duncan will likely take a pay cut no matter who he chooses to sign with. That's going to happen when you earn more than $21 million like Duncan does this season.
He may very well receive more lucrative financial offers from teams that are desperate for veteran leadership, experience and a highly-skilled big man.
His current team, the San Antonio Spurs, are winning by using a combination of Duncan and teammate Tony Parker's star power blended with an extremely deep bench.
If the Spurs re-sign Duncan to large deal, it might come at the sacrifice of the team's depth, thus hurting their chances at continued title contention.
Duncan seems likely to receive a decent offer to remain in San Antonio. It may not be the highest bid he receives, but if his goal is to win, then it's probably the smart one to take.
Kevin Garnett: Boston Celtics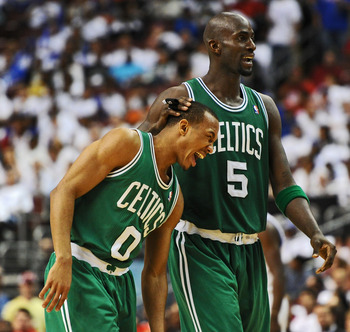 The Celtics would love to keep Garnett around to provide guidance to young players such as Avery Bradley.
Drew Hallowell/Getty Images
Kevin Garnett knows a thing or two about being labeled as "the guy that can't win the big one."
For more than 12 seasons Garnett was the centerpiece of the Minnesota Timberwolves. He made All-Star teams, won an MVP award, got to the postseason and never once sniffed the NBA Finals.
Then, in the summer of 2007, he was dealt to the Boston Celtics, and by the time the summer of 2008 had rolled around, he was a champion.
The Celtics won the 2008 NBA Finals, and Kevin Garnett's leadership and defensive skills played a pivotal role in earning the victory.
Now his run in Boston may be coming to an end. Garnett is in the final season of a contract, which paid him more than $21 million in 2011-2012. There is almost no chance that Boston will re-sign him at that rate. In fact, if Garnett is looking for contract in the three-year, $18 million a season range, then he's probably going to leave Boston.
The teams that can afford to pay him that type of money might not be teams with one of the league's best scoring small forwards in Paul Pierce or a passing expert like Rajon Rondo.
In other words, he will have to go to an inferior team. If Garnett wants to stay in Boston or latch onto another one of the league's elite teams, he's probably not going to be signing with the team that offers him the most money this summer.
He's almost certain to take a pay cut no matter where he ends up, but the size of that cut versus the quality of the team he ends up with may very well be two totally different things.
Ray Allen: Boston Celtics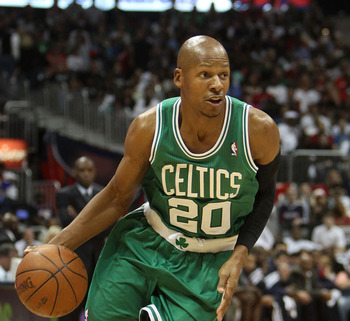 The Ray Allen era may be over in Beantown.
Mike Zarrilli/Getty Images
Great players don't always have to absorb pay cuts just because of one injury-plagued season.
When that season happens at the age of 36 and you'll be 37 by the time the following season tips off, then teams will inevitably pause before offering a lucrative contract for any extended period of time.
These are the circumstances that will surround the impending free agency of Ray Allen. Allen has battled various injuries for much of the lockout-shortened 2011-2012 season. By late in the season, he had been replaced by Avery Bradley as the team's starting shooting guard.
In the playoffs, he was exposed defensively by Evan Turner. In spite of an overall healthy track record, Allen's injuries are going to impact his free agency. He's not going to get big money from many teams. He'll get offered the veteran exception in backup roles from most contending teams.
Only a team mired in mediocrity would hand him the starting shooting guard position. Allen's offers from contenders are likely to be short-term and low pay. If the number one goal is to win a second NBA title, then that's the type of deal Allen will eventually sign.
Jason Kidd: Dallas Mavericks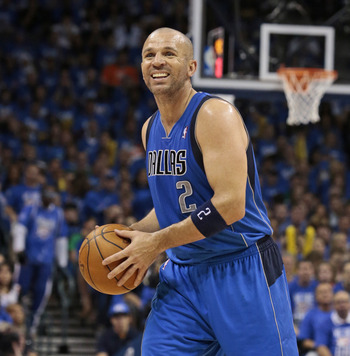 For Jason Kidd a return to the NBA Finals would probably require less minutes and less money.
Brett Deering/Getty Images
Jason Kidd has been to three NBA Finals. He lost two of them when he was the primary player on the New Jersey Nets teams of the early part of the century.
Then he linked up with the team that originally drafted him out of college and played alongside veterans like Jason Terry, Dirk Nowitzki and Tyson Chandler. Kidd finally won a ring with the Dallas Mavericks in June of 2011.
This past season was one of transition for the Mavericks, who have started the process of clearing cap space to reload and make another series of runs at what would be the franchise's second championship.
That process of shedding salary will continue this summer when Kidd's contract expires. As an unrestricted free agent and sure-fire eventual Hall of Fame-player, Kidd will draw interest from a number of teams.
The 39-year-old Kidd is coming off a season of career lows in minutes, points and assists per game. In other words, time is catching up with him. He's headed for a backup role on any team with a decent chance to contend next season.
Backup point guards, even ones with decorated resumes such as Kidd's, don't make more than (or anywhere near) $10 million a year. That's what Kidd earned in Dallas this past season.
The desperate teams looking for a name with star power may invest more in Kidd, but they will not be contenders.
Kidd will take a pay cut no matter what happens this summer, but if his sole priority is one that gives him the best chance to play for the NBA title again, then that pay cut could be quite large.
Antawn Jamison: Cleveland Cavaliers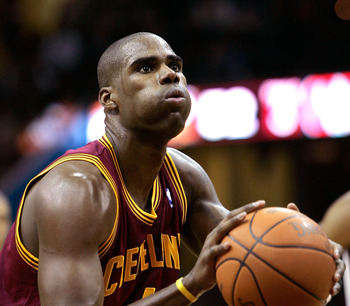 Antawn Jamison won't be earning $15 million next season.
Mike Lawrie/Getty Images
Antawn Jamison can still score. The lanky 35-year-old small forward averaged 17.2 points per game this past season for the Cleveland Cavaliers, but Jamison was able to put up those types of numbers because he played on a team where he was the primary option on offense.
As a free agent, there will be teams that will offer Jamison deals where he can join the team, get a starting role and still be afforded minutes. The teams that make those offers won't be the top teams.
Jamison would be a great fit as a backup forward in Miami, Boston, Chicago or L.A. Those teams won't have the money to pay Jamison to play 30-plus minutes a night, but they'll certainly give him a far better shot at postseason success than staying in Cleveland or signing with another team in the rebuilding process.
Boris Diaw: San Antonio Spurs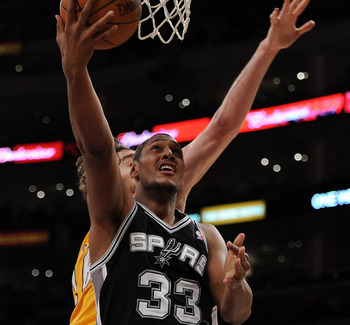 Boris Diaw is a key player for the Spurs as they march towards the NBA Finals.
Harry How/Getty Images
Perhaps no free agent this summer will have a better understanding of how the amount of minutes one plays isn't the marker of success.
Boris Diaw has literally gone from the NBA's outhouse to its penthouse this season.
When the season began, he was a starter on the Charlotte Bobcats. He averaged more than 27 minutes per contest on the league's worst team.
The team waived Diaw on March 21, 2012, and two days later the No. 1 seeded San Antonio Spurs claimed Diaw off of waivers.
Diaw's minutes dropped down to 20 per game, but he was winning a lot more. Diaw won more games in less than two weeks with the Spurs than he won in almost three months on the Bobcats.
Now, he's playing a key role as the Spurs march toward what they hope will be the fifth title of the Popovich/Duncan era.
Diaw is currently in the final year of a deal that pays him $9 million.
He's also getting a real-time lesson in what playing on a winning team is all about. This summer, he'll have a chance to put a price tag on that experience. He may find that getting paid less can ultimately provide more joy if you're on a winning team.
Marcus Camby: Houston Rockets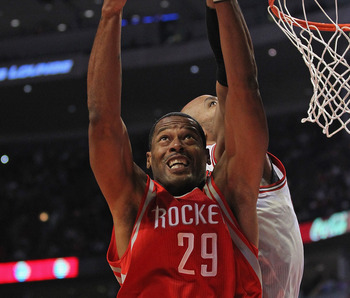 Will Marcus Camby reach for minutes or wins this summer as a free agent?
Jonathan Daniel/Getty Images
For 16 seasons, the No. 2 overall pick in the 1996 NBA Draft has been one of the league's premier shot-blockers as well as a major defensive and rebounding presence.
Despite those desirable qualities, Marcus Camby hasn't played in a game beyond the first round of the playoffs since spring of 2000. With a contract that pays him nearly $12 million a season set to expire, the next team Camby joins may end up being the last NBA uniform he wears.
Camby will no doubt be in demand. Players who are dedicated to shot-blocking and rebounding will never cease to attract coaches and general managers. The best teams in the league already have players who do those things. It's generally one of the reasons those teams are good to begin with.
The weaker teams will lack players with those skills and often overpay to acquire them. The league's best will always welcome veterans who can come off the bench and provide those skills in limited minutes.
Camby sure would look good backing up Andrew Bynum in Los Angeles, but there's no way he's getting anywhere near $12 million to do that. The same could be said for playing backup to Tyson Chandler in New York. If Camby wanted to play for a veteran's minimum, there are a number of top teams that will line up to sign him.
If he wants a more lucrative deal, then he's more likely to land on a team that is just hoping for a playoff birth or worse.
Jason Terry: Dallas Mavericks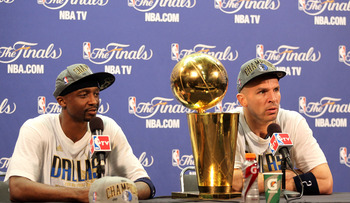 Jason Terry paired with Jason Kidd to win a title in Dallas. Both could be gone next season.
Mike Ehrmann/Getty Images
Jason Terry isn't as old as his teammate Jason Kidd, but he's in a similar situation. Terry earned $11.1 million and will be unlikely to get a similar deal once his contract expires.
The NBA is experiencing a "golden age" for point guards. The list of top floor generals is long, with names like Rose, Rondo, Westbrook and Paul at the top, while younger talent like Holiday, Wall and Irving wait in the wings.
Terry is a bit of a throwback to the days when point guards didn't score as much. They were counted on for ball control, floor management, defense and timely shooting. That's what Terry has provided throughout his career as both a point guard and shooting guard.
Terry will get offers from numerous teams this summer, but if the top priority is winning another NBA title, then he'd be well-advised to entertain the thought of playing backup to one of the league's top point guards on an elite team. The image of Terry backing up Rajon Rondo in Boston is one potentially favorable scenario.
The Celtics are not handing him anywhere near $11 million a year to do that though, so Terry will have some choices to make.
Grant Hill: Phoenix Suns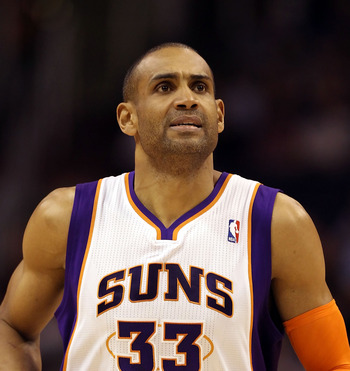 Grant Hill will be playing for a low salary if he continues his NBA career next season.
Christian Petersen/Getty Images
If it seems like a long time since Grant Hill made a near perfect cross-court pass to teammate Christian Laettner because it's been more than 20 years. That was in Hill's second season at Duke. Two years later, he was in the NBA as the third pick in the 1994 NBA Draft.
Hill, who will turn 40 before the next NBA season tips off, has recently hinted at a desired return to Phoenix.
Of course, there's no contract signed yet, so it's too soon to know for sure if he will remain with the Suns. If he doesn't, there will be a limited market for him, and it's hard to believe he'd be turned away by a team like the Miami Heat who would certainly love to be able to call upon Hill.
With Bosh, Wade and James all on max contracts, playing for a low salary is basically a prerequisite for donning a Heat uniform.
If Hill is happy in Phoenix, he can probably make a bit more money and remain there. He'd have a far better chance at a ring in Miami though.
Leandro Barbosa: Indiana Pacers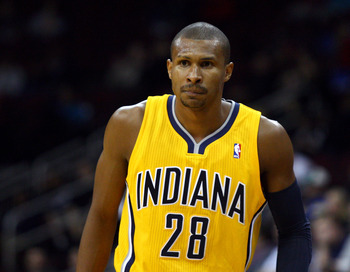 Leandro Barbosa may find that his playoff performance didn't help his pending value as a free agent.
Chris Chambers/Getty Images
Sometimes players really hurt themselves by playing in the postseason.
Leandro Barbosa was having an adequate season playing in relative obscurity for the Toronto Raptors.
Then, on the day of trade deadline, he was shipped off to Indiana for a second-round pick and some cash.
Barbosa was not as effective in Indiana as he had been in Toronto, He shot the ball with less accuracy and played fewer minutes.
Then came the playoffs. Barbosa didn't play many minutes against Orlando, but when he was on the court, he was fairly efficient. Against Miami, his game really fell off.
With Indiana struggling to generate offense, Barbosa was one of the players that the Heat almost dared to beat them. He got plenty of open looks but failed to convert. Barbosa shot just 31.8 percent from the floor against Miami and was an abysmal 3 of 20 from three-point range.
That's the type of postseason performance that will give other teams pause before offering up a deal comparable to his expiring one, which paid him $7.6 million this past season.
Barbosa was fine playing under-the-radar for the non-contending Toronto Raptors, but seemed to regress as the magnitude of games increased. If he wants a shot at a ring with his next contract, then he may need to make a sacrifice on his paycheck to convince a contender to take a chance.
Keep Reading