Why Perry Jones III Is the Riskiest Potential Lottery Pick in the 2012 NBA Draft
May 25, 2012

Streeter Lecka/Getty Images
Perry Jones III will become just another tally on the what-could-have-been side of NBA Draft prospects.
Jones III's athleticism, skills and body type make him an extremely intriguing prospect for any team with a lottery selection in this year's draft, but have you ever seen him use any of these things on the court?
I have, but very rarely.
Jones III made a name for himself at Baylor for all the wrong reasons. He played lackadaisical on both ends of the floor, did not demand the ball and never reached the sky-high expectations set for him.
Watching Jones III play one time brought all the wrong questions to your head. Why does he not seem to care? When is he going to explode? And, was this kid really a 5-star prospect coming out of high school?
NBA scouts will drool over Jones III's tremendous upside and raw physical tools, but don't let these things fool you.
Jones III is the draft's riskiest potential lottery pick, and this is why.
Misleading Skill Set
Jones III is thought of as an incredibly athletic, stretch 4-man who causes mismatches on the perimeter because of his forward-like size and guard-like handles.
Jones III can handle the ball better than most big men, but his shooting touch is barely respectable. In order to really stretch the floor, forwards must knock down jumpers with relative consistency.
Last season, Jones III shot 50-percent from the floor (with a ton of dunks) and 30-percent from beyond the arc.
Look at the NBA's other face-up power forwards. These players are supposed to space the floor with their shooting and pull an opposing team's forward out of the painted area. This allows his team to attack the paint with their low-post player.
Jones III does not have the jumper required to do this, at least not yet. Jones III relied mostly on a quick first step to blow by defenders and dunk the ball home in his two years in Waco. 
Obviously, Jones III has the speed and athleticism to flourish in an NBA transition game. He will beat most forwards down the court with ease, but I don't see how he will exist in a half-court set.
He does not have the necessary disposition or skills to maintain himself in the flow of an offense. He doesn't make great decisions and his passing brings almost nothing to the table.
Jones III's 6'11'', 235-pound frame will not hold up in an NBA paint.
He has no choice but to develop into a respectable shooter if he wants to remain relevant in the NBA. Raw athleticism will only take you so far.
Does He Even Want to Play?
Of course, Jones III wants the money, fame and fortune that come with being an NBA lottery pick. But does he really want to play?
Watching Jones III in most of his college contests is just about the most frustrating thing a college basketball fan can watch. His YouTube clips look unbelievable; they showcase his explosive dunking ability, but they do not tell the real story.
Jones III walks around the court (sometimes jogs) as if he could care less what the outcome is. Jones III showed questionable passion, leadership and drive throughout the regular season and NCAA tournament.
Maybe Jones III is the most driven hard worker you could ever meet, but he definitely does not show it. Loping around the court makes Jones III seem like he doesn't realize he is no longer playing high school ball.
Jones III is going to need to work on some things to contribute in the NBA. With his current attitude and indifference toward the game, how can NBA teams believe he will make that happen?
Where Should Jones III Be Selected?
Jones III will probably be selected in the lottery because he oozes upside, he is tall and he can handle the basketball without tripping over himself.
He shouldn't be taken in the lottery, but you can fully expect that to happen.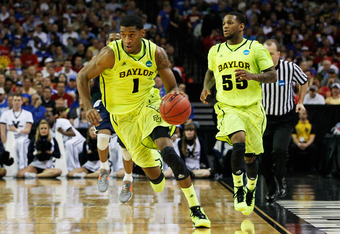 Kevin C. Cox/Getty Images
Jones III should last until late in the first round. NBA teams need to take into account his so-so production and watch his game film.
Picking a player who disappears on a frequent basis, in big games nonetheless, should not be an option for a lottery team hoping to recover next season.
Jones III looks the part, but he does not act the part. Because of that, playoff teams should have a chance to develop his abilities with a late first-round selection.