NBA Trade Rumors: Why Lakers Trump Clippers as Dwight Howard Suitors
May 24, 2012

Sam Greenwood/Getty Images
The 2011-12 NBA season isn't even over yet, but the Dwight Howard saga is back for round two and the Los Angeles Lakers and Clippers could be suitors for his services.
Yet, at the end of the day, the Lakers trump the Clippers as potential suitors for the three-time Defensive Player of the Year.
Even after the Orlando Magic fired head coach Stan Van Gundy, it appears nothing will make the All-Star center happy enough to sign an extension to remain with the only franchise he's played with during his eight-year NBA career.
Chris Sheridan of Sheridan Hoops reported that Howard still wants out of Orlando and that several teams will be in the running for his services.
Sheridan also goes on to say that Howard now sees both Los Angeles franchises as options, rather than returning to Orlando for another season.
That brings us to the Lakers' chances.
They have a general manager in Mitch Kupchak who's not afraid to pull the trigger on a big deal. He also recently told ESPNLosAngeles.com's Dave McMenamin that he wouldn't rule out major trades to improve the team.
While it's doubtful that the Magic would be interested in taking back Pau Gasol in a Howard deal, the Lakers still have Andrew Bynum to offer, who is a bigger trade chip than almost any other team in the Howard sweepstakes can offer.
SI.com's Sam Amick feels that a Bynum for Howard deal needs to happen for both teams.
Much has changed for both teams since earlier this year, when trade talks about this scenario never progressed, in part because neither Howard nor Lakers star Kobe Bryant seemed ready to give up his alpha dog status.

But the dynamic has changed, and it's one of shared desperation at this point. Both Howard (whose Magic have lost in the first round two consecutive years, the latest with him sidelined because of back surgery) and Bryant (whose Lakers have back-to-back second-round exits) need each other now more than ever.
Even though Howard didn't want to sign an extension with the Lakers at the trade deadline, times are different now as he's lost all his leverage in demanding a deal.
This brings me to the Clippers.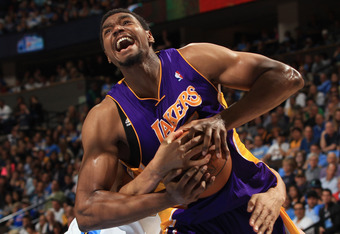 Doug Pensinger/Getty Images
The Clippers, like any other NBA team, will certainly be in on Howard, but what do they have as far as trade chips to get a deal done?
It's hard to see the Clippers parting with Blake Griffin, and a package centering around DeAndre Jordan wouldn't be as attractive to the Magic as the Lakers throwing Bynum their way.
The Clippers may want to get their hands on Howard, but it all comes down to trade chips, and they don't stack up to the Lakers in this case, especially if Kupchak is aggressively looking to reshape the Lakers' roster.
If Kupchak has had enough of Bynum's antics and immaturity, then dealing him for Howard makes sense as Kobe Bryant tries to take a run at his sixth ring.
If that's the case, using Bynum as a trade chip not only trumps the Clippers, but almost every other team in the NBA as well.