James Harden Cake: OKC Thunder Star Depicted in Awful Looking Dessert
May 23, 2012

James Harden is a great basketball player, but he makes for an awful-looking cake. 
The latest confection to make its rounds on the internet is a cake that looks like James Harden. Well, not exactly like Harden, because that would be even more weird. 
President and CEO of GiANT Impact Jeremie Kubicek tweeted this picture recently.
@KevinDeShazo now this is something to fear #beardlockerz.com/s/211113523

— Jeremie Kubicek (@JeremieKubicek) May 23, 2012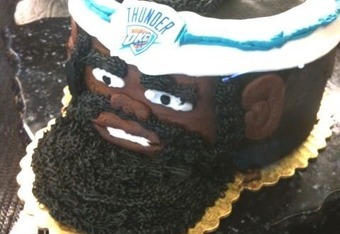 Yes, that is Oklahoma City Thunder star and avid beard wearer James Harden, at least that's the popular opinion. 
There is the classic headband, fine looking beard and mohawk atop the head. Yes, there really is nobody else this could be. (And it makes perfect sense, considering it comes from Homeland grocery in OKC.)
As you can also see, Harden makes a far better option on offense than he does a cake. First off, the copious amounts of hair on the dessert make this a problem for my mind to get over. 
Finding hair; even fake, cartoon whipped cream hair, is not how I want to begin any finale to a meal. 
Yahoo Sports picked up on the story and reminded us of the Manu Ginobilli cake that you can see here.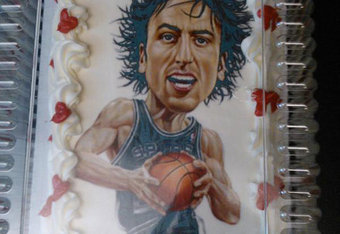 I was about to call this cake delectable when I realized how that might come off. 
How about we agree to keep our athletes away from sculptures or pictures that are meant to be eaten. My brain is far to feeble to make the distinction. 
I am sure this is delicious, but I will have to take another's word for it. 
Follow me on Twitter and we can discuss proper cakes.