Los Angeles Lakers: 7 Cheap Free Agents Who Can Improve Team Next Season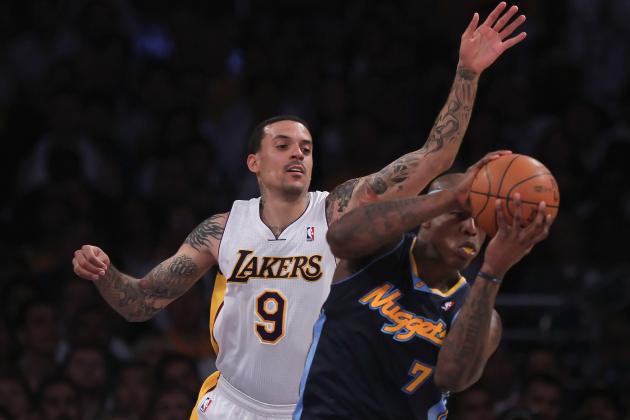 Jeff Gross/Getty Images

The Los Angeles Lakers may be heading into the offseason in disappointment. The Lakers lost in the Western Conference semifinals for the second straight year after winning the NBA finals twice in a row and five times in 11 years. Still, the Lakers have good possibilities ahead of them in the offseason.
The Lakers can make some solid signings in the offseason to tweak their roster in hopes of winning the title once again.
A couple of conditions may affect their free-agent search. First, they'll need players who can help them win now. Kobe Bryant, Metta World Peace and Pau Gasol aren't getting any younger, as they're 33, 32 and 31 years old, respectively.
Bryant may see his chance to lead a team to another championship fade in the next couple years. He'll need all the help he can get to win another one.
Second, they'll need cheap helpers. The Lakers are carrying a large payroll. According to ShamSports.com, the Lakers have $79.2 million committed to seven players for the 2012-13 season. That figure jumps to $83.8 million if Ramon Sessions exercises his player option for next season.
Following is a list of free agents the Lakers could sign to boost their chances to win the title next year.
Begin Slideshow

»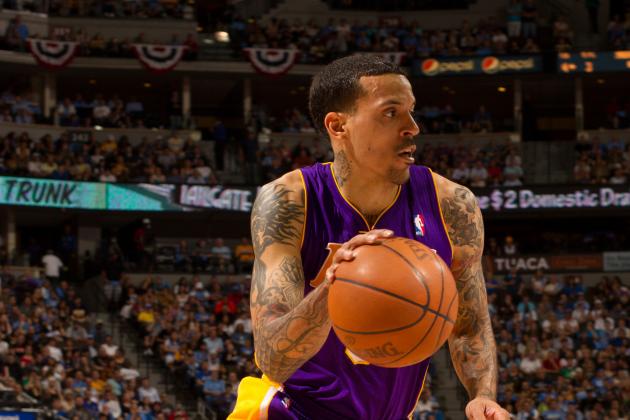 Justin Edmonds/Getty Images

Matt Barnes proved to be just what the Lakers signed him for in 2010. He's been a decent three-point shooter, a nice overall shooter and a solid rebounder for his position.
Barnes did nicely on the boards in the last two years, pulling down 4.3 per game in 2010-11 and 5.5 per game in 2011-12. This season he had 8.6 rebounds per 36 minutes, which is impressive for a small forward.
His field-goal shooting figures were above his career average (44.7 percent) both years. He shot 47 percent from the field in 2010-11 and 45.2 percent this season.
Barnes bounced back from shooting just 31.8 percent from three-point range in 2010-11 to hit a third of his threes this season.
The 32-year-old's advanced metrics were pleasing both years. He had an offensive rating of 112 points per 100 possessions and a defensive rating of 103 points per 100 possessions both years, both of which were career highs.
The Lakers can get the best of what Barnes has left by re-signing him for another year. They could retain his services for a little less than the $1.9 million he received this season.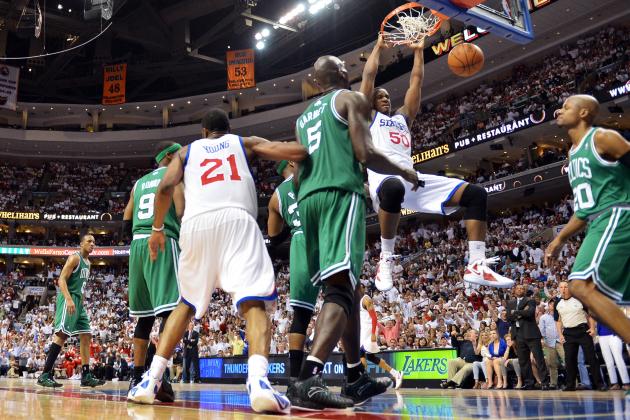 Drew Hallowell/Getty Images

Lavoy Allen has been a tremendous help for the Philadelphia 76ers on the inside in his rookie year. He started small in the regular season, averaging 4.1 points and 4.2 rebounds in 15.2 minutes per game, while putting up 9.7 points and 9.9 rebounds per 36 minutes.
He's made a significant contribution in the playoffs. Allen is averaging seven points and five rebounds per game. He's shooting 57.1 percent from the field.
His metrics in the playoffs are fantastic. He has an offensive rating of 121 points per 100 possessions and a defensive rating of just 96 points per 100 possessions.
Allen would be a great signing for the Lakers to back up Pau Gasol. The Lakers could use the solid presence that this Temple product provides on both ends of the floor.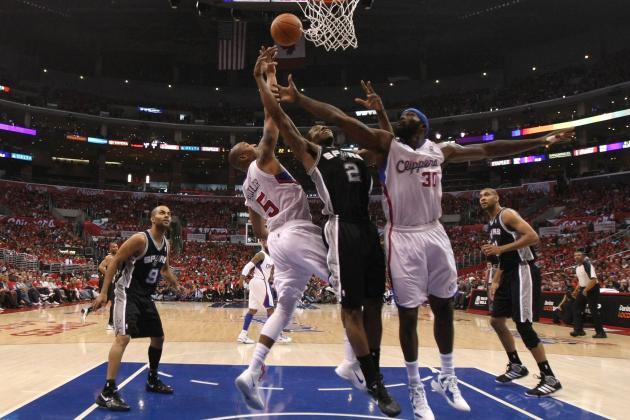 Stephen Dunn/Getty Images

Reggie Evans is worth signing for one thing—rebounding. He hardly scored this season but pulled down 4.8 rebounds per game and 12.7 rebounds per 36 minutes in the regular season.
His rebounding was a huge plus in the playoffs for the Los Angeles Clippers. He averaged 7.3 rebounds in 18 minutes per game. He had double figures in rebounding three times in the series against the Memphis Grizzlies. His 24.8 percent total rebounding rate is a playoff high.
The Lakers could add to an already strong rebounding group by signing Evans.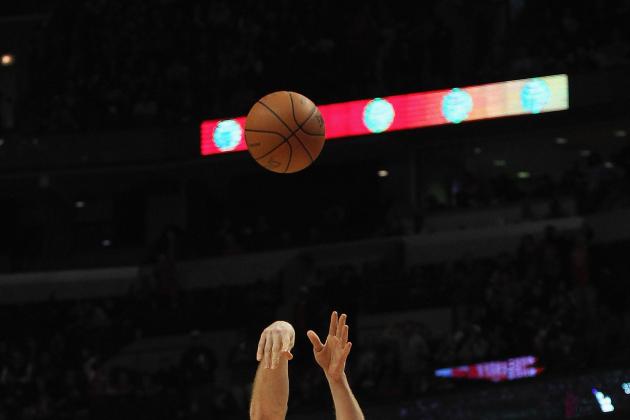 Jonathan Daniel/Getty Images

Some might believe that putting Brian Scalabrine on this list is incredulous. Scalabrine is one of the most mocked players in the NBA because of his appearance.
Nevertheless, he gives good contributions in small doses. On January 23, he had five points and four assists against the New Jersey Nets. On January 7, he had three rebounds, two assists and a blocked shot in eight minutes against the Atlanta Hawks.
Scalabrine had a solid defensive rating of 97 points per 100 possessions. He had good awareness and a high basketball IQ.
Scalabrine could give the Lakers that little bit of help in a pinch to aid a playoff run.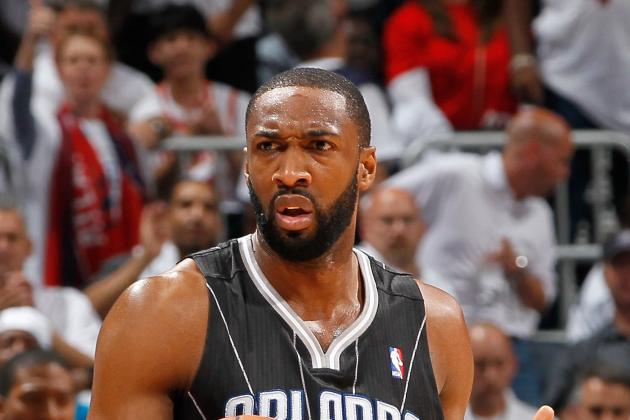 Kevin C. Cox/Getty Images

Gilbert Arenas had a nice stint with the Memphis Grizzlies to remind teams around the league that he's still able to make an impact on an offense.
Arenas was a non-factor in the playoffs since Grizzlies coach Lionel Hollins was settled on his rotation before Arenas signed with the team in March, but he was very helpful in a few regular-season wins.
Arenas hit four three-pointers to key a win against the Miami Heat on April 6. He scored 14 points to aid a win against the Dallas Mavericks the next day.
Arenas shot 33 percent from three-point range, 1.8 percent lower than his career rate, but he showed that he could still knock down threes when needed and handle the ball well.
The Lakers could use a backup point guard, and Arenas would be an effective player to fill that role. He's at the point in his career where he probably won't be an everyday starter but can still be effective off the bench.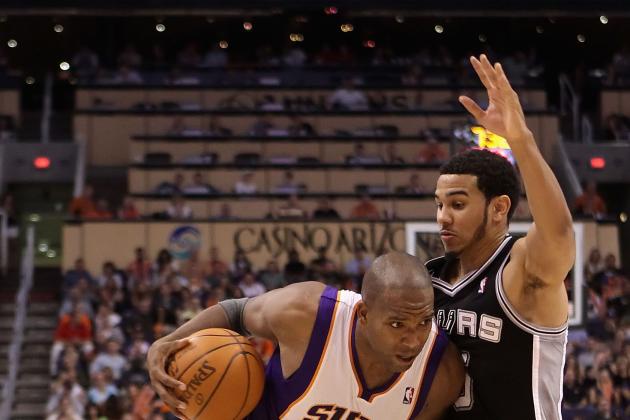 Christian Petersen/Getty Images

Michael Redd came back to life after leg injuries and falling out of condition in the last couple years. Playing 51 games for the Phoenix Suns, Redd averaged 8.2 points per game on 40 percent shooting. He averaged 19.5 points per 36 minutes.
He had a couple of games where he looked very much like his old self, such as a March 18 win against the Houston Rockets when he scored 25 points on 10-of-13 shooting.
The Lakers lacked potent scoring off the bench this season, and Redd could provide that. By signing Redd, the Lakers could get what energetic scoring the former Milwaukee Buck has left.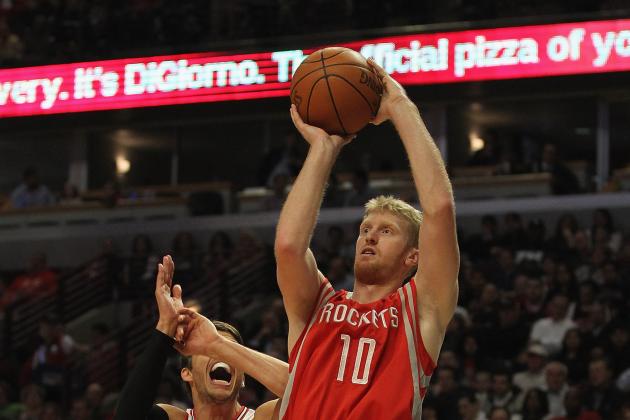 Jonathan Daniel/Getty Images

Chase Budinger played fairly well in his first three seasons in the NBA but didn't really prove to be worthy of big bags of cash in his second NBA contract.
Budinger averaged 9.6 points and 3.7 rebounds per game this season after putting up 9.8 points per game last year. He shot 44.2 percent from the field.
He showed flashes of high capability this season for the Houston Rockets. He scored 20 points four times, including 22 in a win against the Portland Trail Blazers on February 8.
Budinger would be a good helper off the bench to aid scoring for the Lakers. Since there are questions about his potential, he probably won't be taking home more than $6 million next season.