Terrence Ross: Highlights, Analysis and Pro Projections
June 13, 2012

Jason Szenes/Getty Images
Terrence Ross is a very athletic swingman who is one of the draft's best run-and-jump athletes. He helped lead the Washington Huskies to a NIT Final Four this past season.
He had a very good sophomore campaign, doubling his production in almost every category from his freshman season. He averaged 16.4 points and 6.4 rebounds per game.
Ross is a solid shooting guard prospect who could even play the SF position in spots.
He declared for the draft on April 1, and is one to watch. Because of his versatility and athleticism, he could jump on many draft boards, especially after this workout.
Here is a scouting report on Ross highlighting his strengths and weaknesses.
(Height, weight and stats per statsheet.com)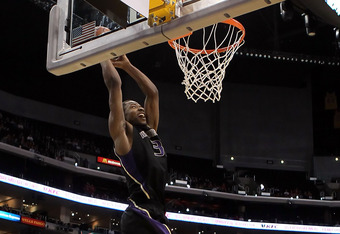 Jeff Gross/Getty Images
Profile:
Height: 6'6"
Weight: 195 pounds 
School: Washington
Date of Birth: February 5, 1991
Best NBA Position: Shooting Guard
College Stats: (Key Stats Underlined) 16.4 PPG, 31.1 MPG, 45.7 FG%, 37.1 3FG%, 76.6 FT%, 1.4 APG, 6.4 RPG, 0.9 BPG, 1.3 SPG
Skill Grades:
Athleticism - A+
Size - A
Intangibles - B+
Rebounding - A
Ball Handling - B
Defense - A
Shooting - A
Passing - B+
Post Game - B-
Basketball IQ - B+
Upside - A+
Strengths:
Ross has All-Star Weekend hops, a lightning-quick first step and amazing body control. He may be the premier athlete in the draft this year. He has good height and length, though he could stand to add about 10 pounds of muscle.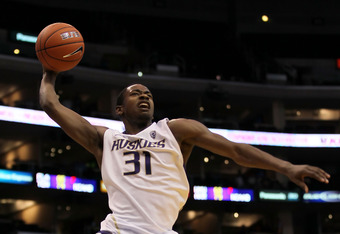 Stephen Dunn/Getty Images
He rebounds very well for a guard, and he really gets after it as a defender. He moves his feet well, and he keeps his arms and hands in the passing lanes.
Ross is also a capable shooter from distance, and he makes his free throws at over 76 percent. This is big for a player that can attack the rim they way he can. Because of Ross' athleticism and versatility he has tremendous upside.
Take a gander at the freakish athlete Ross is:
Weaknesses:
Ross is a little old for his class—he just turned 21 and this was his sophomore season. It isn't a big deal, but most players are about 20 years old in his class.
Ross' ball-handling needs to improve; though he does handle it well, he can get a little wild at times. This is something that can easily be remedied with experience.
He has good vision, but at times he is a little late with his passes.
Ross doesn't really possess a post-game at this point, and he probably never will. He is a perimeter player that gets to the rim, and his lack of bulk doesn't lend itself to a post-up style.
Ross has the physical tools, but his development is going to be determined by how hard he works on his craft.
He is a solid player now, but if he adds a little strength and refines a few areas, he could be special. 
NBA Player Comparison: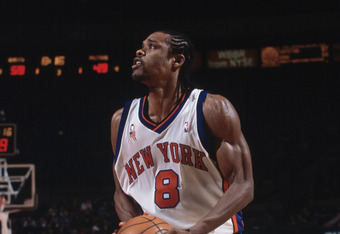 Jamie Squire/Getty Images
Latrell Sprewell
I know this is high praise, but the similarities are there. Sprewell was an ultra-explosive scorer-defender for 13 years in the NBA. During that time, he averaged 18 points, four rebounds, four assists and a steal per game.
Spree was 6'5, 190 pounds, and that is right in the same area Ross is physically. Sprewell played in four All Star games, made All-NBA First Team and All-Defensive Team in 1993-94. Though he is remembered more for choking P.J. Carlesimo, Sprewell was one of the top SGs of his era.
I believe Ross has the same ability. He can be a terror on defense just like Spree, and both explode to the basket with great leaping ability and speed.
If Ross' stock doesn't rise, he will be one of the biggest steals in this draft, much like Sprewell was in 1992 when he was drafted 24th overall by the Golden State Warriors.
Draft Projection:
Late Lottery-Mid First Round
Follow Brian Mazique and Franchiseplay.net for reactions, analysis and news from the world of sports and sports Video Games