Clippers vs. Spurs: Comic Offers Perfect Breakdown of NBA Playoff Teams
May 16, 2012

Justin Edmonds/Getty Images
The LA Clippers and Spurs have their differences. The only ones that matter are encompassed in a comic that had me LOL and teehee. I even found time to chuckle. 
Let's not beat around any NBA bushes and concede the Spurs are the cerebral artists, a group of seasoned vets that rarely make mental errors. 
We can also plainly see the Clippers are pure power, speed and electric dazzle. They lob like no men have ever lobed before. 
With that, I give you some genius found over at SportsGrid and illustrated by J.O. Applegate.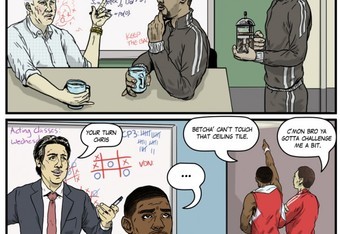 It's as plain to see as a Blake Griffin flop. The Spurs are the professors of basketball while the Clippers are forced to play on talent alone. 
I know what you dozens of Clippers fans are thinking. That's not right, we have plenty of brain power and finesse, and we can be as cerebral as the next team.
Right. 
All year we have seen sweet dunks and ridiculous lobs with very little regard given to forming, you know, a working half-court offense. 
I am all for highlight-reel athleticism, but there is just one hiccup to these things. I have said it once and will say it again.
Dunks don't win championships. 
The quiet team sipping coffee and mentally massacring every NBA team in the last month does. Chin up, Clippers faithful. You do have Vinny Del Negro leading the charge. He is smart enough to know what a time out is, and that's something.  
Follow me on Twitter and we can fight about it.