Austin Rivers: Highlights, Analysis and Pro Projections
June 11, 2012

Streeter Lecka/Getty Images
Austin Rivers is a potential star in my opinion. As a freshman, Rivers led the Duke Blue Devils in scoring and minutes played. The team was upset by Lehigh in the first round of the NCAA tournament, but enjoyed a 27-7 record overall.
Rivers is the son of former NBA player and current Boston Celtics head coach, Glenn "Doc" Rivers. He made himself eligible for the draft on March 27.
Rivers' doubters point to his size, athleticism and other things as potential pitfalls, but he has some positives that are undeniable. He plays with a chip on his shoulder, and he is ultra confident in his ability.
Here is a scouting report on Rivers that highlights his strengths and weaknesses.
(Height, weight and stats per statsheet.com)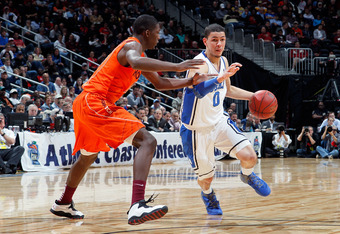 Kevin C. Cox/Getty Images
Profile:
Height: 6'4" 
Weight: 200 pounds 
School: Duke
Date of Birth: August, 1, 1992
Best NBA Position: Shooting Guard
College Stats:15.5 PPG, 33.2 MPG, 43.3 FG%, 36.5 3FG%, 65.8 FT%, 2.1 APG, 3.4 RPG, 0 BPG, 1 SPG
Skill Grades:
Athleticism: A-
Size: B-
Intangibles: A
Rebounding: B-
Ball Handling: A
Defense: B-
Shooting: A-
Passing: B-
Post Game: C
Basketball IQ: B+
Upside: A
Strengths:
Rivers is a good athlete, and while he didn't get an opportunity to do as much in the open floor in his one season at Duke, take a look at some of these dunks from high school (after all, it was just one year ago) and you'll see the hops are there.
He is the best player off-the-dribble in isolation in the draft. He has an advanced set of moves and shots in this situation. He can get to the line and he loves an opportunity to take and make the big shot.
He is a natural clutch performer, and that is a skill that can't be taught. Though Rivers isn't a perfect prospect, his ability to take and make tough shots is very valuable. In close games when a team needs a player to create his own shot, Rivers is the type of player that excels in that situation.
If he lands on a team that allows him to play his game, he will score in bunches.
The man they call Sub-Zero puts his skills on display in this highlight reel:
Weaknesses:
At 6'4", Rivers isn't diminutive for the SG position, but he doesn't possess the ideal height. It'll hurt him on defense mostly, as this isn't his favorite aspect of the game anyway.
His defense is limited to playing the passing lanes at this point. He must get stronger at bodying up and playing fundamentally sound on that end of the floor.
Rivers has solid vision as a passer, but sometimes he can dribble too much. He has to find the balance in his game so that he can pick his spots to dominate the ball.
Rivers also must improve his free throw shooting; a guard that wants to be a primary scoring option needs to shoot better than 68 percent from the line.
At the end of the day, Rivers is an offensive player, he can be a decent defender, but he'll never be great on that end of the floor. If he scores the way I believe he can, a solid effort on that end will suffice.
NBA Player Comparison: 
Chris Chambers/Getty Images
Slightly Less Athletic Monta Ellis
Monta Ellis is an explosive scorer, and if he played for a larger market team he'd get more respect. He is listed at 6'3" 175 pounds; he's averaged 19.5 points per game in his seven-year NBA career.
Ellis uses his quickness, agility and body control to knife to the basket and he's a decent shooter from outside. Rivers can have a similar impact although he isn't quite as explosive as Ellis, but he has a few more tricks off-the-dribble.
Teams that are looking for a pure scorer should give Rivers a serious look, because on that front he has one of the highest ceilings in the draft.
Draft Projection:
From No. 10 to No. 17 
Follow Brian Mazique and Franchiseplay.net for reactions, analysis and news from the world of sports and sports Video Games