2012 NBA Playoffs: Can the Chicago Bulls Come Back and Win This Series?
May 9, 2012

Jonathan Daniel/Getty Images
The question that is being asked all over Chicago sports radio, can the Bulls come back and win this series?
Or was their Game 5 victory just a flash in the pan?
There is a good case to be made for both arguments, but I think a better case can be made for them winning the series.
In Game 5 we saw coach Tom Thibodeau do something he hasn't really done in the past two seasons. He rode Carlos Boozer and in 42 minutes of action, he produced.
Over the last three games, Boozer is averaging 20 points and 11 rebounds and is looking more like the player he was in Utah. The biggest reason for this is the amount of minutes he's averaging in those games (39 minutes per).
He averaged only 28 minutes in the first two games.
Game 5 also saw C.J. Watson run the offense. While his shooting continues to struggle, he still managed to contribute seven assists. If he didn't go 1-of-4 from the charity stripe, the rest of his stat line may have looked better.
Maybe the biggest difference is Tuesday night's game was that Luol Deng looked like an All-Star. Deng shot over 50 percent from the field including going 3-for-4 from three-point land. He also filled up his box score with blocks, rebounds, assists and steals.
In the three losses this series, Deng scored a combined 24 points. He scored 24 in Game 5 alone.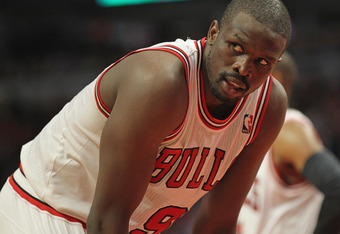 Jonathan Daniel/Getty Images
So can the Bulls win Game 6 in Philadelphia?
If they play like they did in Game 5, absolutely. Getting Joakim Noah back would also help a lot.
However, I will say that Taj Gibson has done an excellent job filling in for Noah as the defensive stopper. Over the last two games he has averaged 11 points, 9.5 rebounds and four blocks, but he did leave Tuesday's game with an ankle injury.
If he is unable to play in Game 6, it would be a big blow to the Bulls' bench.
Game 6 is in Philadelphia on Thursday so that gives Noah and Gibson time to get some treatment, but if both play then you have to like the Bulls' chances. Remember, the Bulls had the best road record in the league this season.
If they win Game 6 then nothing else matters when it comes to Game 7. The Bulls have one of the best home records in the league while the 76ers were a sub .500 team on the road.
So can the Bulls make the comeback? Sound off below.
Make sure to follow me on Twitter @dachicagofan, and check out my weekly Bulls podcast every Wednesday on my site, The MG Experience.