NBA Free Agency 2012: Why Goran Dragic Is a Better Free Agent Than Jeremy Lin
May 9, 2012

Harry How/Getty Images
In the battle that will soon become the NBA free-agency period, Goran Dragic trumps Linsanity.
Since Jeremy Lin's coming out party, a lot has transpired.
Lin tore cartilage in his left knee that has kept him off the court for nearly two months, the New York Knicks have struggled—to put it lightly—against the Miami Heat in the first round of the playoffs and the point guard situation in general for orange and blue has been shot to hell.
Meanwhile, in Houston, Dragic finished the season for the Rockets with a coming out party of his own.
Dragic averaged 11.7 points, 5.3 assists and 1.3 steals per game this season, all career highs. He was thrust into a more prominent role on the heels of injuries to Kevin Martin and Kyle Lowry, and found a comfort zone in Kevin McHale's offense.
By comparison, the phenomenon that is Lin averaged 14.6 points, 6.2 assists and 1.4 steals per contest, taking New York, and the rest of the world, by storm.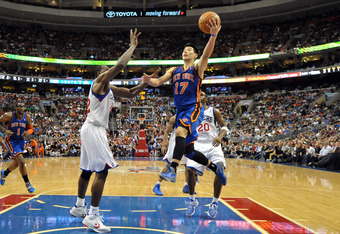 Drew Hallowell/Getty Images
Side by side, stat for stat, these two players bear a striking resemblance to one another. However, once we look past the numbers—gasp—we find a far more polished player in Dragic.
Not only is Dragic not rehabbing a left knee injury, but he is also more fundamentally sound.
One of the huge knocks on Lin has been his ball control. He navigates the court with such speed, yet fails to keep his dribble close enough to his body.
By doing that, the second-year point guard leaves himself not only vulnerable to wandering hands, but also to losing complete control as he takes his first step.
Dragic is just as agile, just as quick, yet he doesn't have the same weakness as Lin. He suffocates the ball on his approach, whether he's strolling up the floor or exploding into the paint, absorbing contact and finishing with more composure than Lin has yet to show.
In just 35 games this season, Lin turned the ball over five or more times on 13 different occasions. Dragic, in 66 games—almost double the action—accomplished the same unfortunate feat only seven times.
It's not an exact science, but the fact is, Dragic handles and protects the ball much better than Lin does.
Factor in Dragic's efficient shooting touch and matchable court vision, and you've found the more well-rounded offensive player.
And the same goes for the other side of the ball.
Lin has 10 pounds on Dragic, yet Houston's point man plays defense like a gazelle. He has great off-ball anticipation, knows when to fight over and when to go under screens and can defend outside his position.
Though Lin is a willing defender, he's reckless and tends to get beaten off the dribble. And after his first major surgery, who knows if he'll be able to make the sharp lateral movements required to defend opposing guards.
But if that's not enough, there's always experience and certainty to go on.
Dragic has been steadily improving and honing his skills for four years. Lin broke on to the scene almost overnight.
Does that render Lin any less impressive? Not at all, but with Dragic, potentially interested teams will see a player who has held his own for an extended period of time.
Dragic hasn't been turning heads his entire career, but he stepped up for an entire season, and almost helped lead the Rockets to a playoff berth in the talent-laden Western Conference.
What Lin did for the Knicks, for New York and for the world was, and remains, incredible. But he did it for half a season, against a favorable schedule, coming out the other end battered and with a flurry of question marks riding his back.
Dragic, though? He's less of a phenomenon and more a finely tuned project approaching completion.
While such players don't generate flashy headlines or extensive media coverage, they do take a lot of guesswork out of potential endeavors.
And after all, minimizing the risk and maximizing the return on an investment is what free agency is all about.