NBA Playoffs 2012: Miami Heat and the Merits of Asterisks and Footnotes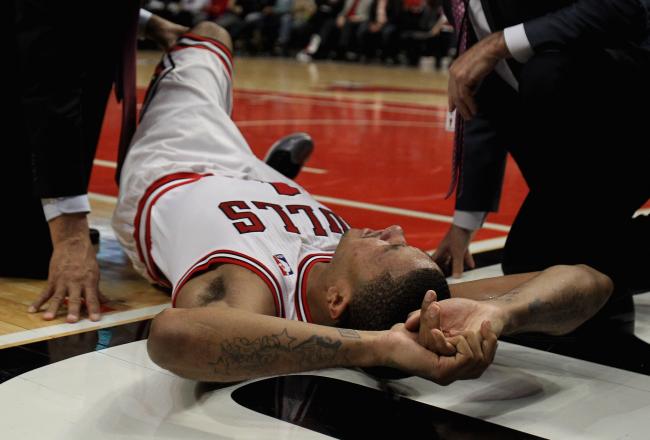 Jonathan Daniel/Getty Images
When I caught wind of Derrick Rose's devastating knee injury in his first game of the 2012 playoffs, my first thought was, "That's awful."
My second thought was, "Great, the excuses for Miami's eventual title are going to start flying."
Bill Simmons tweeted this just after we learned of Rose's knee injury:
Asterisk titles last 40 yrs: 2012 (Rose), 09 (KG), 06 (Refs), 05 (melee), 02 (refs), 99 (strike), 94 + 95 (MJ), 78 (Walton), 73 (Havlicek).
Apologies to the reigning MVP—I wish Rose a speedy recovery—but what does his knee injury have to do with any team's road to a championship?
That tweet was silly enough, but then Simmons did something extraordinary—he went the extra 10 miles and wrote a 6,728-word column entitled "The Footnote Title" in which he ranks the top 20 23 NBA championships deserving of a footnote because of injuries or other circumstances that somehow helped the eventual champion.
Not counting the 1958 Hawks or the 1965 and 1968 Celtics, Simmons lists 20 teams from 1973 through 2012 that are deserving of footnotes. That is 20 of 39 championship squads, including this year's eventual winner.
Over half of NBA champions in the past 39 years are deserving of said footnotes? Really?
Every championship team in every sport catches breaks, to varying degrees. One of the ingredients to success is luck, however intangible that may be. Crazy things happen in sports all the time—does the very narrative of a championship need to be relayed as a "footnote?"
Shall we put an asterisk on the '07 Super Bowl because David Tyree stuck a ball to his helmet, or the '12 rematch because the Giants squeaked into the playoffs? Did the 2005 Spurs get one because Dwyane Wade injured his rib muscle in Game 5 of the Eastern Conference Finals against Detroit?
What about the 1986 Mets—does Bill Buckner put an asterisk footnote in their World Series title? Does every championship the Yankees won from 1912 to 2004 get one after the Babe Ruth trade?
I will not waste my time going back and dissecting his column in detail because, really, the entire premise is ridiculous enough. The only reason he got a bee in his bonnet to write this column was because Derrick Rose injured his knee in his first game of this year's playoffs, suddenly diminishing the value of the NBA title in his mind.
The 2012 NBA playoffs are in the middle of the first round and Simmons says this year's eventual title winner is No. 9 on his list of footnote-worthy championships.
What if Chicago wins it all, Bill?
While that may a stretch, my point is that not only is the entire column silly on its own merit, but the timing of its release is dubious in itself. He wanted to preempt everyone else in making excuses for this year's champion.
At any rate, at which team is Simmons really trying to take a shot?
Conventional wisdom had the Heat and Bulls in the Eastern Conference Finals. You know, the same two teams that met in last year's ECF, in which the Heat contained MVP Derrick Rose and throttled the Bulls in five games.
Earlier this season, the Heat were matched up against a full-strength Bulls team—granted Rose was still feeling his way around because of multiple injuries he sustained this year—and I found myself openly pulling for the Bulls to keep Rose in the game toward the end. Why? Because the Heat did a better job containing Rose than defending the Bulls without him.
Sure enough, C.J. Watson wound up hitting a game-tying three-pointer at the end of regulation and the Bulls went on to win in overtime, all with Rose sitting on the bench.
After his devastating knee injury, conventional wisdom puts the Heat on a cakewalk into the NBA Finals, even though time and again sports has proven that anything can happen.
As one of my Twitter followers pointed out, tying this to Miami could be a case of solipsism coming to the surface on my part—I am making this about my team, the Heat, when Simmons really does a good job of avoiding naming the future 2012 NBA Champion.
We can all read between the lines, though, right?
If there's no hidden agenda here, then I'm Rony Seikaly.
This article is
What is the duplicate article?
Why is this article offensive?
Where is this article plagiarized from?
Why is this article poorly edited?

Miami Heat: Like this team?