NBA Free Agents 2012: Breaking Down Top Players Set to Hit Open Market
May 3, 2012

Chris Chambers/Getty Images
The 2012 NBA free agency class isn't exactly the most star-studded crop of talent to hit the open market in recent years, but there are a number of good and still useful players to be found this summer.
Let's take a look at the top four who have a decent chance of actually seeing some bids from other teams (basically, no restricted free agents).
Deron Williams – Player Option
D-Will would be leaving $28 million and an extra year of his contract on the table by leaving Brooklyn, but he's said time and time again that winning is more important.
He's only 27-years-old right now and just entering his prime. A team that direly needs a point guard and star will certainly throw the max at Williams.
Steve Nash – Unrestricted Free Agent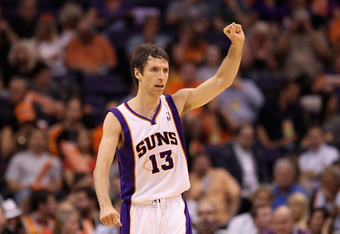 Christian Petersen/Getty Images
Nash almost single-handedly dragged the Phoenix Suns into the 2012 playoffs—despite the fact that no other player on his team is worth a thing.
Marcin Gortat and Grant Hill are his best teammates, which is a far cry from a few years ago when he was running with Amar'e Stoudemire, before fire extinguisher and knee injuries; Shawn Marion, back when he was the Matrix; Joe Johnson, before the Hawks made him the most overpaid franchise guy in history; and other competent players.
The 38-year-old point guard kept running though and had an incredible season. He's definitely got enough left in the tank for one, two or maybe even three more runs. 
Kevin Garnett – Unrestricted Free Agent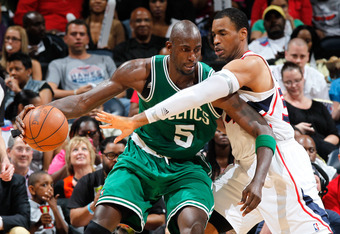 Kevin C. Cox/Getty Images
Just like Nash kept the Suns relevant, KG has stepped up his game and helped the Celtics into the playoffs.
With nearly all of their big men going down at some point this year, Boston has had to rely on KG to play center, bang down low, clean up the glass and score from the post. He did this while knowing he is 35-years-old and in his 17th season in the league.
If Garnett can continue playing at this high of a level, he's definitely worth a year or two deal.
Ersan Ilyasova – Unrestricted Free Agent
Ersanity has been taking place in Milwaukee, but because of the small market and lack of playoff exposure, it's unlikely many people have heard of it.
Ilyasova (13 PPG, 8.8 RPG, 1.2 APG, 0.7 SPG/BPG, 49.2% FG, 45.5% 3PT) played extremely well at only 24-years-old.
He's got a ton of potential and could just be hitting his prime, so look for Ilyasova to get a nice deal this summer.