Phoenix Suns NBA Draft 2012: 8 Players to Consider Should Steve Nash Stay or Go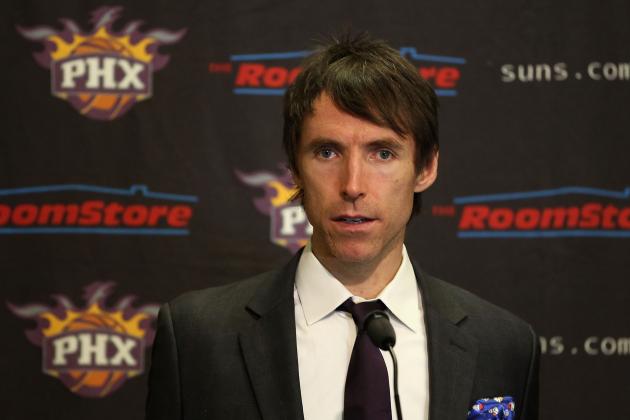 Christian Petersen/Getty Images

Whoever the Suns decide to take in the 2012 NBA Draft, there's one factor weighing that decision: whether or not Steve Nash is still a Phoenix Sun.
If Nash decides to sign with another team in the offseason to chase a championship ring, the Suns' draft board would likely look far different than if he chose to stay in Phoenix.
If Nash makes the decision not to return to the Suns, the organization will likely target a possible Nash replacement come draft day.
Here are four players the Suns will target in each of the two scenarios.
We'll start by being optimistic and say that Nash chooses to stay in Phoenix with the Suns.
Begin Slideshow

»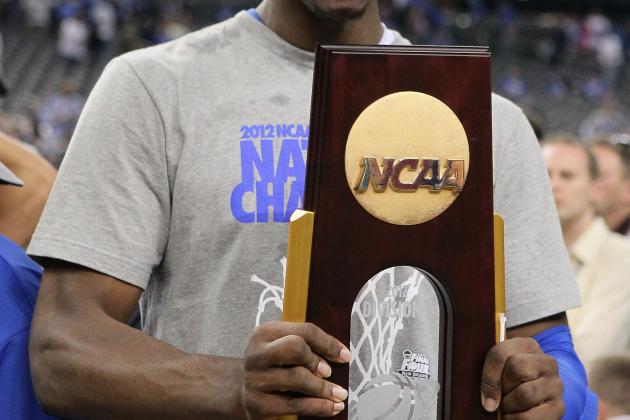 Jeff Gross/Getty Images

At 6'9," 245 pounds, Terrence Jones is NBA ready from a physical standpoint. He could come in and make an impact right away.
If the Suns don't bring back Grant Hill or if he chooses to retire, Jones could come to a situation with the Suns where he could get a lot of playing time right away in order to develop.
Suns fans can certainly attest to the team's inability to develop rookies in the past. The best way to get rookies acclimated to the NBA environment is to give them playing time, something Suns' rookies have lacked.
Earl Clark, the Suns' first-round pick in the 2009 NBA Draft, never got court time for the Suns and didn't develop as a solid player.
Goran Dragic was trapped as the backup to Steve Nash, but he had flashes of brilliance in a Suns uniform. The team gave up on him too early by trading him and he blossomed in Houston with the Rockets.
Honestly, that was an odd move considering Nash's uncertain future in Phoenix.
Anyway, Jones could have the huge benefit of being able to be in the rotation from day one.
He's an athletic, left-handed forward who has a quick burst to the basket and can finish aggressively.
Jones also plays very sound defense. He averaged 1.8 blocks and 1.3 steals a season ago.
He averaged 12.5 points and seven rebounds per game for the NCAA champion Kentucky Wildcats.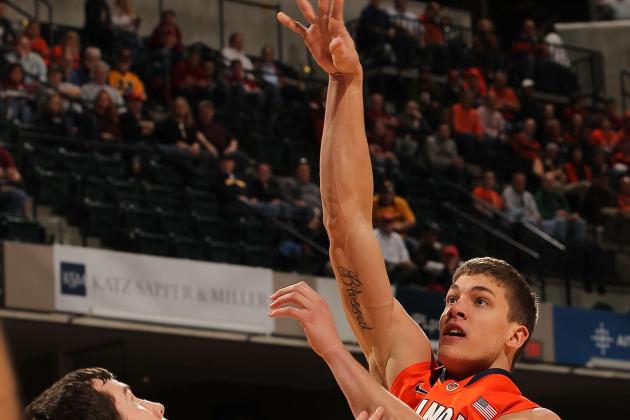 Jonathan Daniel/Getty Images

At 7'1," 245 pounds, Meyers Leonard is a true center.
Considering that Robin Lopez's agent has said that his client wants to test the waters in free agency, there could be an opening at center for the Suns.
If Lopez gets a big contract offer from another team, the Suns would be smart not to match it and look for another backup. Should Lopez get starting center money offered to him, the Suns would be foolish to pay a backup center like a starter moving forward.
Leonard uses his size well, but he's still raw in terms of basketball IQ. He's a solid back to the basket center with a soft shooting touch, but he would have benefited from another year in school.
Something that jumps out at me is his free-throw percentage. Last season he shot 73.2 percent from the charity stripe, not bad for a seven-footer.
The Suns have never been a team with good size, but adding Leonard would change that stigma.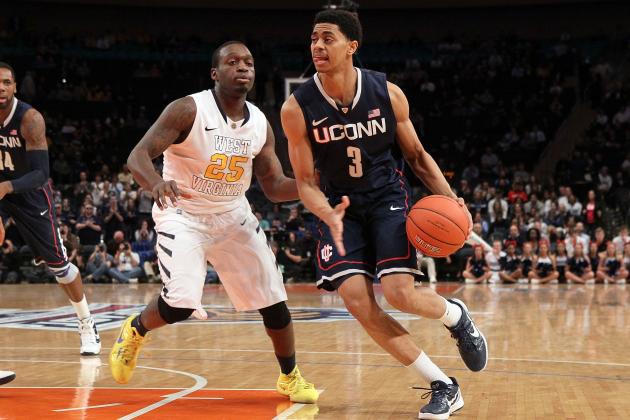 Jim McIsaac/Getty Images

A player the Suns have been lacking for a while now is a scorer who can create his own shot.
Shannon Brown filled that void somewhat this past season, but his contract is expiring and there's no guarantee that he'll be back with the Suns.
Jeremy Lamb out of UConn is a score-first guard with three-point range. Despite being 6'5," Lamb plays with long arms and fluid movements that make him appear bigger than he truly is.
Lamb is a dynamic scorer who doesn't shy away from big games or big moments, which is something you look for in an NBA prospect.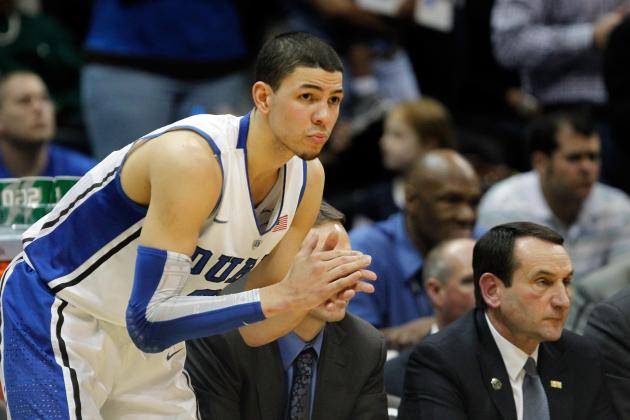 Streeter Lecka/Getty Images

Austin Rivers, the son of Boston Celtics' head coach Doc Rivers, has the added benefit of being raised by a former NBA player.
Rivers is a pure scorer who exudes a confidence you rarely see out of college hoopsters. He's not afraid to take a big shot in the closing seconds (evidenced here).
At 6'4," 195 pounds, Rivers is a bit undersized for the NBA and will probably translate as a poor man's Stephen Curry.
He has a lot of potential to be a dead-eye shooter in the NBA, but he probably should have stayed in college for another season.
I think at maximum Rivers has the potential to be the next Reggie Miller, but it's safer to say he'll translate in the NBA as a J.J. Redick-type talent.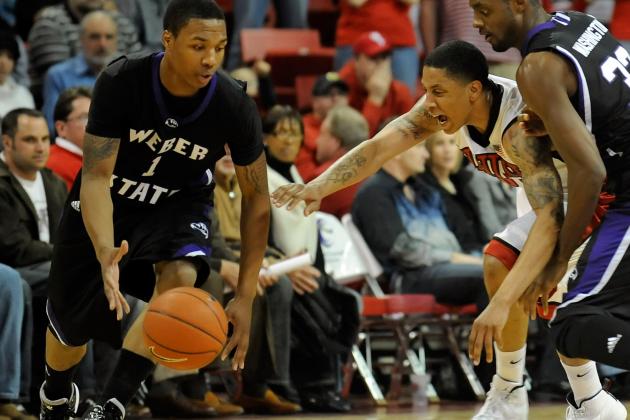 Ethan Miller/Getty Images

If Nash decides to leave in the offseason, the Suns may look for their point guard of the future in the draft.
Lillard is without a doubt the best scoring point guard of this year's draft class.
While it's unlikely that Lillard will fall to the Suns at around the 13th overall selection, the Suns would have to pursue him if he does.
Lillard averaged 24.5 points, five rebounds and four assists per game for Weber St. last season.
He's a dynamic scorer who shot 88.7 percent from the free-throw line last season as well as 40.9 percent from three-point land.
On the negative side, Lillard doesn't have great instincts as a point guard. Four assists per game is a red flag. When he draws the defense, he needs to get better at finding teammates with opportunities to score, especially at the NBA level.
Lillard is also a liability on defense. Although he has the athleticism to be a very solid defensive player, he often seems disinterested on the defensive end of the floor and doesn't make a meaningful impact.
It's likely that Lillard could get drafted in the top-10 picks, so the Suns may have to look elsewhere. However, he's a dynamic scorer at the point guard position who could make an immediate impact.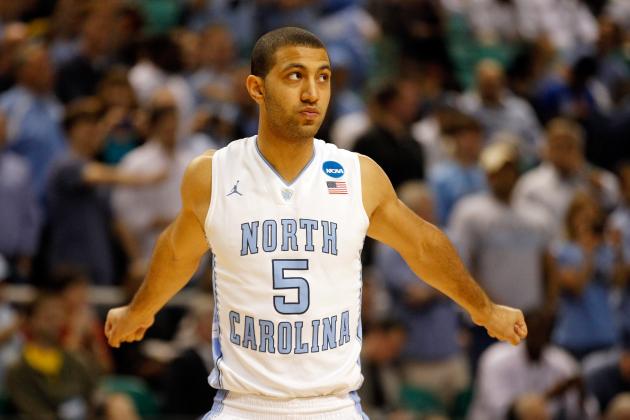 Streeter Lecka/Getty Images

Kendall Marshall is the definition of a pass-first point guard.
Unlike Lillard, Marshall is in his element when setting up teammates to score points.
Marshall also displayed his ability to play big in big games. Against Creighton in the NCAA tournament, Marshall finished with 18 points and 11 assists on 7-for-8 shooting.
While some scouts view him as a one-dimensional player because he is so often facilitating his teammates, developing his shot is an easy aspect to practice.
As a passer, Marshall has a tremendous feel for the game of basketball. His ability to set up teammates led to him averaging 9.8 assists per game last season.
He certainly has to improve his offensive game as a scorer, but as far as being a point guard, Marshall understands that responsibility.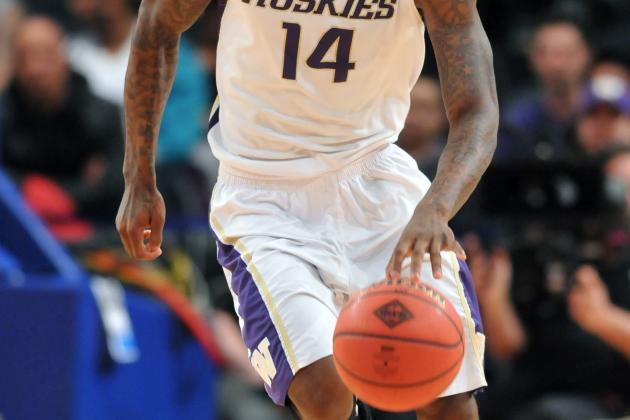 Jason Szenes/Getty Images

At 6'5," 205 pounds, Tony Wroten is another prospect with an NBA-ready body. However, there are some concerns about whether he fits better as a point guard or a shooting guard.
Wroten is at his best when he's driving to the basket and finishing strong. Unfortunately for Wroten, his basketball prowess ends there.
He shot a pathetic 16.1 percent from the three-point line last season, and perhaps worse, was a 58.3 percent shooter from the free-throw line.
He has time to develop those aspects of his game, but guards without shooting range often struggle at the NBA level. Two exceptions off the top of my head are Tony Parker and Andre Miller.
Wroten is a great athlete, but he would have helped his draft stock by staying in school for another season to improve his free throws and his outside shot. He'll be a project for the team who decides to draft him.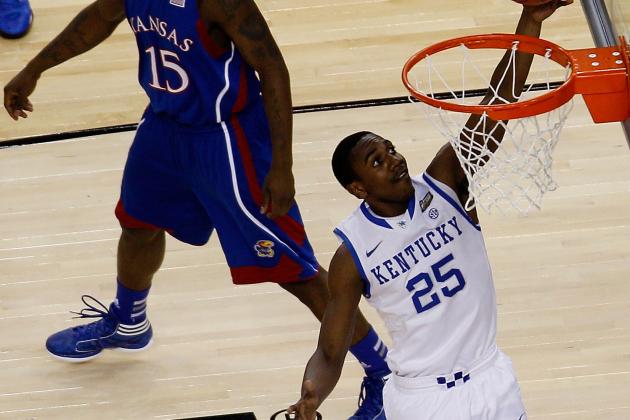 Chris Graythen/Getty Images

Marquis Teague, the younger brother of Atlanta Hawks' point guard Jeff Teague, may benefit from knowing someone who has made the transition to the NBA.
Teague may be undersized for a point guard at 6'2," 189 pounds. He may need to get stronger for competition in the NBA, but he's a sneaky athlete who may be able to get by anyway.
I have concerns over whether or not Teague's stats were inflated playing for a very good Kentucky team. Of course, at the same time, his stats my not tell the whole story because he wasn't the guy for his team.
Nevertheless, Teague is mature beyond his years and is lightning quick on the court.
He needs to improve his range (32.5 percent from three-point land) as well as his free-throw shooting (71.4 percent).