NBA Playoffs 2012: Role Players Who Hold Keys to Postseason
May 2, 2012

Stephen Dunn/Getty Images
Stars carry their teams in the NBA playoffs, but it is the role players that give them the boost to win it all. 
These guys are the wild cards, and a few big performances from them is enough to turn the tables in any series. 
Last year, DeShawn Stevenson stepped it up for the Mavericks to help aid LeBron in his finals collapse, and managed to hit a few big shots to boot. Go back through all the champions and more often than not, you'll find a role player that stepped in a big way. 
Here are three guys that have the potential to be that guy for their teams this year. 
Metta World Peace, SF, Lakers
Lost amid the craziness and fallout of Metta's very unpeaceful flying elbow was the fact that he had been playing his best basketball of the season. 
World Peace spent the majority of the season killing the Lakers offense and chucking up bricks. That changed at the end of the season, as he hit double-digit points in nine of his last 10 games. 
He also did a solid job on the boards in that stretch and, believe it or not, he actually passed the ball. He also managed to pick up his defensive intensity.
Who knows how he'll be when he returns from his suspension, but if he can return to that form, the Lakers are going to be very hard to beat. 
Boris Diaw, PF, Spurs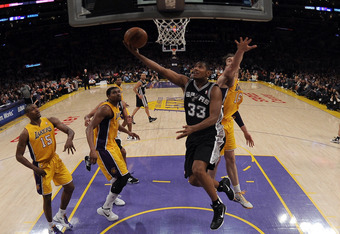 Harry How/Getty Images
Diaw is an undersized, but versatile big man. He also is vitally important to the Spurs. 
If the Spurs have a weakness, it is that they are vulnerable to opposing lengthy frontcourts. They simply don't have the size or depth. 
Diaw can help limit this. He can play on the perimeter and draw out opposing big men. This will help the Spurs not fall victim to another 30-rebound performance like Andrew Bynum put up against them about a month ago. 
Mike Miller, SG, Heat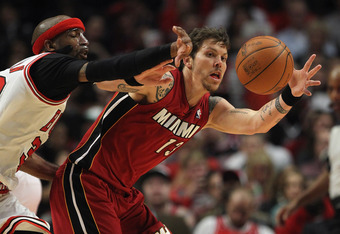 Jonathan Daniel/Getty Images
Mike Miller isn't asked to do a lot for the Heat. He simply has to hit shots when the ball finds the way to his usually wide-open hands. 
This is a role he is well equipped to fill. For the season, he shot 45.3 percent from behind the arc. 
If he can keep up that pace, the Heat are going to be very hard to beat. It is a rare where a Heat possession goes by that the ball doesn't find its way to a spot where it commands a double-team from the defense. 
This leaves someone open, and Miller can make them pay for that. To do that, though, he is going to have to stay healthy, which is far from guaranteed with this injury-plagued player.