NBA Playoffs 2012: 10 Reasons Oklahoma City Thunder Will Roll over the Field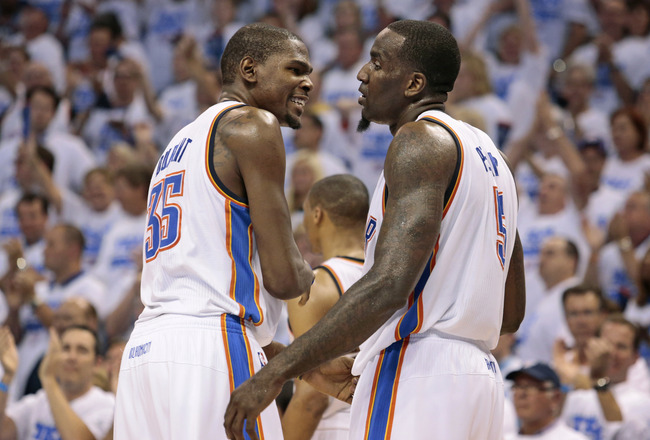 Brett Deering/Getty Images
The Oklahoma City Thunder are currently up 2-0 in their first-round series against the Mavericks, but they could very easily be down 0-2 if they don't get some bounces to go their way.
Nonetheless, a win is a win in the playoffs and the Thunder are looking to close out the Mavs and move on to the next round.
Though this series has been anything, but easy for OKC, let's take a look at 10 reasons why the Thunder will steamroll through the rest of their competition.
10. The New and Improved Kendrick Perkins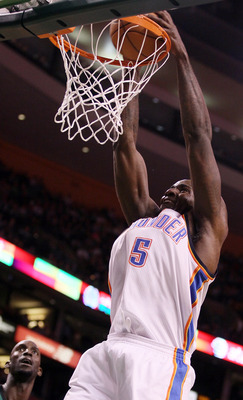 Elsa/Getty Images
Perkins dropped 32 pounds in the offseason so he could keep up with the uptempo pace of the Thunder and his weight loss has made him a better low-post defender with better lateral quickness.
What hasn't changed about him is his tough and physical play and ability to get under the skin of opponents. Perkins is just a mean player on the court and gives the baby-faced Thunder a much needed edginess.
His tough play inside on defense plus his sporadic offensive contributions will help the Thunder who lacked an inside presence during their rise to prominence.
9. Unselfish Play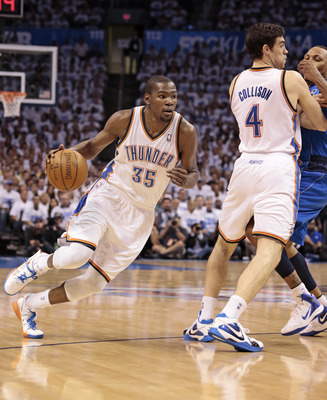 Brett Deering/Getty Images
OKC is a fast, young team who gets up and down the court and plays with a ton of energy.
They are also a team that can change the dynamic of a game with their hustle plays and general unselfishness that doesn't always show up in the box score.
Leading the charge (so to speak) is Nick Collison, the backup power forward for OKC who is known for setting great screens and taking charges.
This is a team that will make the extra passes and do everything they can to set up teammates with one common goal for the team: winning the basketball game.
8. Derek Fisher's Experience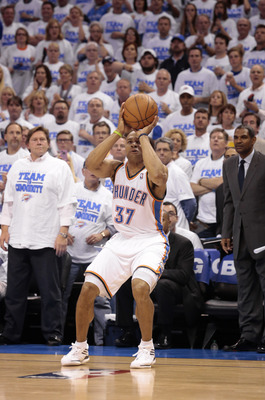 Brett Deering/Getty Images
Say what you want about how his play has deteriorated, Fisher has a lot of intangibles that he brings to the Thunder.
Though he can't score too well anymore and his defense has diminished to so-so, what Fisher provides is the wisdom and experience of being at the heart of several championship runs in his time with the Lakers.
Often during the past two games, you would see Fisher talking to Westbrook or Durant to presumably give them some advice about keeping their composure in these big playoff games.
His veteran savvy and locker-room presence will definitely factor into how the Thunder perform down the stretch as the playoffs go on.
7. Lessons Learned from Last Year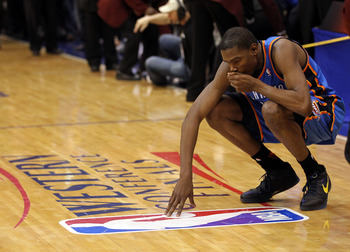 Ronald Martinez/Getty Images
The Thunder came this close to a Finals appearance last year. The team knows what could have been and they also know that they want to make this season end differently.
Oklahoma City is still a very young team, but their core of Westbrook, Harden, Durant and Ibaka all have two years of playoff experience under their belt, so now that feeling of being starstruck at the chance to win a title should be fading.
The biggest change the Thunder have made is being able to close out games. That was the difference between Dallas winning the Western Conference Finals last year and the Thunder advancing.
This year, OKC has been much better in crunch time and has become better at finishing teams off thanks to a lot of clutch play from Kevin Durant.
Now they need to hope this can translate to the postseason where every game is crucial.
6. Interior Defense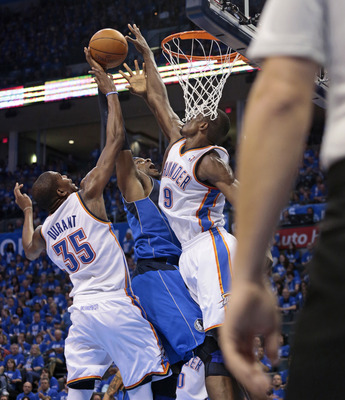 Brett Deering/Getty Images
As I mentioned, Perkins has definitely brought a lot to the table in terms of his post defense.
Additionally, Serge Ibaka has been great at protecting the rim this season with his NBA-leading 241 blocks.
The combination of Ibaka's finesse defense and Perkins' raw power in the post complements the team nicely who have been decent at shutting down the perimeter thanks to Thabo Sefolosha.
This tandem provides OKC with a good chance to withstand the barrage of talent in the post in the Western Conference (Bynum and Gasol in LA and Duncan in San Antonio).
5. Free-Throw Shooting
Ronald Martinez/Getty Images
The efficiency of a team at the charity stripe is often the difference between deep runs in the playoffs and early trips back home.
Luckily, the Thunder are pretty dang good at converting on free throws.
In Game 2 of their first-round series against Dallas, for example, OKC shot 39 free throws and made 37 of them.
That's a team percentage of 94 percent in the game, which isn't too hard to believe since they lead the league during the regular season by shooting 80 percent as a team.
The free-throw line should be easy points for a team and the Thunder are able to get to the line a lot, which produces a lot of points for them. Also, being a great free-throw shooting team helps them close out games when the pressure is on.
Converting at the free-throw line will be a crucial aspect for the Thunder as the playoffs progress.
4. Youth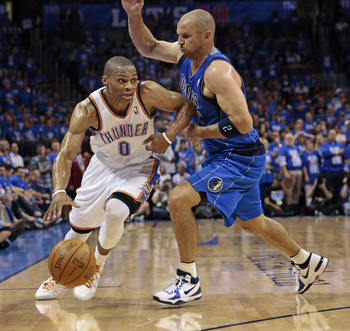 Brett Deering/Getty Images
It's been repeated over and over how this compacted season is supposed to benefit the young teams, so I am going to add to that.
Oklahoma City is full of young players who have been playing at a high level even with the small amount of rest this year. The reason they can keep this up is because of their youth and therefore quicker recovery time between games.
This is why you don't see Durant or Westbrook taking games off like Tim Duncan, who needs rest during a strenuous season.
This overwhelming amount of games in a short time could benefit the Thunder, however, because it could help them keep the rust off of their game that could hurt their performances.
OKC's fresh legs and energy should be enough to outrun and outgun the older teams in their path in the playoffs.
3. The Second Unit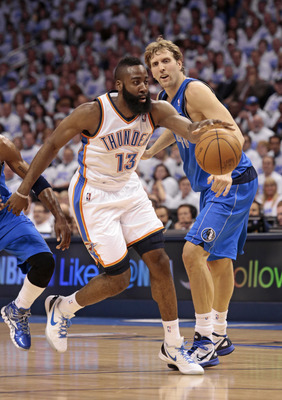 Brett Deering/Getty Images
Lead by the potential sixth-man of the year, James Harden, this second unit of Oklahoma City has blossomed into more than just placeholders for the starters.
In two games, OKC's bench has posted 51 of the Thunders 201 points and has been a big help to the starting lineup. The depth of the Thunder has been known to cause havoc for other teams who have enough trouble dealing with the starters scoring all over the place.
Derek Fisher has fit into the role of backup point guard nicely and is a good accommodation for sharpshooter Daequan Cook and all-around scorer Harden.
If the bench keeps contributing at a high level like they have so far, it will be tough for any team to stop the Thunder, no matter which players are on the court.
2. Russell Westbrook Stepping Up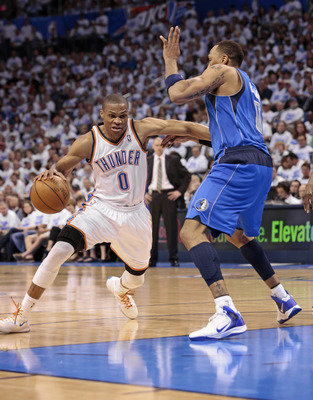 Brett Deering/Getty Images
Even with Kevin Durant struggling to find his shot in the first two games, Westbrook has been there to quietly pick up the slack.
In two games, Westbrook has scored 28 and 29 points on efficient shooting (56 percent and 47 percent respectively) and has done so without forcing too many shots.
Not to mention his bothersome defense that has slowed down the scoring barrage of Jason Terry (33 points in 64 minutes of game time).
This has been a big difference from last postseason when he would throw up shots, trying to be the hero when Durant wasn't doing too well. Now, Westbrook is taking better shots and understands when to attack the rim.
Westbrook's seeming metamorphosis could be the X-factor as to whether or not the Thunder are able to dominate opponents during the playoffs.
1. Kevin Durant Will Rise Above His Early Struggles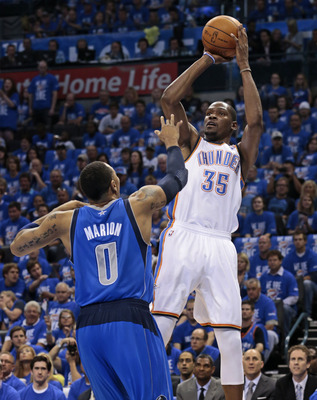 Brett Deering/Getty Images
If you told me that the Thunder would be up 2-0 on the Mavericks with Durant shooting 15-44 from the field in those two games, I would be scratching my head.
Durant hasn't found a rhythm in the postseason thus far, but rest assured that he can and he will. His ability to score a basketball is just ridiculous and he knows that this slump in shooting won't hold him back.
If he keeps taking his open looks and attacking the basket, shots will start falling and so will the teams playing against the Thunder.
If Oklahoma City is able to scrape out wins with Durant struggling this much, imagine what they will be doing to teams when KD is playing true to form.
Keep Reading

Oklahoma City Thunder: Like this team?